Premier League Predictor: Round 35 Picks
Round 34 went fairly well for me as I managed 7/10 with an Exact for the Everton 1-1 draw with Southampton. Though Spurs have looked poor for a while, I didn't see that Bournemouth result coming and was annoyed Sheffield United got a later winner rather than Wolves!
This weekend we have Round 35 and it's full of pretty even looking fixtures in my opinion. Here are my thoughts on each match. As always, leave your own thoughts in the comments!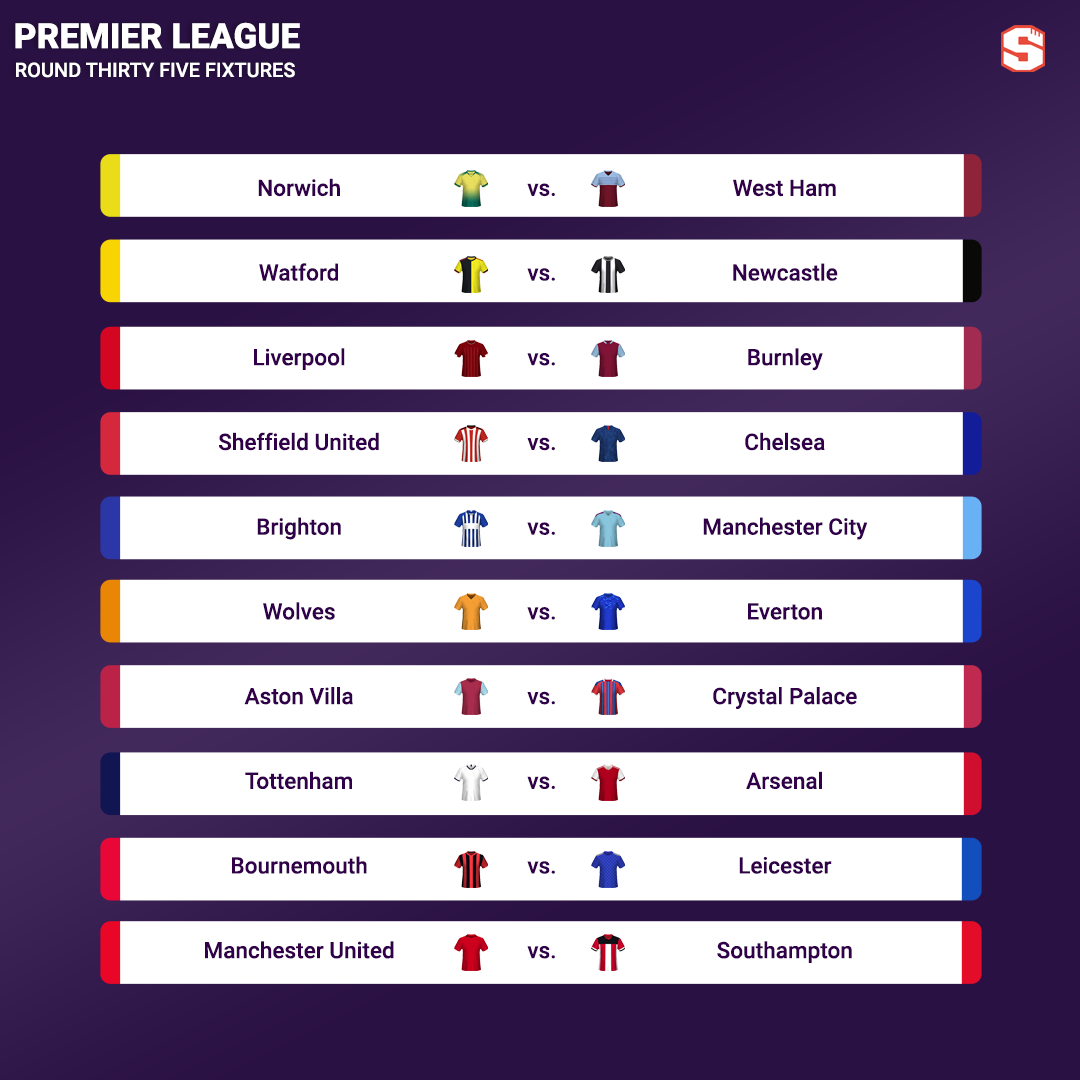 Norwich vs. West Ham
Norwich will have their relegation confirmed with a loss in this game and even a draw (which I think is the most they can manage) could also see them go down this weekend if Watford manage at least a point. The Canaries are already resigned to their fate so this is a massive opportunity for West Ham to really boost their chances of survival. I'd be tempted to go for a point usually as West Ham aren't great but after Norwich lost at Watford even after scoring first, I don't have much hope for them.
Prediction: Norwich 1-3 West Ham
Watford vs. Newcastle
This is one of the toughest picks of the round because Newcastle showed in midweek what happens when they rest players/take their foot off the gas and Watford just aren't very good. I'm sure the likes of Saint-Maximin will return for the Magpies but will they be fully at it? They've been good since the restart up until that City game but it's Watford who have more to play for so I'm going for a draw.
Prediction: Watford 0-0 Newcastle
Liverpool vs. Burnley
Burnley picked me up a decent Win Point in the last round by beating West Ham and they do often find a way to win but I can't see them doing so at Anfield since no other club has managed to for a long, long time.
Prediction: Liverpool 2-0 Burnley
Sheffield United vs. Chelsea
I'm pretty torn on this one and feel very tempted to go for another draw. Chelsea look pretty strong going forward but so shaky defensively and Sheffield United will definitely feel they can score from set-pieces. The form of Christian Pulisic is one thing that's pushing me towards an away win but I also think Chelsea will be improved by the likely return of Jorginho to the starting lineup who provided some much needed control when he entered proceedings for them at Palace.
Prediction: Sheffield United 1-2 Chelsea
Brighton vs. Manchester City
City's away form is a worry but it's so hard to pick against them when their home form behind closed doors is so, so strong! I rate Brighton but their recent home losses against United and Liverpool suggest City should also find three points? I think they'll play a fairly strong team before resting players in midweek ahead of the FA Cup.
Prediction: Brighton 1-3 Manchester City
Wolves vs. Everton
I'm not sure back-to-back defeats will have flustered Wolves too much and they should still win this game. Everton look so short in midfield which obviously isn't really Ancelotti's fault and it feels like his team are now just limping through to the end of the season before boosting the squad in the summer. The Toffees still have players that can hurt you but Wolves are strong defensively and I don't think Everton will have enough control and creativity in the middle of the park to trouble them.
Prediction: Wolves 2-0 Everton
Aston Villa vs. Crystal Palace
This is the one for Villa, they have to win this match to stand any real chance of survival. Their form has been terrible and defensively they aren't very good but I still think they were competitive enough against Liverpool and against United before the penalty to justify a risky pick for them here. Gary Cahill will be a big miss for Palace and that gives Villa an opportunity to score a goal or two.
Prediction: Aston Villa 2-1 Crystal Palace
Tottenham vs. Arsenal
I love a North London derby and though this one is pretty low-key based on the lack of fans and the positions of the teams on the table, it's obvious how much Mourinho and Arteta will still want to win so it should be good. For me, Arsenal go in as favourites but are they strong enough favourites to actually manage an away win against a 'big six' club? It's been such a long time. Spurs look awful though and have been so dull to watch because of their lack of attacking cohesion. I'd normally go for a draw and still might change based on the teams when they're announced but because of Arsenal's display at Wolves (and the fact Bournemouth should have beaten Spurs) I'm backing Arteta to get this right.
Prediction: Tottenham 1-2 Arsenal
Bournemouth vs. Leicester
Though I never expected them to get a point, those who also watched the Bournemouth vs. Tottenham game will know that the Cherries will actually feel it was 2 points dropped rather than a point gained. Leicester won't be as bad as Spurs were and Bournemouth need wins, not draws. The fact they couldn't get the victory in midweek makes me worry for them and it must have hurt confidence so I'm going for a Leicester win here.
Prediction: Bournemouth 0-2 Leicester
Manchester United vs. Southampton
This will be a test for Manchester United because Southampton have been very impressive since the restart but it's hard to pick against Solskjaer's side because of their attacking form. Mason Greenwood's ball-striking ability is pretty mesmerising to watch and he's been finishing the chances Bruno Fernandes, Paul Pogba and Marcus Rashford are so good at creating. I think they'll have slightly too much for Saints
but
I wouldn't be that surprised if Southampton can get something given their recent form. It should be a good watch!
Prediction: Manchester United 2-1 Southampton
Best of luck to you all with your picks!