Coming up this month on Superbru: October
As some of you may have noticed in the 'New' section of the tournaments menu, October is the month where we have a little bit of time to recover from the avalanche of new tournaments that got started across August and September! With those events now in full swing, there are plenty of picks to make each week to keep us busy before October's exciting fresh games begin towards the end of the month.
The brand new United Rugby Championship is one of those recently launched tournaments which we're pleased to be running official
Predictor
and
Fantasy
games for. If playing the Fantasy game, you may have noticed some display improvements when managing your transfers and starting XI on desktop, while the added tabs at the top of the page (screenshot below) that allow you to move between Predictor and Fantasy more easily when we are running multiple games for the same tournament is something we will soon be adding to other new tournaments going forward.

One such tournament is the T20 World Cup where we have both a Predictor and a Fantasy game ready for you to join. Here's what's coming up this month.
Upcoming Tournaments this October
T20 World Cup Predictor and Fantasy
Saturday 23rd October
November Internationals Predictor
Saturday 30 October
Saturday 23 October: T20 World Cup
Following the postponement of last year's planned tournament in Australia, we haven't actually had a T20 World Cup since way back in 2016 when the West Indies defeated England in the final to lift the trophy. This time around, the 2021 event will be hosted in the UAE and Oman after the ICC and BCCI agreed that the tournament should be moved from India as the nation continues to recover from the pandemic.
On Superbru, our Predictor and Fantasy games for the T20 World Cup will begin with the Super 12 stage which starts on Saturday 23 October. In the week building up to that, qualification for the Super 12 will take place with Sri Lanka, Ireland, the Netherlands, Namibia, Bangladesh, Scotland, Papua New Guinea and Oman battling it out for the final 4 places that are currently vacant in the graphic below showing the Super 12 groups.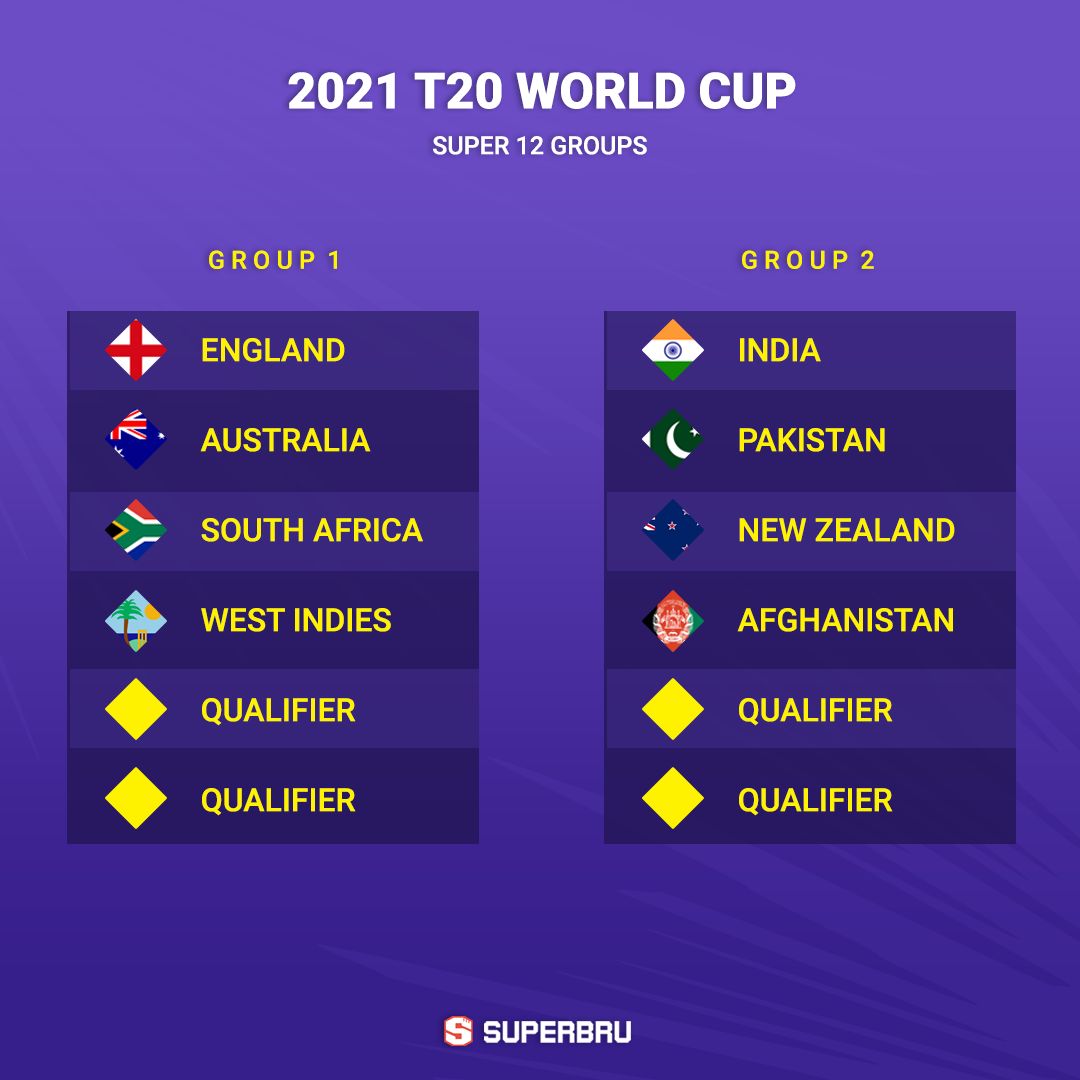 The opening Super 12 match sees Australia face South Africa. In our Predictor game, you can predict the winner of every match in the tournament (from the Super 12 stage onwards) while in our Fantasy game you select four players - 2 batsmen, an all-rounder and a bowler - for each individual day of action with those players then scoring points based on their performance.
Saturday 30 October: November Internationals
The other event we have beginning this month is one that obviously applies more to next month given it's name but our 'November Internationals' game technically begins a couple of days before the turn of the month as Scotland face Tonga and Wales host New Zealand on Saturday 30 October.
Those two matches will form Round 1 of our Predictor game and will be followed by 3 other far more packed rounds featuring all of the top rugby nations in the world. The number of fixtures should make for a very fun Superbru tournament as there'll be plenty of points up for grabs: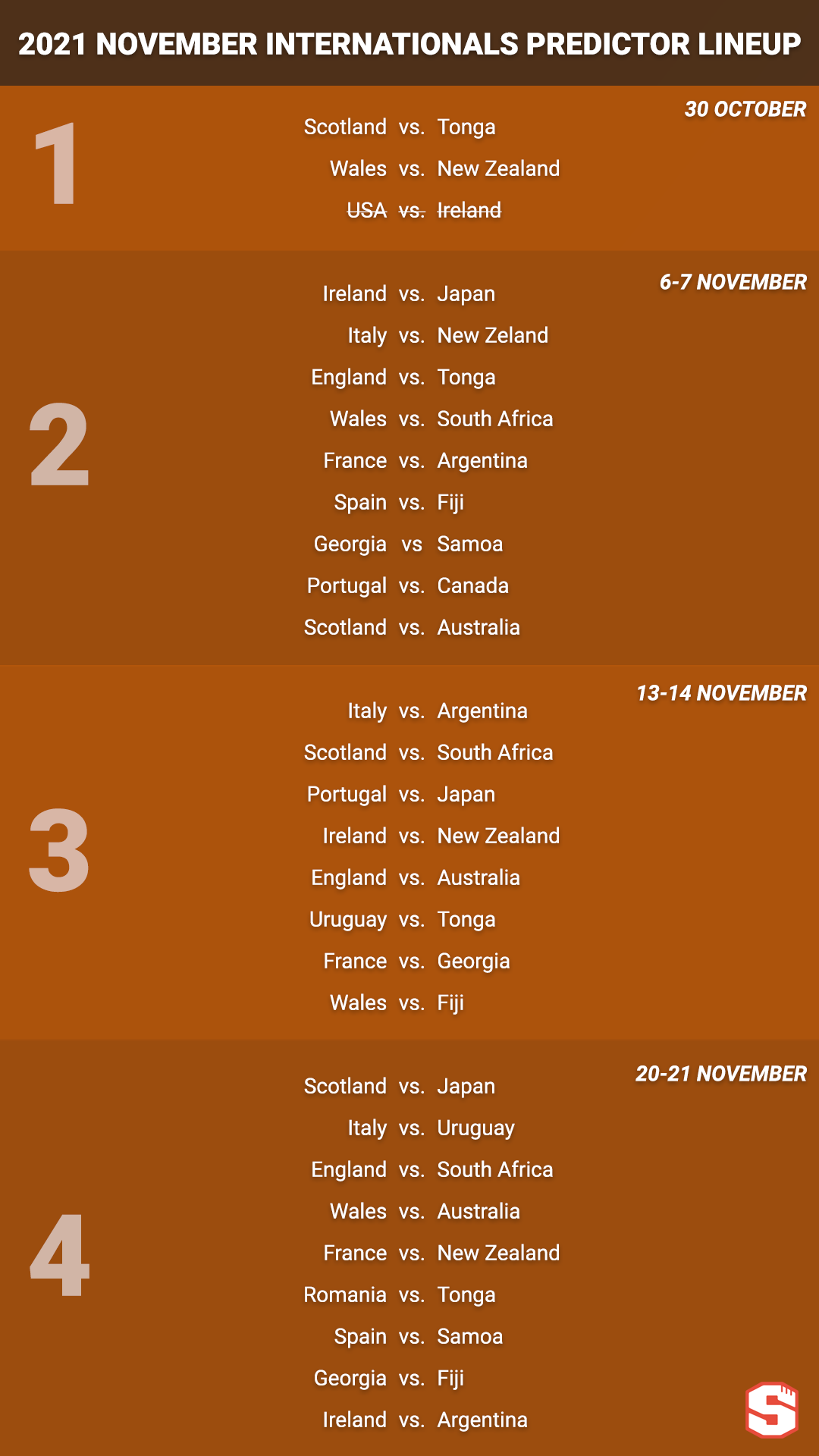 In addition to that cancelled fixture between the US and Ireland, Samoa have also recently announced that they no will no longer be touring meaning we can unfortunately expect some changes to this schedule with fixtures removed and some potentially added depending on what happens.
As you can see, there are a lot of huge matches coming up in this tournament, particularly the ones involving the current top 3 ranked sides in the world at the moment - South Africa, New Zealand and Australia.
Go well with your picks this month!