Coming up this month on Superbru: November
As we enter a rare quiet week on the sporting calendar with football now in an international break and most domestic rugby competitions also taking a breather while the November Internationals take place, now is a good time to look ahead to the fresh tournaments we have starting later this month!
At this time of year, most competitions are already in full swing but we do have 3 brand new tournaments starting this month which we hope will be of interest to some of you: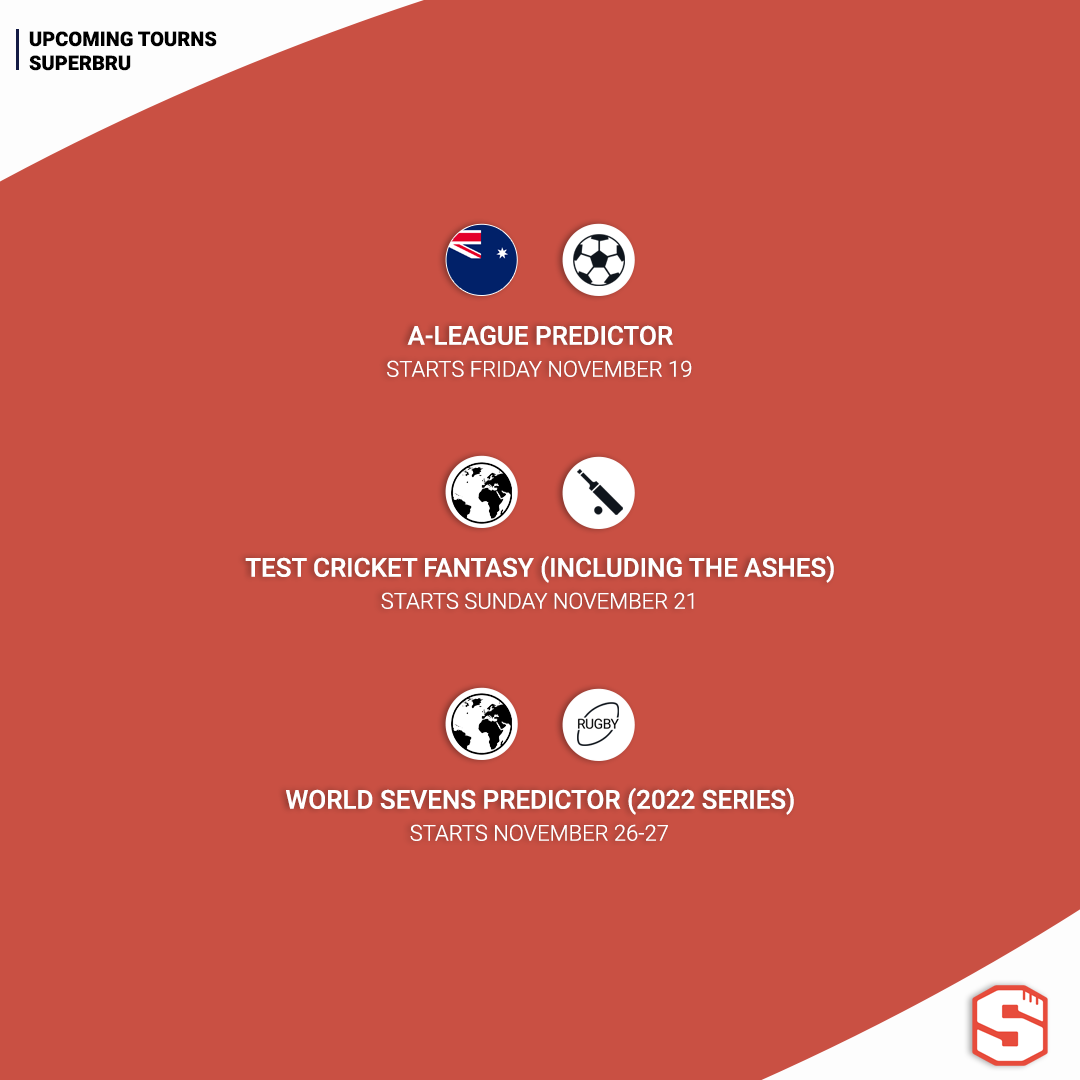 Friday 19 November: A-League
Football returns in Australia in just over a week as the 2021/22 A-League season begins on Friday the 19th when champions Melbourne City host Brisbane Roar. As with many of this year's tournaments, we have our fingers crossed that this new A-League season will be less affected by pandemic restrictions than the last so that the schedule is more 'normal'!
The season is set to run until the end of May and most expect to see another title race between Melbourne City and Sydney FC.
Sunday 21 November: Test Cricket Fantasy
Next up we have Test Cricket Fantasy which is always a fun tournament covering numerous series! This year's winter/summer edition (depending on which hemisphere you live in) is set to be especially good as it will include the Ashes.
Part of the fun with Test Cricket Fantasy is that none of us really know exactly how many rounds there'll be as nations arrange Test series at different times but we expect there to be quite a lot of rounds in this tournament as it will run well in to the new year (we usually start a fresh Test Cricket Fantasy with England's home fixtures) and we have a very hectic start.
The tournament begins with Sri Lanka v West Indies on Sunday 21st shortly after the conclusion of the ongoing T20 World Cup. In addition to that 2-match series we also have India v New Zealand and Bangladesh v Pakistan before the Ashes even starts in early December while other standout confirmed series for later in the tournament include South Africa v India and Pakistan v Australia.
26-27 November: World Sevens Predictor
It's been a while because of the pandemic, but World Sevens is back later this month! As I wrote in one of my previous monthly updates, we didn't end up running a game for the recent one-off series in Canada because we've prioritised a launch for the upcoming Dubai 7s which is the official start of the 2022 series running through to next May.
The Predictor will be live soon but fixtures for the first Dubai event aren't expected to emerge until November 16th. The game will include both the Men's and the Women's series meaning lots of points on offer in each round!
The start of the schedule sees two series on back-to-back weekends in Dubai followed by a couple of events in Spain in the new year.
That's it for this month but in terms of other updates - a big thank you to those of you are
Superbru Premium
users and took the time to complete the recent survey we emailed out (if you're Premium and haven't yet done so, you still can!). We have found lots of the feedback you've provided really useful and that will definitely help shape some upcoming improvements we are working on.
Go well with your picks this month!