Coming up this month on Superbru: May
Now that April is behind us, we've reached what is always a big month in the sporting calendar as May is set to see trophies (and Yellow Caps) handed out all over the place. Big Superbru tournaments that are set to end this month include the Premier League, Champions League, Super Rugby AU, Super Rugby Aotearoa, Heineken Cup and more.
Fortunately, we have plenty of fresh tournaments for you to get involved in when those do come to an end which should keep us all busy until the fresh seasons roll around again. The most notable big tournament coming up this summer is of course Euro 2020 which begins in June - we've recently made our
Predictor
and
Odds-Based Fantasy
tournaments for the Euros live for you to join.
A quick note on cricket - May obviously hasn't got off to the best start with yesterday's understandable news that the IPL has been suspended indefinitely. Those of you playing our predictor and fantasy games will notice that we've pushed back all of the fixtures to arbitrary dates for the moment but we will be updating the schedule and carrying on with both games if and when the IPL can resume.
In more positive news, you may have noticed when logging into our website, or perhaps even while reading this if you've clicked through from social media, that some areas of our site are looking nice and fresh after some updates.
The changes have mainly been made to the 'logged out' areas of our site and have only just gone live today but there's now some additional little features such as access to the large amount of historic data we have from all sorts of sports and tournaments. By selecting 'Tournaments' on the new welcome page, when interested you can look back through various results and league tables from years gone by and the main welcome page is a neat place to look at the upcoming tournaments we have available to play on Superbru.
That leads me nicely on to discussing what's coming up in May...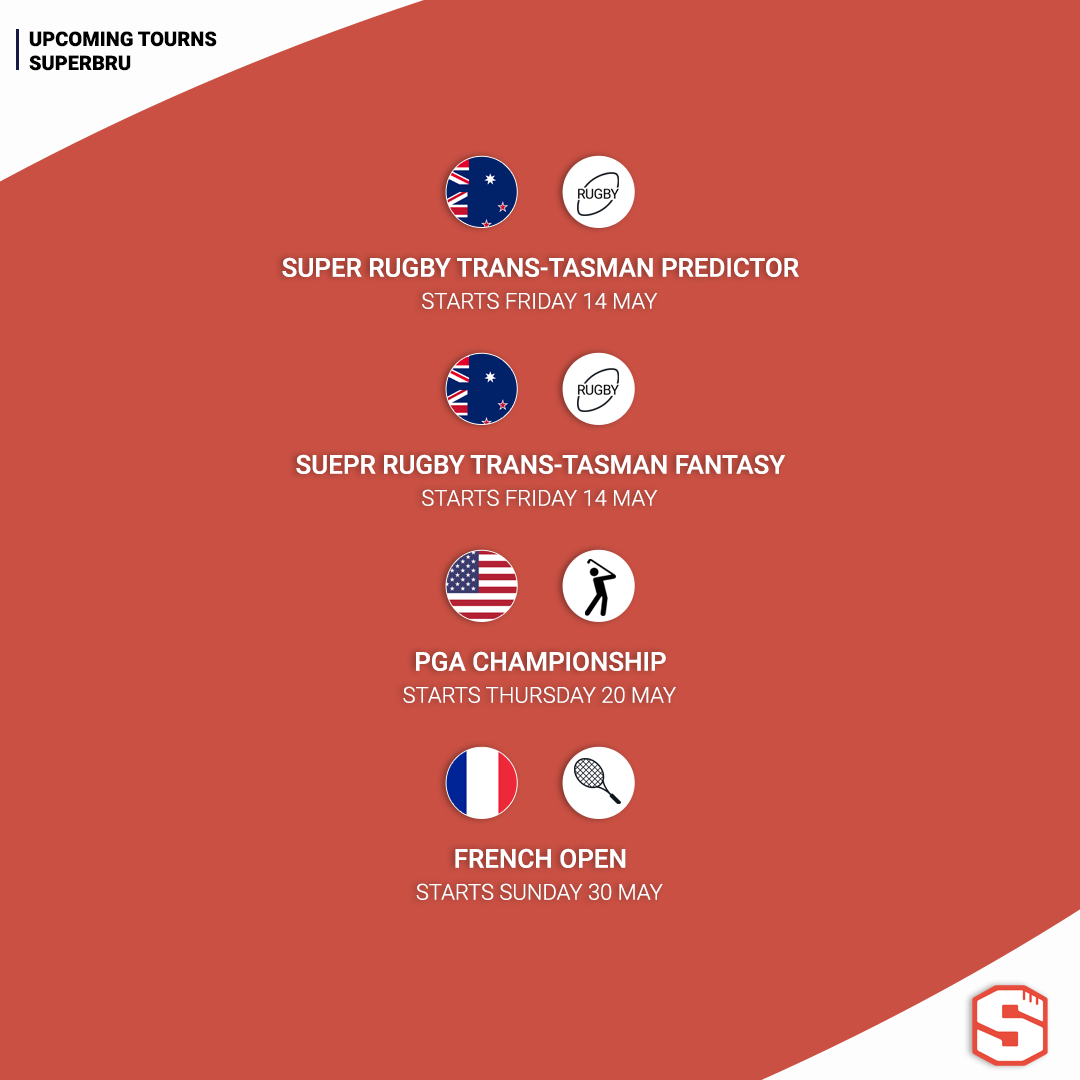 Friday 14th May: Super Rugby Trans-Tasman Predictor and Fantasy
First up we have what should be a great new tournament as 'Super Rugby Trans-Tasman' is set to be the closest thing to Super Rugby as we knew it before the pandemic. Following this week's finals in the domestic SR tournaments we've seen in Australia and New Zealand, the teams from those respective competitions will be facing off in Trans-Tasman.
5 regular stage rounds, 5 fixtures in each, 0 byes which makes fantasy easier, GSPs up for grabs in the predictor. Lovely stuff. After those 5 rounds, there'll be a final to determine the winner between 1st and 2nd on the table.
Thursday 20 May: PGA Championship
The following week we'll have our next golf picks to make as the PGA Championship takes place on Kiawah Island. Collin Morikawa won this event in 2020 when it eventually took place in August. This year, they're hoping up to 10,000 fans will be able to attend each day of the championship and it will be the second major that has taken place at the Ocean Course. The first was the PGA Championship back in 2012 which was won by Rory McIlroy.
Sunday 30 May: French Open
Due to current restrictions in Paris, the French Open has been pushed back slightly (albeit nowhere near as much as it was last year for the time being) and the main draw is now scheduled to begin on May 30th.
Last year, Rafael Nadal won the men's tournament in the unusual month of October meaning he's now won a ridiculous 13 times at Roland Garros. Nadal won the French Open without dropping a set in 2020 and if he manages to lift the title again this year he will break the record he currently shares with Roger Federer of 20 Grand Slam singles titles.
In the 2020 women's tournament, Iga Swiatek made history by becoming the first ever Polish player to win a Grand Slam singles title. Like Nadal, Swiatek didn't drop a set throughout the tournament.
So there's your lineup for May in terms of new tournaments. Unfortunately, we won't be running a tournament for this year's Giro d'Italia cycling Grand Tour, but this is a decision for 2021 only at this stage, and once we return to a more settled and reliable sporting calendar, we will consider adding it back to the roster. The next cycling tournament we plan to run a game for is the Tour de France in late June.
Finally, a second note on cricket, specifically for those of you playing Test Cricket fantasy - there have been Tests added to the calendar at quite short notice in recent months but we are expecting this week's match between Zimbabwe and Pakistan to be the final round in our current fantasy game. The new Test Cricket fantasy season will then be created and available to join very soon ahead of the matches scheduled for June.
We hope you're all keeping safe and well. Enjoy this month of sport!