Coming up this month on Superbru: July
We've now reached peak 'summer tournament month' (for those of us in the Northern Hemisphere) on Superbru as the Euros and Copa America continue, Wimbledon is in full swing and we're about to finally have an Olympics to enjoy.
That means the tournaments we have coming up are the fairly unique events that fall between the regular football and rugby seasons so it should make for some interesting predictions on Superbru, especially since we also have a brand new cricket format being introduced where no one really knows what to expect.
Here are the new tournaments we have coming up this July. Of course, the first tournaments of the month were the July Internationals and Lions Tour rugby predictors which each started at the weekend.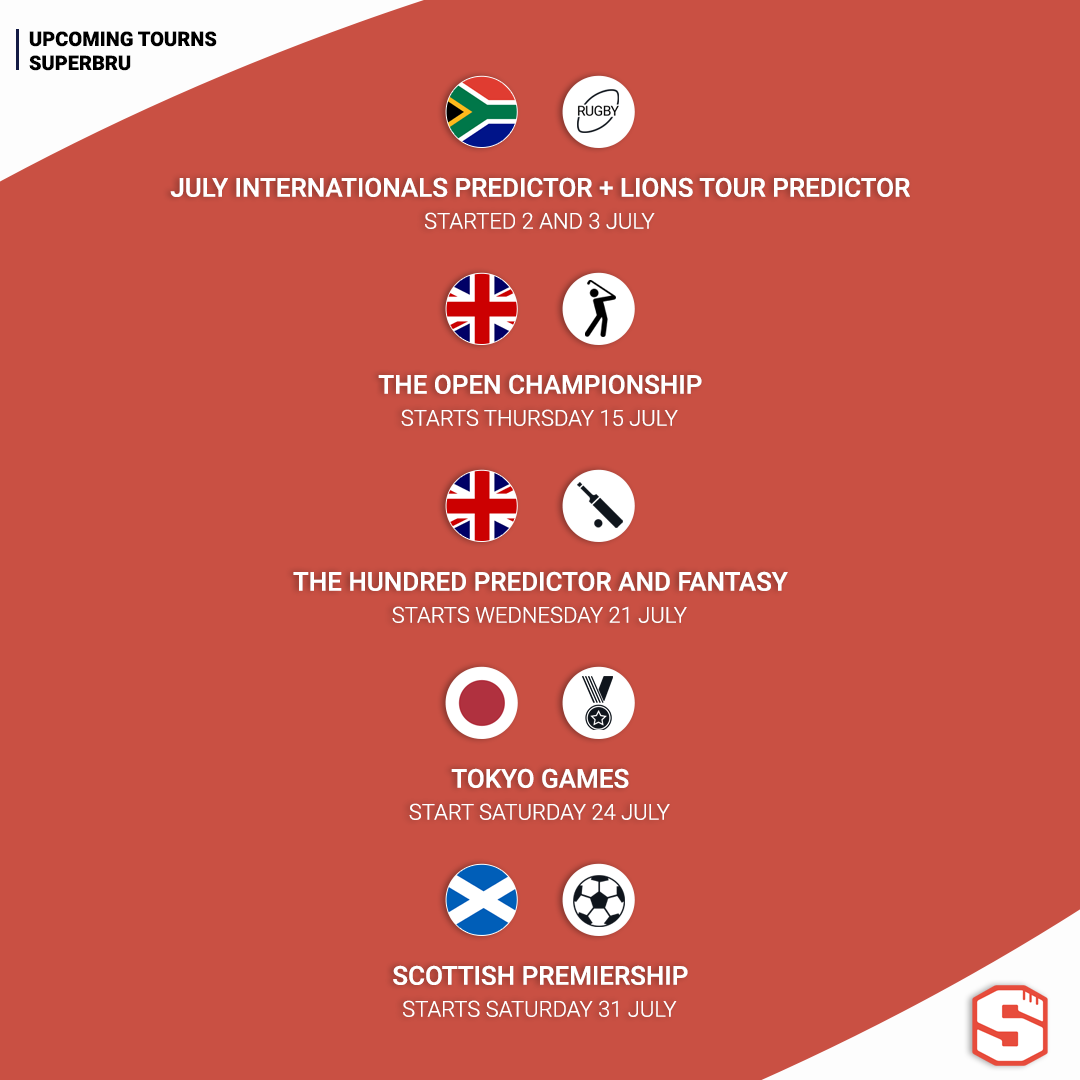 Thursday 15th July: The Open Championship
Following last year's cancellation due to the pandemic, The Open is back in 2021 and will take place at Royal St George's. Shane Lowry was the 2019 winner in Portrush (that feels a while ago now, doesn't it!). This will be the fourth and final major of the year but we also have the usual tournaments for the FedEx Cup playoffs coming up and there is of course the Ryder Cup later this year.
Wednesday 21st July: The Hundred
'The Hundred' is a brand new cricket tournament in England and Wales which has been planned by the ECB as their new major franchise league to go alongside other notable T20 leagues such as the IPL, CPL, PSL and Big Bash. The Hundred was due to launch last summer but was postponed by a year.
There is obviously a major difference though as 'The Hundred' will be a totally unique format that cricket hasn't seen before rather than T20. Each team will face 100 balls in their innings with one of many notable rule changes being that bowlers will either bowl 5-ball or 10-ball overs (captains can choose throughout the game) rather than traditional 6-ball overs.
The tournament includes 8 new franchises, each of which have very strong squads with players from around the world even despite a few recent withdrawals due to players from certain countries facing travel restrictions. The schedule sees games take place on a daily basis once it starts on July 21st and most days include 'double header' fixtures with a women's match closely followed by a men's match at the same venue meaning those with tickets will be watching both games.
On Superbru, our predictor game includes both the women's and men's matches while we've also added a fantasy game for the men's tournament which will work in the same way our IPL fantasy game has done. We're excited to see how the Hundred is received both on Superbru and more generally around the world and we will of course be looking to add potential improvements to each game once we've had a full season of seeing how this new format plays out.
Since there's no history of 100-ball matches, we'll all be making picks with fairly little research but slight tweaks we have made to our games from T20 equivalents include minor changes to the 'balls remaining' measures in the predictor margins in order to adapt to the shorter format, while the points bowlers receive for economy rates in our fantasy games have also been tweaked to fit 5-ball overs.
From Wednesday 21st July: Tokyo Games
Another event that has been delayed by a year, the Tokyo Olympics are now just a few weeks away which is very exciting! As you may have seen, we have just launched three 'Tokyo' games - a predictor tournament for the football, a predictor game for the Sevens Rugby and a main daily fantasy tournament that we'll be running for the Olympics more generally which will include a variety of the numerous events.
Tokyo Games (Daily Fantasy)
Starting with the general 'Tokyo Games' daily fantasy game then and this will be the one to play if you're keen to make some picks throughout the Olympics for many of the major events including swimming, cycling and the athletics. This game does of course also add some enjoyment to the lesser known events we all end up watching each day!
The tournament is focused upon medals meaning each of the events you make a pick for each day will be a 'final' and you'll pick up points if the athlete or nation you pick manages a place on the podium.
As an example, if you join the game you'll see that the first day's scheduled events are currently set to be the Men's Cycling Road Race, 10m Air Pistol Finals, Mixed Team Archery and an individual Sabre Fencing event. On Day 1 of the daily fantasy game you will therefore be picking one athlete/team for each of these events from a list of selectable athletes that we'll provide once participants are confirmed. You'll receive one point if your pick manages a bronze medal, three if they manage silver and five if they take gold.
Given the wide variety of events included, it's fair to say this will be one of the most challenging tournaments we run this year!
Tokyo Football
Since we're used to running many football tournaments on Superbru, our usual predictor format that we have used for the Euros, Premier League and many other tournaments will be in play here. This tournament will include all fixtures in both the women's and men's events.
The tournament begins on Wendesday 21st July which is a few days before the start of the 'Tokyo Games' daily fantasy game as this is when the Women's football group stage begins with Team GB taking on Chile. Many squads have already been announced and there are lots of big names involved - Spain's Men's team is a good one to look up if you'd like an example.
Tokyo Sevens Rugby
The other separate Tokyo tournament we've already launched is the Sevens rugby which will begin on Monday 26 July.
It's been a little while since we've been able to run a Sevens game due to the World Sevens being disrupted by the pandemic so it'll be exciting to see some action again! The Sevens game will include both the men's tournament and the women's tournament, both of which consist of 12 teams (3 pools of 4).
The pools have already been confirmed but we're still waiting on fixtures - once confirmed, they'll be added to our game so that you can start making picks for the opening matches.
Saturday 31 July: Scottish Premiership
Finally, at the very end of the month we have the start of the new football season as the Scottish Premiership will be the first league we cover that gets underway for a 2021/22 campaign.
After finally managing another league title last year, Steven Gerrard's Rangers will be defending their crown against rivals Celtic who have recently appointed Ange Postecoglou as their new manager.
We will of course have lots of other new football tournaments available to join soon including the
Premier League Predictor
which is already live and starts next month.
Other bits
A reminder that the first
Formula 1 GP to include 'sprint qualifying'
is the British GP which takes place over the weekend of July 18th. For that race, please be aware that when picking who you think will start the race in pole position, you'll be picking the winner of the new 'sprint race' as that's how pole position for the main race will be determined. We've added messaging to the game to explain this and remind you.
In the
Lions Tour Predictor
, we have now unfortunately had confirmation of some fixture disruption with the Bulls v Lions fixture planned for this weekend now postponed. There's a chance it may still be rescheduled for later in the tour (during the week before the first Test against the Springboks is the rumoured possibility) so as we have become used to in many other tournaments during this pandemic, the fixture has been marked 'postponed' on Superbru and we will then either move the match to a different round when required or delete it entirely if the match is cancelled.
We hope you all enjoy July and let's hope these fresh tournaments are each able to go ahead smoothly as planned!