Coming up this month on Superbru: January 2022
Happy New Year all. We hope you had an enjoyable end to 2021 and have entered 2022 in good health and spirits despite everything still being slightly 2020ish.
This year has a number of major events scheduled including the Women's Euros, Cricket World Cup and Rugby World Cup, the Men's FIFA World Cup, another T20 World Cup and the Rugby League World Cup, plus the notable annual events as usual of course.
However, let's stick to focusing on this month specifically for now and here's your preview of the fresh tournaments we have coming up on Superbru in the next few weeks.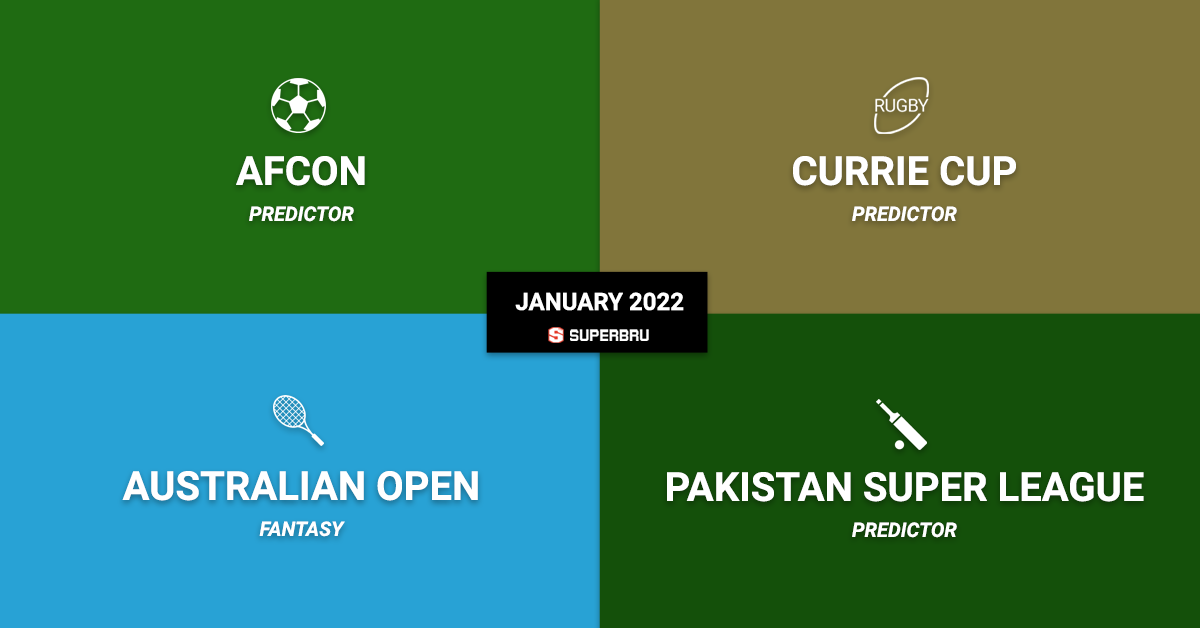 Sunday 9th January: AFCON
We start 2022 with Africa's biggest football prize as AFCON, originally scheduled for 2021, begins this weekend in Cameroon. Algeria are the defending champions from 2019 and they're expected to go close again this year but they're currently considered joint favourites by many along with Senegal and it's easy to see why when you look at some of the players in the Senegalese squad including Sadio Mane, Edouard Mendy, Kalidou Koulibaly and Idrissa Gueye.
The tournament begins with hosts Cameroon taking on Burkina Faso. The three group stage rounds will be followed by a Round of 16, Quarters, Semis and a Final on February 6th.
Saturday 15th January: Currie Cup
Next up we have the Currie Cup and this looks to be the new schedule that rugby fans in South Africa will need to get used to as SA Rugby have indicated that the Currie Cup will take place at this time of year going forward to become in sync with the new United Rugby Championship. The Currie Cup final will be played on June 25th which will be the season end date for players in both this tournament and the URC. You can read more about the change in SA Rugby's press release
here
.
This year's tournament will consist of 7 teams but an 8th team will be added next season as the top team in the First Division will be promoted for 2023. The opening weekend will see WP v Lions, Cheetahs v Griquas and Pumas v Bulls.
Monday 17th January: Australian Open
The first tennis major of 2022 is less than 2 weeks away as the Australian Open in Melbourne begins on Monday the 17th.
Media coverage of this tournament has gone up a notch in the past 24 hours as big news surfaced yesterday that Novak Djokovic will be in Australia to defend his crown after the 20-time Grand Slam champion revealed on Instagram that he has received a medical exemption to travel and compete in the tournament despite not being vaccinated. In the women's tournament, Naomi Osaka is back in action and will compete - she won this tournament in both 2019 and 2021.
Thursday 27th January: Pakistan Super League
Finally, we have the Pakistan Super League T20 tournament which begins towards the end of this month. The first half of the tournament will see all games played in Karachi before the second half and finals are played in Lahore.
As usual, there'll be lots of overseas T20 players involved including Rashid Khan, Imran Tahir, Liam Livingstone, Jason Roy and Chris Jordan as well as Pakistan's own international stars.
Good luck with your picks in these tournaments and in everything that's already ongoing - with so many postponements throughout December there's likely to be quite a few rescheduled matches to pick in the coming weeks.
A note that one such example has already happened in the Premier League where
3 rescheduled matches have been added to the most recent round
(they are taking place next week). For such cases in the Premier League, all picks that were previously made for the fixtures prior to their postponement are carried over but you can of course edit them if you wish. All previously locked picks are unlocked for postponed matches once we update our game to reflect the rescheduled dates.