Coming up this month on Superbru: February
After a January that felt even longer than January usually does because of most of the world still living under restrictions, we've finally reached February and on Superbru that means lots of fresh tournaments are starting soon!
The pandemic means our February schedule isn't really what we've been used to in previous years in terms of dates and format, but we have a great amount of sport to look forward to regardless. The Six Nations remains fairly normal (other than the obvious negative that there will be no fans), the Australian Open has become a February tournament and we still have some Super Rugby, just, different Super Rugby.
Here's what's coming up this month on Superbru and the links you need to join each tournament. If you're reading this on our app, in case you aren't already aware, you can join any of these tournaments by returning to the home picks page and then tapping the plus icon in the top right corner of your screen.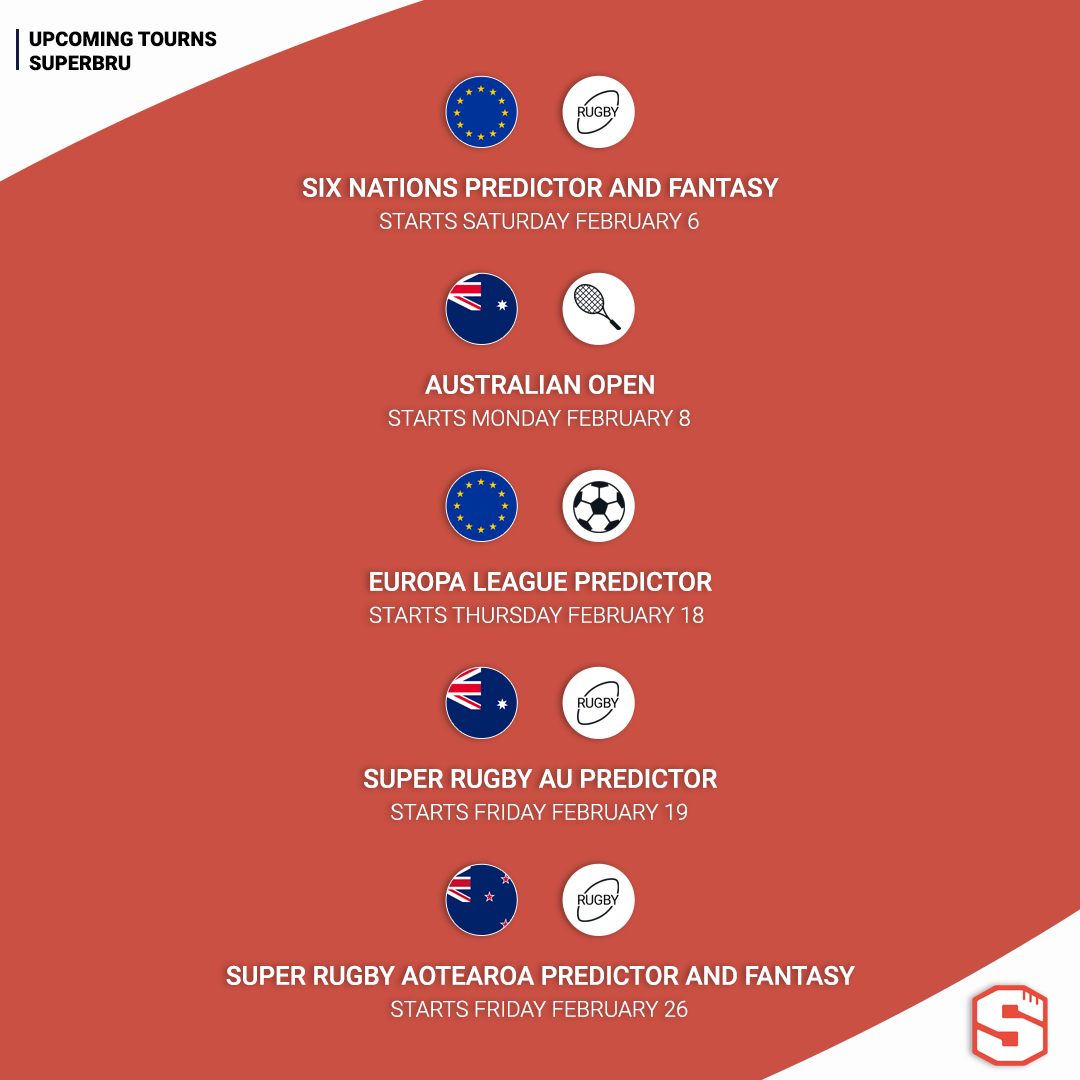 Saturday 6 February: Six Nations
The 2021 Six Nations will undoubtedly be different without any fans, but the dates and format remain 'normal' with the Championship beginning this Saturday when Italy take on France in Rome.
On Superbru, the games we have available for you to join this year are the Predictor and full Fantasy tournaments. In the fantasy game, you'll need to select a full 23-man squad for the tournament. You can have up to 6 players from each nation and make 4 transfers between each round.
Of course, we're all hoping that the tournament ends a little earlier than October 31st this year, but in case there is some disruption during the pandemic with postponed matches, we've added information on 'Covid-19 variable transfer limits' to the game. This means that if a match is postponed with enough notice before the round deadline, some extra transfers will be permitted to allow you all to react.
Monday 8 February: Australian Open
The first Grand Slam of this year's tennis calendar is slightly delayed because of the pandemic, but now that qualifying has taken place in the Middle East, numerous players have finished spending up to 15 days of quarantine in Australian hotel rooms and others have been blocked from travelling at all, we're set to see the tournament start next Monday.
On Superbru, we have our usual fantasy game ready for you to join. For each round of the tournament, you select 2 male players and 2 female players to score points. Last year's men's champion, Novak Djokovic is the number 1 seed this year while Sofia Kenin, who won her first ever Grand Slam title in the 2020 edition of this tournament, is fourth seed in the women's draw.
Thursday 18 February: Europa League
As usual, our predictor game for this season's Europa League begins with the Round of 32 knockouts so you can join the tournament now without worrying about having missed the group stage.
As always, many of the teams now considered favourites to win the tournament have dropped in after finishing 3rd in the Champions League group stage. Notable contenders include Manchester United, Tottenham, Arsenal, Leicester, AC Milan, Napoli and Ajax.
From Friday 19 February: Super Rugby
The changes to Super Rugby are the notable difference in our February schedule with Australia and New Zealand each running their own domestic editions of Super Rugby ahead of a Trans-Tasman competition once AU and Aotearoa are complete.
Last year, since plans were quite spontaneous as we built tournaments based on whichever rugby became possible during the pandemic, we had a 'Super Rugby Restart' tournament containing fixtures in both NZ and AU. This year, with the calendar planned with far more notice, we have individual tournaments for each of the upcoming competitions.
Super Rugby AU is the first to get underway on Friday 19th February. The 2020 AU tournament was won by the Brumbies.
A week after SR AU kicks-off, Super Rugby Aotearoa will begin and we have both a predictor and fantasy game available to join for the NZ tournament. In a change to last year, this season's Aotearoa tournament will also include a final following the round-robin stage of the tournament.
Our fantasy game for Super Rugby Aotearoa allows you to pick up to 7 players from a single team and you can make up to 7 transfers between each round - allowing you to manage around one team not playing each week.
Saturday 20 February: Pakistan Super League
Finally, our cricket predictor game for the upcoming Pakistan Super League will also be available to join soon ahead of the tournament getting underway on the 20th.
The PSL will be the first big franchise T20 tournament of the year (since the Big Bash technically started last December) and 2021 is set to be quite a year of T20 cricket with the World Cup scheduled to take place in India in October.
This should be quite an enjoyable month on Superbru! There is of course already lots of other sport going on with the Premier League and all other top football leagues continuing, the Champions League returning in a couple of weeks for the knockout stages and a lot of Test Cricket fantasy rounds too. We hope there's at least one tournament here that is of interest and for those of you that will be joining all 8, we hope you can find time to make so many picks!