Champions League Semi-Final second legs preview
Following last week's first legs, it's the English teams that are widely considered to be favourites to now reach the 2021 Champions League final. An impressive draw in Madrid for Chelsea was bettered by an away win for Manchester City in Paris on Wednesday night so the pressure is now on those English clubs to finish the job and secure places in the final this week.
Of course, you'd still have to be very brave to rule out a comeback from one or both of PSG and Real Madrid. As we saw in the first legs, these games can be decided by the smallest of margins (such as a the distance between players in a wall when 'defending' a free-kick) so we can expect two more excellent matches in the next 48 hours.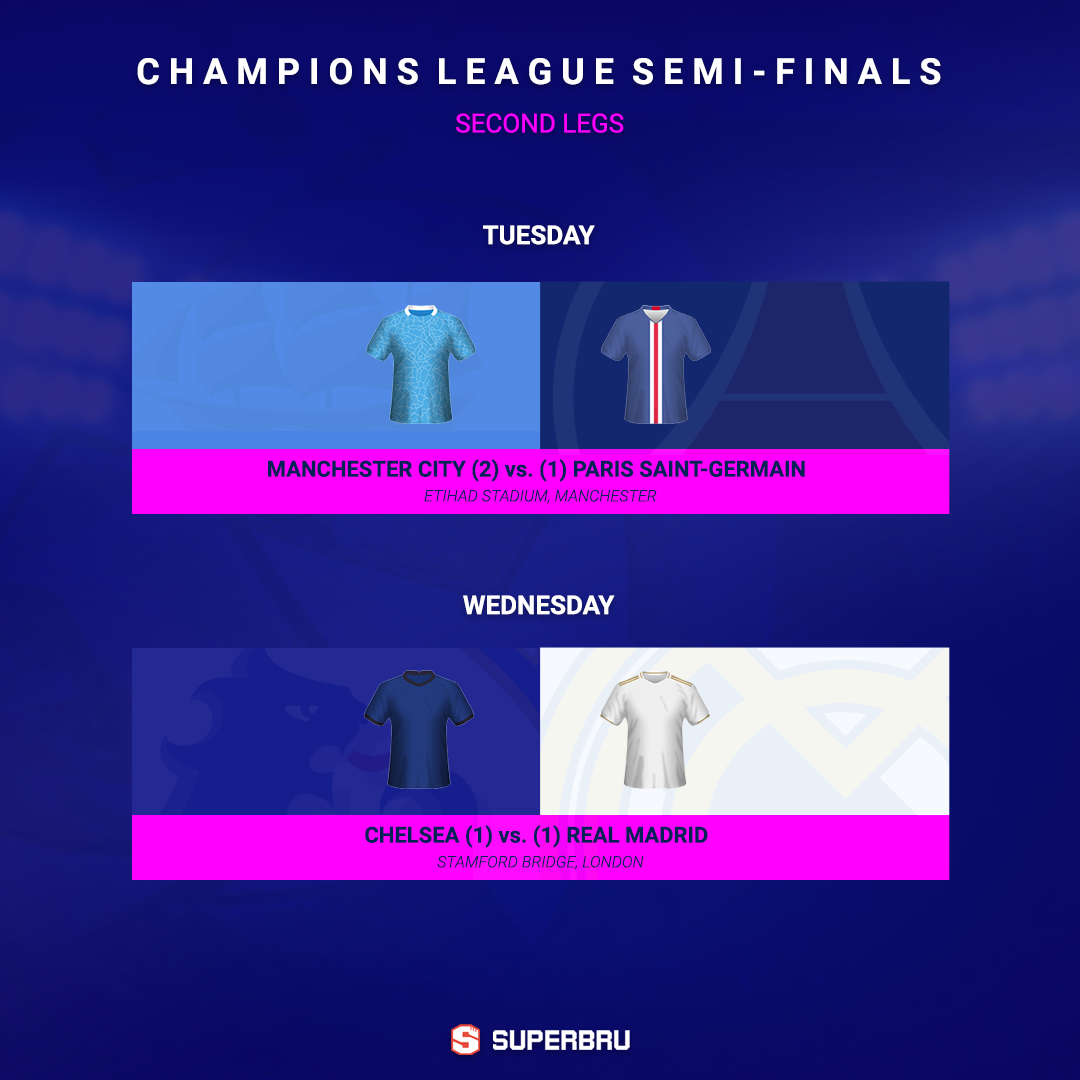 Manchester City vs. PSG
'A game of two halves' is the classic phrase that will no doubt have been used by many fans and pundits following the first leg of this one as after an incredible display in the opening 45 minutes that saw them lead 1-0 at the break, PSG collapsed in the second period when you'd have perhaps thought it would be Manchester City that would fold after going behind based on previous knockout appearances. Instead, we saw a really good performance from City after the interval with the slightly fortunate goals they managed not really representative of how well Guardiola's team played. Not that he'll care, of course.
Manchester City:
City's Premier League game that dropped in the middle of this tie was at Selhurst Park where they beat Crystal Palace 0-2 on Saturday. As expected, Guardiola rested the majority of the XI that played in Paris and switched to a 4-2-2-2 style formation with both Jesus and Aguero given starts. That game did of course emphasise the strength in depth City enjoy, but we can expect a very similar lineup to the first leg for this match. City have actually suffered more recent losses at home than they have away (they're on an incredible winning streak on the road) but their PL match against Man United was the only home game they've failed to score in this season. That suggests they're likely to score at least once in this game and if so, PSG will of course need 3 if they're to win without extra-time/penalties.
Team news:
City's squad remains fully fit.
PSG:
Paris defeated Lens 2-1 on Saturday but didn't rotate quite as much as City, though Di Maria and Mbappe were both absent. Di Maria was rested (on the bench) while Mbappe is reportedly struggling for fitness. Mauricio Pochettino has admitted he's concerned about whether or not the forward will be ready for this second leg - City denied Mbappe a shot on goal in the first leg but he would of course be a major miss for Paris in Manchester. Pochettino will certainly be looking for greater composure from his side this time out. After playing through City's press well in the first half of the first leg, PSG appeared to panic after losing control of possession later in the game and will perhaps feel glad that it's only 1-2 on aggregate following Gueye's red card.
Team news:
After his red card in the first leg, Idrissa Gueye is suspended. There's a question mark over the fitness of key man Kylian Mbappe.
Opinion:
This is still a test for City and Guardiola after their previous UCL exits but they were really impressive in Paris. I still expect there to be some drama and wouldn't be surprised if PSG scored first again but we've seen City deal with pressure both in the first leg and in the previous round against Dortmund so I expect to see them go through. Obviously the task would be made a lot easier if Mbappe isn't available.
2-1
Chelsea vs. Real Madrid
As mentioned in the intro, a 1-1 away draw against Real Madrid in a Champions League semi-final first leg is a good result, no matter what happened, but Chelsea fans will no doubt still feel that they could have had more given the chances missed in the early stages of the game. Because of that, Real Madrid will arguably feel as motivated as the Blues heading into this game since things are still level and they'll fancy their chances of an improved performance in this second leg now that they have a few key players back.
Chelsea:
A routine 2-0 win over Fulham on Saturday has helped Chelsea keep up their momentum ahead of this second leg with Kai Havertz the man who picked up both goals. Timo Werner was again involved for Chelsea and contributed well with an assist for the second Havertz goal but given that he's still struggling to find the net as often as he should, it'll be interesting to see if Tuchel opts for a change to the attacking lineup for this second leg with Havertz himself surely one of the names in contention. Kante, Azpilicueta and Pulisic were rested from the starting lineup for that Fulham win while Antonio Rudiger missed out due to injury. Karim Benzema's goal for Madrid in the first leg is the only goal Chelsea have conceded in their last 5 games.
Team news:
After missing the Fulham match, Rudiger and Kovacic remain doubts.
Real Madrid:
A 2-0 win over Osasuna on Saturday means Real Madrid have kept themselves just 2 points behind LaLiga leaders Atletico. Eder Militao and Casemiro scored the goals in a game that also saw Eden Hazard start and play 70 minutes though Raphael Varane suffered an adductor injury and now won't play in this second leg. Fortunately for Madrid, their captain is back in the squad in place of Varane, and he's brought some other key players with him. Sergio Ramos is set to make his return in this second leg and has been named in the travelling squad alongside Ferland Mendy and Fede Valverde.
Team news:
The return of Ramos, Valverde and Mendy means this is the best squad Zidane has had available for a little while. Carvajal and Vazquez are the players missing in addition to Varane.
Opinion:
The first leg suggested Chelsea are the better side and are rightly favourites to progress but things could get very interesting if Real Madrid manage a goal because the Blues don't concede often, and in the only loss we've seen Tuchel suffer so far at Stamford Bridge, things went south pretty quickly as the team panicked when falling behind against West Brom. Benzema does of course remain the main threat alongside the returning Hazard but it still seems that the most likely outcome is that Chelsea will continue to play with composure and control in this game. If the hosts get the first goal, which I think they can, Real Madrid will have to really go for it and that could leave some space late on.
2-1