Champions League Semi-Final first legs preview
We've officially reached the business end, folks. After some incredibly high quality football in the quarter-finals of the Champions League, it's now time to take things up another notch as the semis begin tonight.
There's an interesting mix of experience left in the competition this season as we have two clubs in PSG and Manchester City who are yet to win this tournament but have been doing everything in their power to change that, Chelsea who did of course win it in 2012 but haven't reached this stage since 2014 and then the absolute kings of the competition, Real Madrid. Interestingly, despite their incredible record, I (and I think many others) actually now see Real Madrid as the least likely winner of this season's Champions League but all four are of course more than capable. Here's all you need to know ahead of each tie.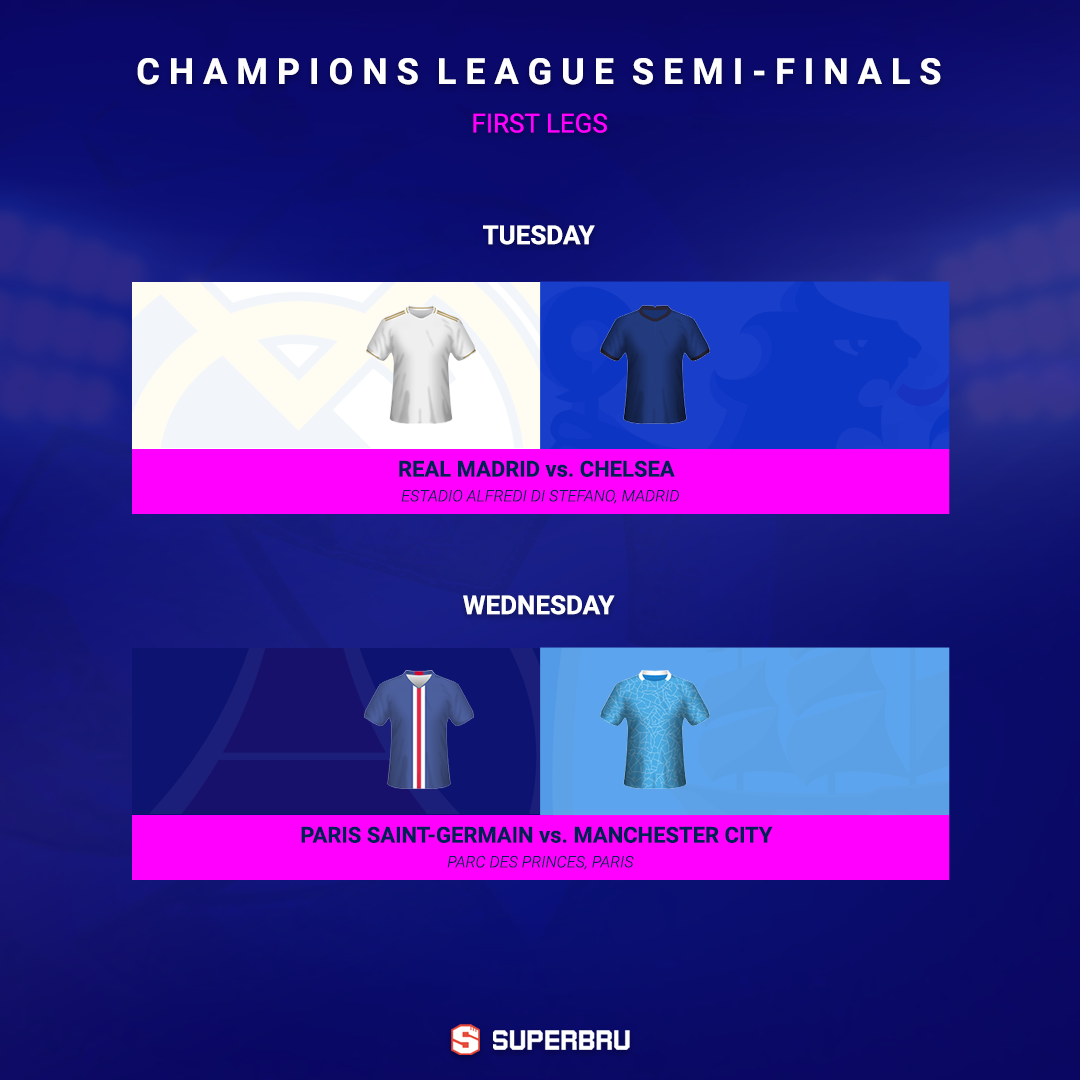 Real Madrid vs. Chelsea
Incredibly, Real Madrid and Chelsea have only ever had 3 previous meetings (both clubs have recently developed plans to try and change that) and the London side are yet to lose one. The most recent match between the two came way back in 1998 where Chelsea won the UEFA Super Cup 1-0 thanks to a goal from Gus Poyet. The Blues have looked relatively solid throughout this tournament so far while Real Madrid have also made their knockout ties look quite comfortable after a shaky group stage performance.
Real Madrid:
Since eliminating Liverpool in the quarter-finals, Real Madrid haven't conceded a goal in the 3 league games they've had, though they only won 1 of the 3. A 0-0 draw with Betis on Saturday means Real missed a chance to draw level on points with LaLiga leaders Atletico in what looks set to be an incredible title race over the final 5 rounds. The good news for Real Madrid heading into this tie is that their squad availability is fast improving after a difficult few weeks of team selection for Zidane. Toni Kroos is back in the squad for this game, Eden Hazard finally played some minutes in that Betis game and Sergio Ramos is back in training to recover from a calf injury after also isolating with Covid.
Of course, much of the talk ahead of both of these semi-finals will be about the planned 'Super League' but that's especially the case for this game given the major involvement of Real Madrid President Florentino Perez. Relations obviously aren't good between UEFA and the 'super' clubs right now and the Madrid press have even been putting pressure on the referees in today's papers as they're concerned about Zidane's team getting treated harshly because of the off-field shenanigans.
Team news:
Sergio Ramos is back in training but won't feature in this first leg (he hopes to be back for the second. Valverde, Vazquez and Ferland Mendy are the other players that won't be involved.
Chelsea:
Things have been going rather well for Chelsea after progressing against Porto in the quarters. Thomas Tuchel's team also haven't conceded in their last 3 games and the two victories they have managed were both very significant as they defeated Manchester City to reach the FA Cup final and West Ham to boost their hopes of a top four Premier League finish. Chelsea are of course up against a couple of notable former players in this match as Thibaut Courtois and fan-favourite Eden Hazard are both expected to lineup against their old team. Given the nature of their departures, there's no doubt which of those players Chelsea fans miss more and in terms of current performances, Thomas Tuchel will probably agree that Hazard would be a useful player to have back. Keeping clean sheets hasn't been a problem for new goalkeeper Edouard Mendy but Chelsea's games have been consistently low scoring. Tuchel will be hoping that a goal for Timo Werner last time out at West Ham will boost the chances of the German forward finding another in this huge clash in Madrid.
Team news:
Mateo Kovacic is the only injured Chelsea player.
Opinion:
The form of both sides suggests this one will be a real battle and likely cagey across both legs. Zidane and Tuchel have made their teams difficult to score against but it's perhaps Chelsea who will need to force things in this first leg given the need for an away goal. If the Blues can cut the supply line to Benzema through pressing, they're good enough to win in Madrid in my opinion and I think Tuchel has Chelsea organised well enough off the ball to do that.
0-1
PSG vs. Manchester City
A monster clash between two clubs who are widely considered as the best teams in this competition but who are also relatively inexperienced. This is only Manchester City's second Champions League semi-final (and first under Guardiola) while PSG have only reached this stage on 3 occasions but were of course runners-up last season. We can also expect an interesting battle between the managers given how well they know one another. Mauricio Pochettino and Pep Guardiola have met 18 times across their time in Spain (Espanyol and Barcelona) and England (Spurs and City) with Guardiola winning 10. Pochettino has only won 3 of those meetings but the most famous of those was of course when Tottenham eliminated Manchester City in the 2018/19 UCL quarter-finals.
PSG:
Since their very impressive win over holders Bayern in the quarter-finals, PSG have won all 3 of the games they have had, scoring at least 3 times in each of them. After scoring 3 in their away quarter-final leg in Munich, we saw a fairly professional defensive display from Paris to see out the tie in the second leg (they were also very unlucky not to score themselves) and after also reaching the final last season, there's clear evidence that PSG are progressing quickly and getting closer and closer to a first Champions League win. The blueprint will be the same as normal for this tie - defend with 7/8 players for much of the game and allow Neymar, Mbappe and Di Maria to cause serious damage in attack.
Team news:
Bernat remains out, Rafinha is a doubt. Mbappe appeared to suffer a knock on Saturday but there has been nothing since that game to suggest he won't feature.
Manchester City:
City secured their first trophy of the season on Sunday with a 1-0 League Cup final win over Tottenham and they look very likely to add another Premier League trophy to that in the coming weeks. This title is the one City and Guardiola crave the most though and like PSG, they appear to be making good progress towards lifting it. City beat Dortmund 2-1 in both legs in the quarter-finals and have been in fantastic form throughout 2021. Guardiola's team have lost just 3 of their last 33 games and the incredible thing is that they've won all of the other 30.
Guardiola himself has been criticised for overcomplicating things in City's previous UCL eliminations during his time at the club so it will be interesting to see how they setup - if he tries to keep things more consistent this time around, it's likely we'll continue to see a lineup without a recognised striker just as we saw in the Dortmund games and the League Cup final. Many of the tactical changes we see from Guardiola (such as inverted full-backs since the start of his reign) are to try and prevent the major fear of getting caught on the counter. Given that the counter attack is PSG's major strength because of the sheer pace of Mbappe in particular, it will be fascinating to see if City are more reserved than usual in this first leg.
Team news:
No injuries - Kevin De Bruyne returned for the League Cup final.
Opinion:
A really tough game to call. In previous years I'd just see City getting picked off on the counter and losing but they've improved defensively this season. That said, it's still unlikely they'll pick up a clean sheet in my opinion. I think PSG might have been in trouble in the last round if Lewandowski was fit because they did concede chances and though City also pass up opportunities because of their lack of a consistently available and high quality number 9, I think they'll take more than Bayern did in Paris.
2-2