Champions League Preview: Round 3
Just as in the opening round of this season's Champions League predictor, Real Madrid were again involved in the upset of the round in Round 2 as they failed to win at Borussia Monchengladbach. It could have been far worse had it not been for late goals from Benzema and Casemiro to ensure things finished 2-2 rather than 2-0!
Elsewhere things were relatively predictable outside of draws (which are always hard to predict) meaning the average player managed a respectable 10/16 in Round 2. Let's see if things play out similarly in Round 3 which is the last round in this flurry of consecutive gameweeks before we have the international break next week.
Tuesday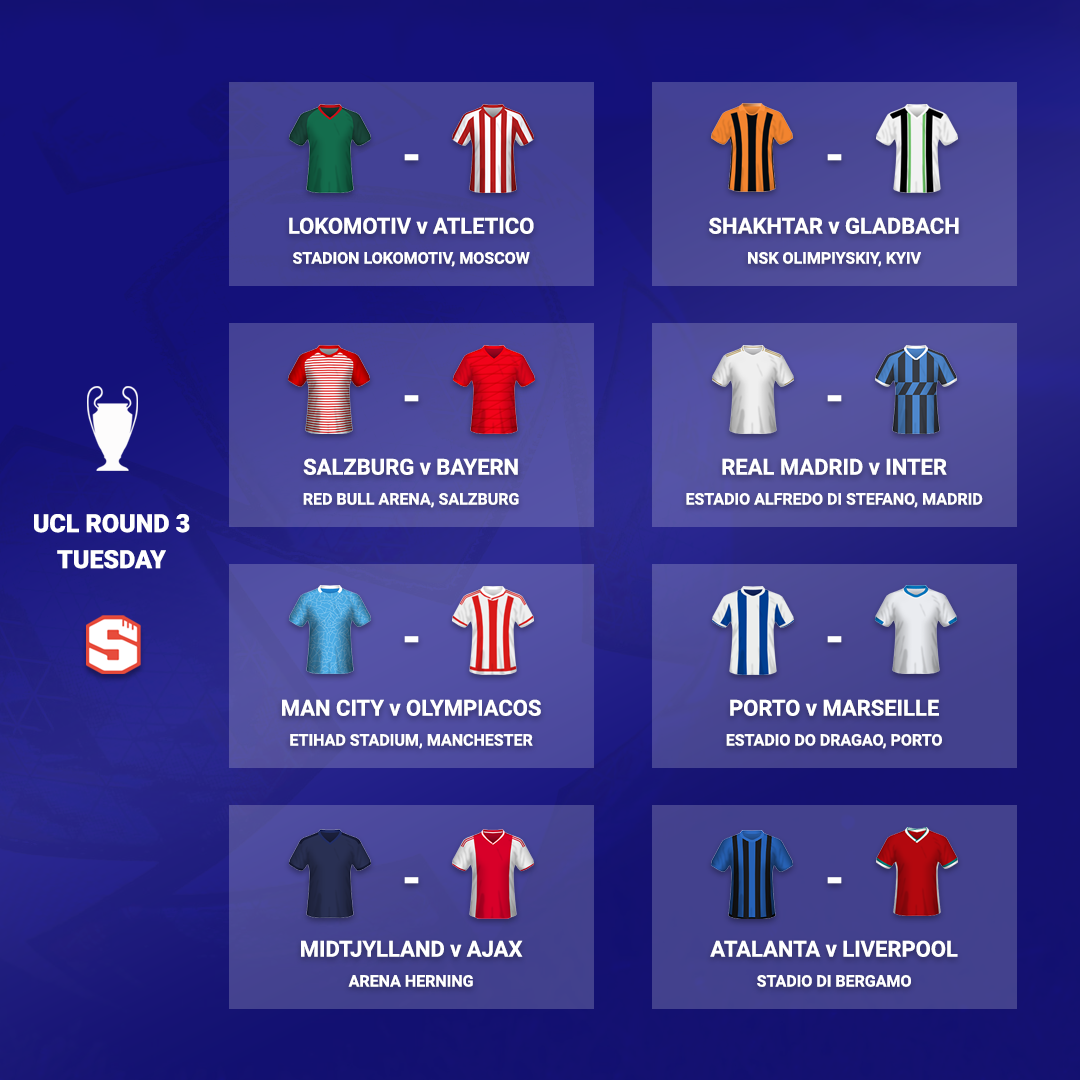 Group A
Neither was particularly convincing, but both Bayern and Atletico picked up the wins expected of them in Round 2 meaning so far this group has played out largely as predicted. The big two now each face tough away trips in Round 3, will either slip up?
Lokomotiv vs. Atletico
: Atletico perhaps haven't looked as solid defensively as in previous years where they've been notoriously tough to break down, but we are seeing some flashes of real brilliance in attack now that Joao Felix seems to be finding his feet in this Simeone team. Felix was excellent in Round 2 and also stepped up with some important goals in LaLiga at the weekend to secure a win while Luis Suarez was unavailable. Lokomotiv gave Bayern a game last week so will no doubt test Atletico but you have to expect the Spanish side to come out on top.
Prediction: 1-3Salzburg vs. Bayern
: Bayern's immense unbeaten run in the Champions League continues following that win at Lokomotiv and they were able to rest Lewandowski and Goretzka in their win at Koln in the Bundesliga last weekend. The German giants should be picking up three more points in this game, as long as they can deal with the threat Salzburg will show at times on the counter.
Prediction: 1-4
Group B
Real Madrid's failure to find a win in their opening two games leaves them bottom of Group B ahead of their match against Inter in this round. The results so far in this group mean we can expect each remaining game to be both very exciting and tense as all teams now have a serious chance of progressing to the Last 16.
Shakhtar vs. Monchengladbach
: Both of these teams will be very pleased with their results so far, though in the case of Gladbach, there will perhaps be slight frustration that they didn't manage to hold on for a win against either Inter or Real Madrid having been ahead against both. Despite that, I'm going to back them here and think this might be case of 'third time lucky' where as well as scoring twice again they manage to just about prevent their opponents from doing the same this time.
Prediction: 1-2Real Madrid vs. Inter
: The big news ahead of this huge game is that Inter are set to be without Lukaku who hasn't travelled due to a muscle injury. Conte's team tend to be very reliant on the Belgian striker for goals and without him, this looks an even tougher fixture. Eden Hazard scored a brilliant goal at the weekend for Madrid on his return to their XI after a long injury and with that boost plus what's at stake for the hosts, I think they'll get the win.
Prediction: 2-1
Group C
Manchester City have predictably taken charge of this group and a win in this round would already put them on the verge of qualification for the knockouts. The battle for second is more even, though if Porto can follow up their win over Olympiacos with three points against Marseille then they'll be in a strong position.
Manchester City vs. Olympiacos
: This should be fairly routine for City and there isn't too much else to say. Gabriel Jesus could return from injury but if not, Guardiola has suggested he's happy to continue with Ferran Torres occupying a central striker role as he did against Sheffield United on Saturday.
Prediction: 3-0Porto vs. Marseille
: Marseille are still in search of their first goal in this tournament and they need to find one (and a result) fast if they're to stand a chance of progressing. This is a tough away trip though and Porto start as favourites. I'm going to go for a narrow home win but it's worth noting Marseille have had an extra amount of time to rest after their Ligue 1 game was postponed at the weekend.
Prediction: 2-1
Group D
There are still plenty of big matches to go in this group, including Atalanta vs. Liverpool tonight. Liverpool sit top of the group after two rounds but now face what is perhaps their toughest fixture while Ajax should close the gap between themselves and second with a win in Denmark.
Midtjylland vs. Ajax
: As mentioned, Ajax are favourites here but the big news ahead of the game is the significant coronavirus outbreak they have suffered. The Dutch side have travelled to Denmark with a reduced squad of just 17 players after 11 squad members tested positive in recent days. The news means it might be wise to avoid going for a huge margin of victory here (it's also put a dent in our Odds-Based fantasy bands!) as key players such as Tadic, Klaassen and Onana are among those who haven't travelled.
Prediction: 1-3Atalanta vs. Liverpool
: What a game this should be. Atalanta have already scored 6 goals in their opening two games but Liverpool are yet to concede and picked up an impressive 0-1 win away at Ajax who are similarly dangerous going forward. I doubt the Reds can keep up their clean sheet record in this game but they'll cause Atalanta real problems themselves. Both teams have big league games at the weekend but I'm not sure that'll have too much of an effect as there are several days rest for both sides. I'm going for a draw as that wouldn't be the worst result for Liverpool so that they can keep control of the group ahead of their home games against Atalanta and Ajax.
Prediction: 1-1
Wednesday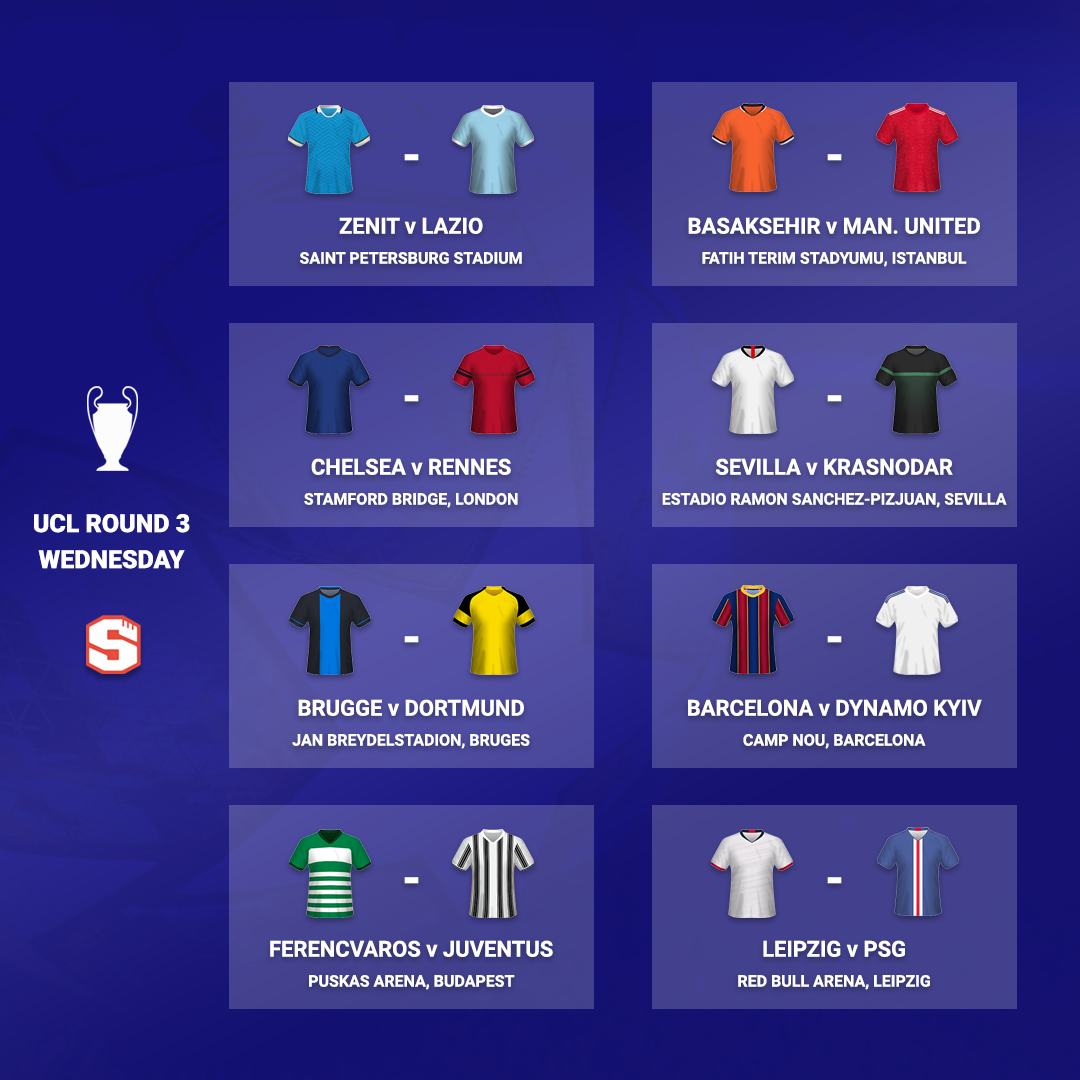 Group E
Chelsea and Sevilla picked up the victories they were expected to in Round 2 meaning that if they both win again this week, it will become highly likely that they're the two teams progressing to the knockouts with the meeting between the pair in Seville to determine who goes through as group winners.
Chelsea vs. Rennes
: As I said last week, Rennes are likely to be far more of a test away from home than when Chelsea are playing them at Stamford Bridge and the Blues look to be finding some form at the moment. Frank Lampard will be eager to continue both the scoring form and the defensive solidity his side have been showing in recent games.
Prediction: 2-0Sevilla vs. Krasnodar
: This should be a routine win for the hosts. It was important they got that 1-0 win over Rennes last week and this is now an easier home fixture for them to take another three points from.
Prediction: 2-0
Group F
After picking up 4 points from games against Zenit and Lazio, Brugge have given themselves a fighting chance of a top-two place in this group ahead of their first fixture against Borussia Dortmund. BVB face a big test as they head to Belgium where a win is required if they're to begin taking control of this group as many expect them to.
Zenit vs. Lazio
: After two losses from two so far, I think it's hard to back Zenit here. Lazio appear to have most of the players that had to miss the trip to Brugge back available and I think they'll have the firepower to win this match as a result. As their dramatic late win over Torino showed at the weekend, they have plenty of goals in them!
Prediction: 1-3Brugge vs. Dortmund
: I'm tempted to go for a draw here because Brugge have been impressive and Dortmund are inconsistent, however, it's still likely that the visitors just about come out on top when you've got players as dangerous as Haaland and Sancho. I think in order to contain Dortmund, Brugge will have to play quite negatively and that will harm their chances of taking advantage of what can be a fragile BVB defence.
Prediction: 0-2
Group G
Barcelona's win at Juventus puts them in a commanding position in this group, though Juventus will of course remain confident of progression to the knockout stages too. Both teams are favourites to win this week, with only a very small number of people likely to pick an upset in Group G.
Barcelona vs. Dynamo Kyiv
: Barcelona's domestic form remains poor and there'll be concerns about that but their two Champions League performances have been sound. This should be a routine win but it'll be interesting to see if Koeman mixes things up at all as he looks to find a better formula for LaLiga. Dynamo's task is made no easier by a severe coronavirus outbreak that has left them short of players - there's even suggestions that this game could be cancelled if they receive any more positives before KO as they've only travelled with 13 senior players.
Prediction: 4-0Ferencvaros vs. Juventus
: This should be straightforward for Juve, especially if Cristiano Ronaldo features after making his long-awaited return to action from the bench at the weekend where he came on and scored twice against Spezia.
Prediction: 0-3
Group H
Despite struggling in the Premier League, Manchester United are in firm control of this group after following up their win in Paris by battering Leipzig 5-0 last week. The Red Devils now have a winnable game in Turkey in Round 3 while Leipzig and PSG are left to take each other on in a huge game.
Istanbul Basaksehir vs. Man. United
: I'm not sure United's disappointing domestic form will affect them here, especially when they're on the road which is where they've performed best. Basaksehir haven't been up to much so far in this tournament so it would be a big surprise to see them get a point or more.
Prediction: 0-2RB Leipzig vs. PSG
: A really difficult pick. It may seem crazy to consider picking Leipzig after that 5-0 and they also lost at Gladbach in the Bundesliga at the weekend but PSG have a
lot
of players out injured. It's now been confirmed that Paris will be without Kylian Mbappe as well as Neymar, Mauro Icardi, Marco Verratti and Juan Bernat among others. PSG remain relatively dangerous but now that the only real creative players Leipzig will have to deal with are Angel Di Maria and Pablo Sarabia, they'll never have a better chance to pick up points against PSG. I'm still a little concerned by the German side's performance last week though so I'm going for a draw.
Prediction: 1-1
Best of luck to you all in Round 3!