Champions League Preview: Round 1
The big stage in European football is back today as the Champions League gets underway and as always, I'm incredibly excited to see how it unfolds.
This year's group stage draw looks a beauty with several standout fixtures and a good number of groups where there are 3, or in some cases even 4 teams that could feasibly qualify for the knockout stages.
Here, I'll be going through each group and how I expect the Round 1 fixtures to play out. I hope at least some of it is useful and feel free to leave some comments after joining our
predictor
and
odds-based fantasy
games!
Tuesday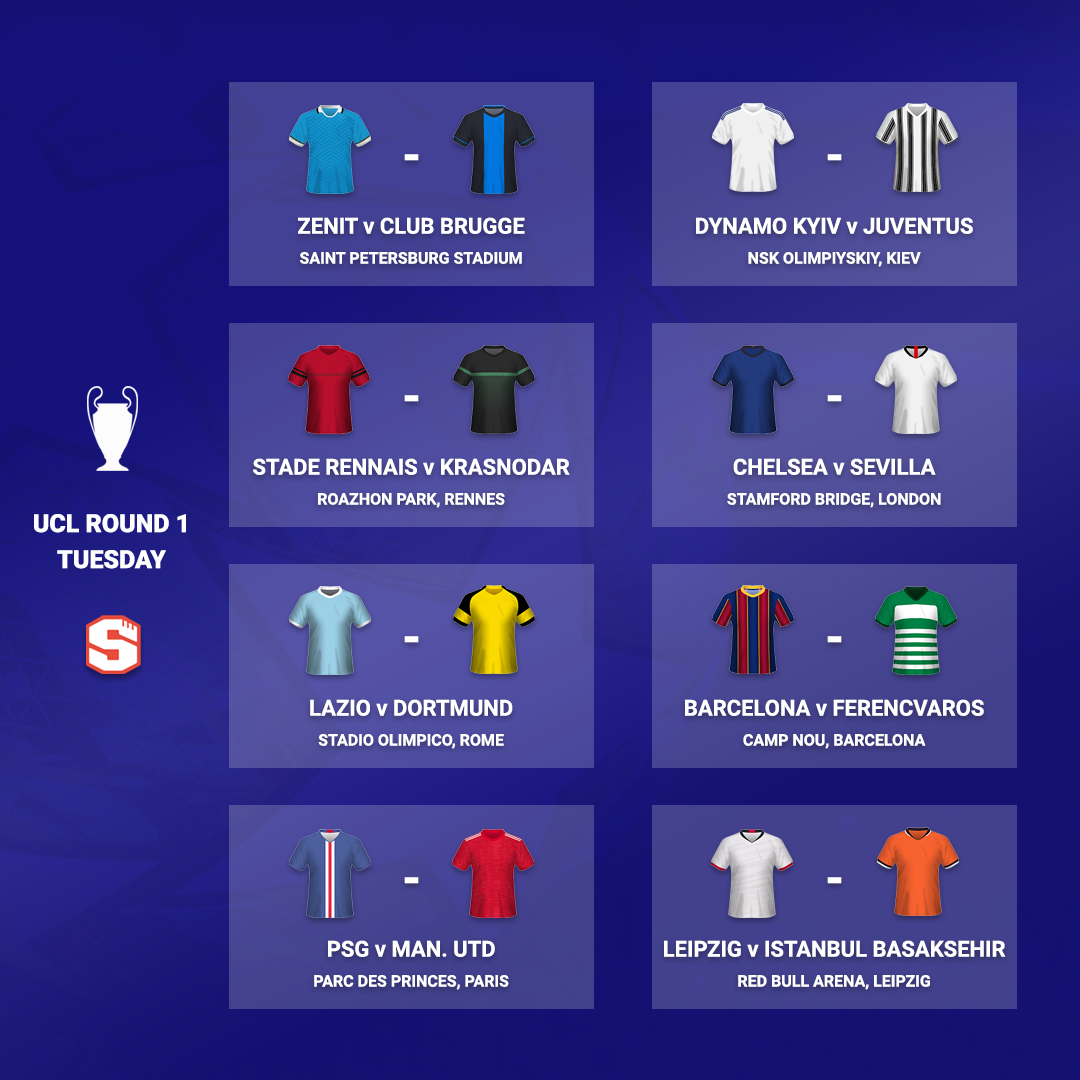 I'm mixing up the fixture order a little bit so that I can discuss the matches in each respective group together as a pair and let's start with Group E through to H since they're the games that will be played tonight before Groups A-D are played tomorrow.
Group E
Unless either side makes a real mess of their group stage campaign, Chelsea and Sevilla really should be progressing from this group with those two battling it out for first place while Rennes will be hopeful of 3rd which would secure them Europa League knockout football.
Chelsea vs. Sevilla
: This is a tough game to call since both sides have suffered stuttering starts to their domestic campaigns. Chelsea look really dangerous in attack with their talented new signings but remain very unconvincing defensively while Sevilla were beaten 1-0 by Granada at the weekend. Julien Lopetegui's Sevilla showed last season that they are just as strong in Europe as Sevilla teams of the past with yet another Europa League title and I think they'll be good enough for a draw at Stamford Bridge even without centre-back Jules Kounde.
Prediction: 1-1Rennes vs. Krasnodar
: This will be Krasnodar's first ever Champions League group game and I'm not going to pretend to know much about the Russian Premier League but we can see from their results in last season's Europa League group stage that they could be tricky to beat at home but are unlikely to be much of a problem on the road. Rennes are are also new to the UCL but are going quite well in Ligue 1 this season as they're unbeaten after 7 games (W4, D3) and I think they'll be fine in this game.
Prediction: 3-1
Group F
This group could be quite fun. Dortmund stand out as likely group winners and Lazio impressed in Serie A last season but the Italian club haven't started so well this season and Zenit tend to be awkward customers in the Champions League. It'll be interesting to see how the Lazio v Zenit games go but this week's games
should
play out more predictably...
Zenit vs. Brugge
: First of all, this is one of the two early games of the night (kick-off is 17:55 UK time) so don't be caught out by that. I don't tend to pick teams to win away at Zenit unless you're talking about a seriously good side so I'll be backing the hosts here. Both teams play in leagues where they aren't used to losing but I'd be surprised to see Brugge get anything - though they did pull off a few good results in this tournament last season!
Prediction: 2-0Lazio vs. Dortmund
: We all know Dortmund are more than capable of a poor result out of nowhere but they should win this game based on their talent and Lazio's form. The Serie A side were dreadful in a 3-0 defeat against Sampdoria at the weekend and I think Dortmund will win this in a high-scoring game.
Prediction: 2-4
Group G
Apologies if you're a Dynamo Kyiv or Ferencvaros fan (PLEASE let me know if you are, would be great to know we have some Ferencvaros brus in Hungary), but this group is obviously all about Ronaldo v Messi. The games outside of Juventus v Barcelona should be fairly one-sided but let's see...
Dynamo Kyiv vs. Juventus
: Outside of the Barca games, this is Juve's toughest group stage fixture and it won't be easy without Ronaldo who must isolate due to testing positive for coronavirus. Following an impressive opening league win under Pirlo vs. Sampdoria, Juve have had back-to-back draws so aren't in the greatest form and there's some pressure on them heading to Ukraine. Dynamo will be awkward to play against and there's no doubt Juve would take any kind of win you offered them right now so I'm cautiously backing an away victory but wouldn't recommend going big on the margin.
Prediction: 0-1Barcelona vs. Ferencvaros
: This match, on the other hand, might have a larger winning margin. Ferencvaros have done incredibly well to get this far but aren't expected to do any damage in the group stage and the big question is just over how many players Koeman may decide to rotate given that we have El Clasico this weekend. Both Barca and Real Madrid suffered disappointing defeats in LaLiga last time out, but this is a much easier midweek game for Barcelona than Real's will be against Shakhtar and you'd have to think they'll win comfortably even if bringing in a few of their talented youngsters rather than a full team of first-team regulars.
Prediction: 4-0
Group H
Along with B and D, this is the one of the groups I'm looking forward to most. Last year's runners-up PSG will be confident they can win this group but Leipzig and Man. United are of course capable of challenging them and/or battling it out for second spot. Istanbul Basaksehir will also be a tough place to go and not an away trip where managers will feel comfortable resting players in my opinion, despite the hectic schedule.
PSG vs. Man. United
: Understandably, everyone is talking about that night United enjoyed in Paris towards the start of Solskjaer's reign ahead of this repeat tie but I would be surprised to see the Red Devils manage another win. Both sides are missing some important players - United are without Maguire, Greenwood and Cavani while PSG are missing Icardi, Verratti, Bernat, Paredes and others - but I think PSG will still have enough fire power to really hurt United's weakened defence. This could be a very tough night for Lindelof and whoever partners him as they look to deal with Di Maria, Mbappe and Neymar.
Prediction: 3-1Leipzig vs. Istanbul Basaksehir
: Leipzig are strong favourites here and they've started the Bundesliga season nicely despite losing Timo Werner to Chelsea in the summer. I'm excited to see how Basaksehir get on and as is often the case with Turkish sides in the UCL, there are a few ex-Premier League players to look out for including Martin Skrtel and Demba Ba!
Prediction: 2-0
Wednesday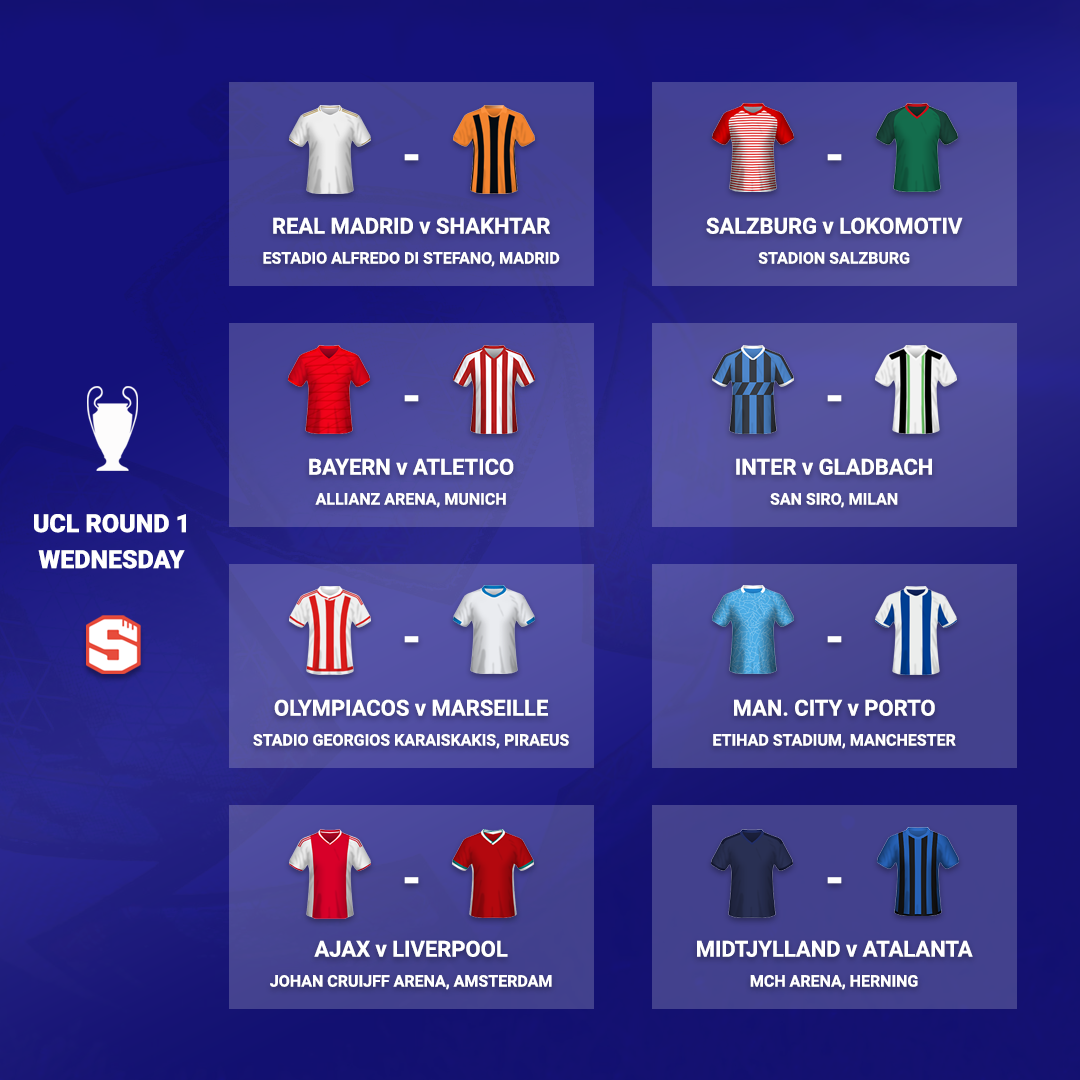 Group A
Bayern were last year's deserved champions and naturally start as favourites for this group and it would then be a surprise to see anyone other than Atletico progress with them. If things go as predicted, it will then be Salzburg and Lokomotiv battling it out for third and it's a tough opening pick in this group now that Salzburg have lost the forwards that made them so dangerous in this competition last year.
Salzburg vs. Lokomotiv
: Despite what I've just said, I'll be picking Salzburg to win this because of their home advantage (I'd be less confident that they can win in Moscow). Hwang and Haaland have both moved on but Salzburg are still top of the Austrian league after scoring 17 goals in their opening four games so it seems their attacking threat remains and it'll be interesting to see who stars for them in Europe this time around. Lokomotiv have won their last four domestically and managed an impressive win at Leverkusen in the opening round of group stage fixtures last season but I'm not sure they can repeat such a result away from home again this season.
Prediction: 2-1Bayern vs. Atletico
: I'm a fan of Atletico and Simeone, particularly in the Champions League, but Bayern are the logical pick. Lewandowski usually scores a ridiculous amount of goals in the UCL group stages (and all other games) and though Atletico look set to be a little more attacking this season than usual with Luis Suarez arriving to join the likes of Joao Felix, they'll play on the back foot throughout this one I think but I can't see them keeping Bayern out.
Prediction: 1-0
Group B
This group should be good. You've got Real Madrid who are obviously the most successful club in this tournament's history, Inter who should be a real force in Conte's second season, Monchengladbach who may not quite manage to beat the big 2 but will have a real go in attack and Shakhtar who.... may not quite manage to beat the big 2 but will have a real go in attack.
Real Madrid vs. Shakhtar
: This is a pressure game for Zidane and Madrid after that embarrassing loss to Cadiz on Saturday. As I've mentioned, they have the Clasico at the weekend but this is a tough fixture before it and they'll want to build some momentum rather than suffering another confidence hit. I expect the Spanish giants to win this game but I think it'll be close. They're yet to look anywhere near capable of destroying teams this season but that isn't always a bad thing if they can still manage results and hit top gear nearer the business end of the campaign.
Prediction: 2-1Inter vs. Gladbach
: A loss in the Milan derby at the weekend will have hurt Inter but I'm excited to see them try and bounce back in this game, especially if we see Lukaku and Martinez start running riot again as they did last season. Gladbach are usually fun to watch so this should be a good game but I'd be surprised to see the Bundesliga side manage a result.
Prediction: 3-1
Group C
The battle for second place in this group could turn out to be quite competitive as on paper, it looks as if the fixtures in this group that don't involve Man. City could be quite even. Marseille's long-awaited return to the Champions League should be really interesting and I'm intrigued to see how they get on in Greece first up.
Olympiacos vs. Marseille
: Marseille have made a fairly good start to their league season, only losing once and beating PSG 0-1 in a standout result. I think they're probably capable of winning this but I think a draw is more likely. Trips such as this one will perhaps be made easier by the lack of fans there'll now be but Olympiacos away remains a very tough fixture regardless.
Prediction: 1-1Manchester City vs. Porto
: This should be fairly comfortable for City. Guardiola is still missing a few key players but his squad is obviously far stronger than Porto's and the vistors have had a disappointing last couple of results in Portugal where they're already 5 points behind Benfica.
Prediction: 3-0
Group D
The group that looks full of goals. Liverpool, Atalanta and Ajax are all known for scoring plenty with their very attacking game-plans so this should be very entertaining to watch.
Ajax vs. Liverpool
: There'll be a lot of focus on Liverpool's defence in this game as it's their first without van Dijk for a very long time but this would be tough even if he and Alisson were available. Ajax are obviously a good side and you know they'll play their game regardless of the opposition. I think they'll really trouble Liverpool at times but I'm still backing the Reds to have enough to win this match. Klopp will perhaps deploy Fabinho at centre-back more often in van Dijk's absence but I still feel the main approach to dealing with the weakened defence will be to just attack even more. Mane and Salah can out-score a lot of teams.
Prediction: 2-3Midtjylland vs. Atalanta
: I don't know much about Midtjylland I'm afraid so my focus is on Atalanta and they'd been playing as well as they did last season up until the weekend where they were beaten 4-1 by Napoli. Given that they'd scored 13 goals in 3 games prior to that defeat, I remain confident that they're still going to be a real force in this group and should start with a win.
Prediction: 1-3
Best of luck to you all in Round 1! It should be a lot of fun to watch.