2022 World Cup: Round of 16 Predictions
Round 3 was an absolutely terrible one for me on Superbru but we got so much entertainment and despite so many of my predictions being wrong, it was awesome to see the likes of Australia, Japan and South Korea seal a place in the Round of 16.
I can't really afford to put a foot wrong now in the remainder of this tournament if I'm to stand any chance of some pool victories so the pressure is on!
Here are my Round of 16 picks for our
World Cup Predictor
. Feel free to leave your own thoughts in the comments.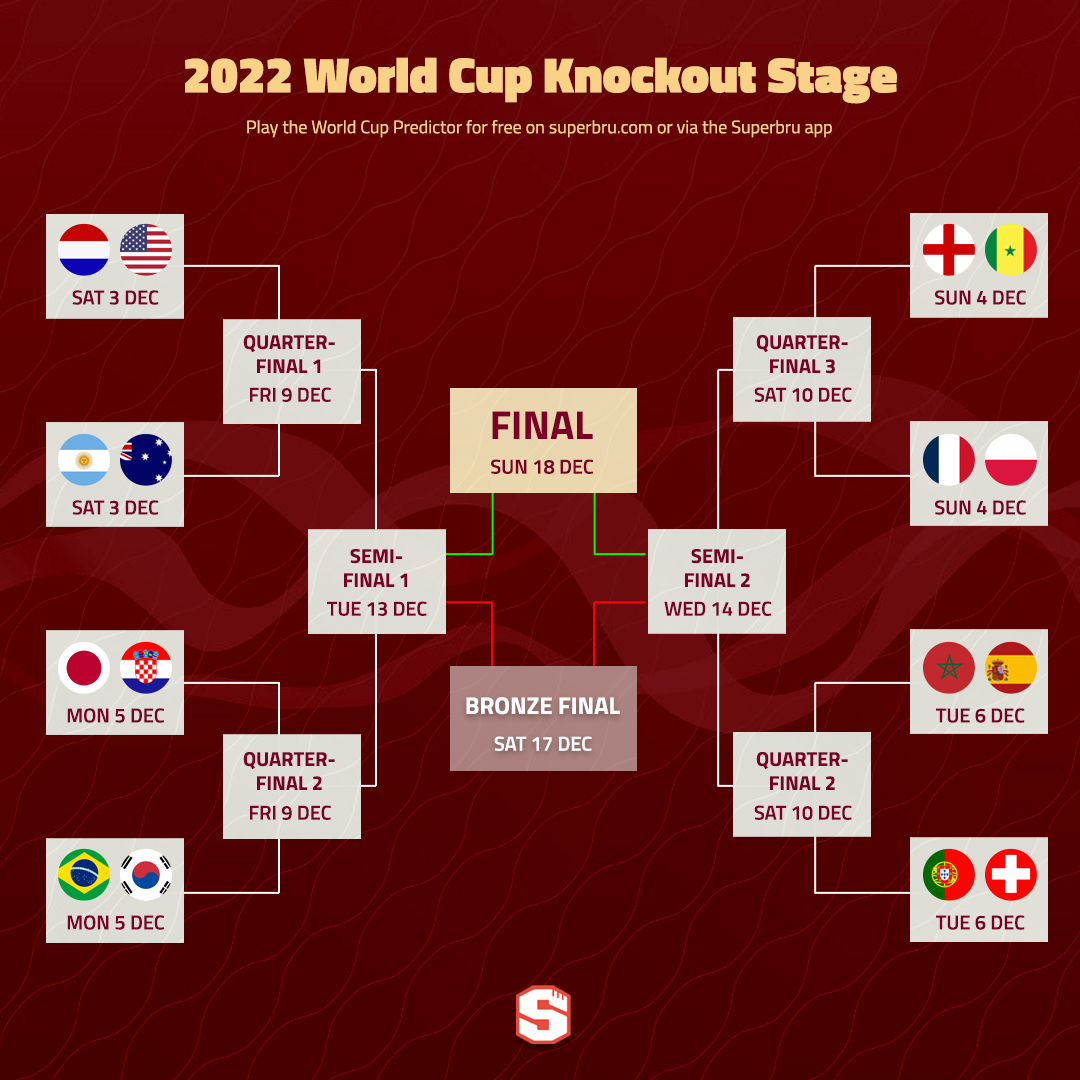 Netherlands vs. USA
This is a fairly even one to begin with as though the Dutch are favourites, I think the US have shown in their last two matches how capable they are and we could well see the Netherlands forced into extra time in my opinion. Whether it goes that far or not, I think the Oranje should just about edge it as they've looked good so far but also could well improve quite considerably. Gakpo has been great but Depay could turn up with goals in this knockout stage and I've been surprised Denzel Dumfries hasn't been testing keepers like he usually does on the international stage (
he's normally a great Odds-based Fantasy option!
)
Netherlands 2-1 USA
Argentina vs. Australia
I was disappointed with Denmark but Australia deserve so much credit for progressing from that group when no one gave them a chance (myself included). How well did Mathew Leckie take that goal in Round 3!? Argentina are obviously massive favourites here and I think they'll be fairly comfortable. Has that defeat to the Saudis ended up as a good thing as I said it might be? Maybe, but they do still look overly reliant on Messi.
Argentina 2-0 Australia
France vs. Poland
We've seen plenty of added time in this tournament so far but the fourth official could have put up another 90 minutes in that Argentina game and Poland still wouldn't have scored. After such a flat display in that game it's hard to see how they can suddenly turn it on and beat France. I'm still not totally convinced by the French as that new midfield won't be properly tested until the next round assuming they don't slip up here.
France 3-0 Poland
England vs. Senegal
I'm English so I am of course nervous about this fixture as Senegal are a very capable side who have played excellent tournament football under Cisse. However, no Idrissa Gueye and no Sadio Mane is good news for England and after the attacking flair shown against both Iran and Wales, I think the Three Lions will have enough to win this one.
England 2-0 Senegal
Japan vs. Croatia
There really isn't much to fear here for Japan, particularly since they've deservedly beaten Germany and Spain, but Croatia will of course also fancy their chances and I think I'm leaning slightly towards the Europeans with their experience. It's tempting to pick Japan because of their energy and the magic substitutions their manager seems to be able to make but Croatia are very difficult to beat and I think their know-how from the 2018 World Cup may just give them the edge.
Japan 1-2 Croatia
Brazil vs. South Korea
South Korea's qualification to this stage really was a surprise given their position on the group table ahead of Round 3, and while I'm sure they're just delighted to have reached this Round of 16 as a result, they are a bit unfortunate to now have to play Brazil. Given they rested their first XI in Round 3 and may well have Neymar back for the knockouts, I can only see a Brazil win.
Brazil 2-0 South Korea
Morocco vs. Spain
Spain need to be very careful here as there's definitely potential for an upset - Morocco fully deserved to win Group F. I am going with Luis Enrique's side though as Alvaro Morata's scoring run is a very good sign for Spain and they will of course dominate possession. I'm not sure whether Morocco possess the pace in their forward line to hurt Spain on the counter? Ziyech is great at picking out a forward run rather than making one himself and while Hakimi behind him is among the quickest there is, will the full backs be brave enough to fly forward against this Spain team?
Morocco 0-1 Spain
Portugal vs. Switzerland
There's perhaps even more of a chance of an underdog victory here, but after seeing Portugal defeat Uruguay fairly comfortably, I'm going with the safe choice again and backing the Portuguese. Bruno Fernandes has really impressed me in this tournament so far and I think he might well prove the difference. I'd like to see Switzerland play quite bravely as they did against Serbia rather than the kind of performance we saw from them against Brazil but I think it may be the latter.
Portugal 2-1 Switzerland
Best of luck with your own Round of 16 predictions. I hope you all had a better Round 3 than I!