2022 World Cup: Round 3 Predictions
It was lucky I had a couple of Exacts in Round 2 as things were pretty tough! I managed just 6 correct results as in addition to all the upsets my risky Canada pick didn't pay off.
We now move on to Round 3 which should be really entertaining as most of the groups remain very competitive. France, Brazil and Portugal are the only teams that are already officially through to the knockouts so there's lots to play for!
Here are my Round 3 picks for our
World Cup Predictor
. Feel free to leave your own thoughts in the comments.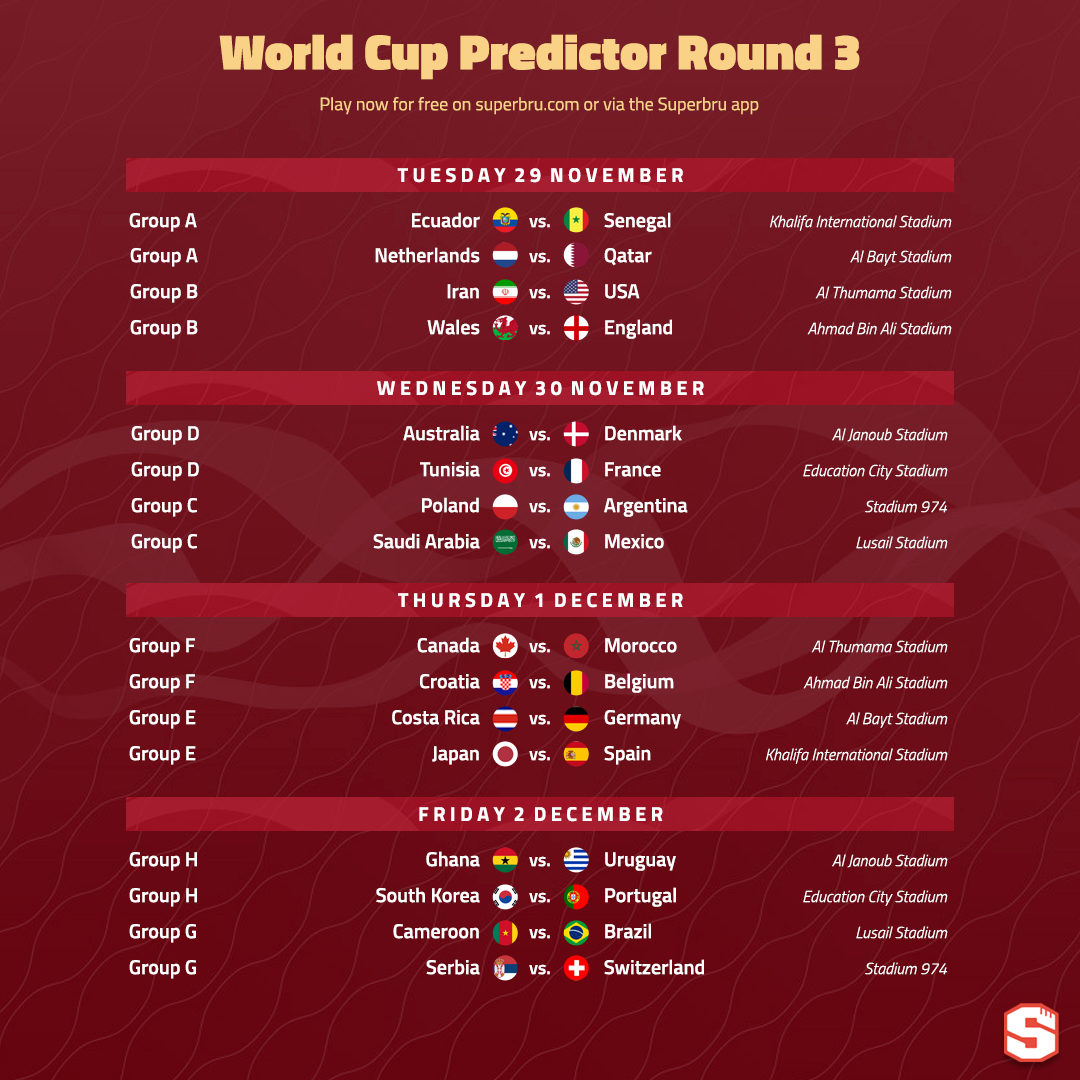 Ecuador vs. Senegal
Unless you're two screening, this is the match to watch in today's 3pm slot as it's basically a knockout fixture. Before the tournament begun I expected Senegal to progress but Ecuador have really impressed me and since they're the team that can afford a draw in this one, I think they're likely to go through. That said, I think they may even win as they've looked better than I expected in attack and Senegal have looked surprisingly fragile defensively at times.
Ecuador 1-0 Senegal
Netherlands vs. Qatar
This should be pretty comfortable for the Dutch who will want to make sure they top this group. There's a chance Qatar improve now that there's less pressure but they look really weak defensively.
Netherlands 3-0 Qatar
Iran vs. USA
Huge. As soon as the draw was made, this was a fixture both nations will have been desperate to win and now there couldn't be higher stakes as the winner will progress. I think the US are probably slight favourites, but I was really impressed by Iran against Wales and since a draw will almost certainly send them through, they may well be good enough to manage a point given how motivated they will be? I'm tempted to pick the US to grab a dramatic late winner but let's go 1-1.
Iran 1-1 USA
Wales vs. England
The pressure is all on Wales here but England will want to make sure they win the group and I think they should win fairly comfortably. Wales' loss against Iran will be very hard to come back from and it's England who obviously have the far stronger squad.
Wales 0-2 England
Australia vs. Denmark
Denmark have put themselves under considerable pressure in this group but things do at least remain in their own hands and I think they'll find the victory they need here. I was impressed with Australia's win over Tunisia but the Danes should be too strong.
Australia 0-2 Denmark
Tunisia vs. France
France are already through but it would still be a big surprise to see Tunisia get what they need to stand a chance of qualification considering they're yet to score a goal. France's squad still has plenty of depth in attack and any players that are brought in for this game by Deschamps will be eager to impress.
Tunisia 0-3 France
Poland vs. Argentina
They got the win they needed over Mexico, but Argentina still look quite ordinary and a little too dependent on their extraordinary legend. That said, it was interesting to see them stumble upon a more effective system with 3 at the back in the second half of that win and I wonder if they'll stick with that formation here given how much better it made them at playing out from defence. Poland aren't a good watch but will test Argentina and I think this will be tense. If Saudi Arabia can beat Argentina, it's clearly possible that Poland can as well but I think a narrow win for the South Americans is most likely which would somehow see them top this group after all.
Poland 0-1 Argentina
Saudi Arabia vs. Mexico
Despite my Argentina pick, there's still a chance Poland would progress too as we could well see a draw or a Mexico win here? Both teams will need to play to win, making a draw less likely, but Mexico just look so blunt in attack despite the fact they'll likely dominate possession which means a point each is actually quite possible in my opinion. Saudi Arabia played well against Poland but couldn't finish. I think they might manage a goal here but Mexico could find one themselves at long last too.
Saudi Arabia 1-1 Mexico
Canada vs. Morocco
Canada obviously started well against Croatia but they were ultimately outclassed in the end and now that they're out, Morocco will surely be hopeful that they can get the result they need here? I still think Canada will be competitive as they clearly play with a lot of pride but Morocco only need a draw to guarantee a place in the Last 16 (they might not even need that) and I think they're very capable of a point.
Canada 1-1 Morocco
Croatia vs. Belgium
Let's be honest, Belgium have been absolutely woeful so far in this tournament and they're lucky they have the 3 points that they do to remain in with a chance of progression. There's always a chance they can raise their level to win now when it really counts but we've just seen no sign of that and Croatia are obviously a very good team. After the Croatians addressed the concern of a lack of goals in some style against Canada last time out, I'm going with them.
Croatia 2-0 Belgium
Costa Rica vs. Germany
Germany should get the win here which means it will then come down to the result in Spain v Japan as to who goes through from this group. While chasing goal difference might be tempting for the Germans, realistically they aren't catching Spain on GD so the best thing to do is make sure of the 3 points, ideally by at least a couple of goals, and then hope Spain avoid defeat against Japan as expected.
Costa Rica 0-2 Germany
Japan vs. Spain
The good news for Germany after their equaliser against Spain is that Spain now need to ensure they get a result in this game and you'd think they'll be able to after Japan's shock defeat to Costa Rica. Japan are arguably better suited to playing as underdogs rather than favourites but they won't have much of the ball in this match and since Spain are so used to having to defend against counter attacks, I think they'll be fine.
Japan 0-2 Spain
Ghana vs. Uruguay
I've been looking forward to this one for months as Ghana finally get a chance at revenge for 2010. Surprisingly, it's the African side who head into this match in the driving seat in Group H as even a draw would almost certainly see them through (and would definitely eliminate Uruguay) and given how uninspiring Uruguay have looked in attack so far, that seems very achievable?
Ghana aren't the best defensively so I think Uruguay may finally find a goal or two but I think we could see Ghana match them thanks to the talent of Inaki Williams and particularly Mohammed Kudus who is excellent. It would be great to see Ghana get a result here so I think I'm going with a draw so that I can cheer them on but my head is saying Uruguay will snatch a late winner and progress.
Ghana 1-1 Uruguay
South Korea vs. Portugal
Portugal look like they could be dangerous in this tournament as they have so much talent in attack and so long as Bruno Fernandes continues doing an excellent job of linking things together, they'll be tough to beat. South Korea fought back really well against Ghana last time out but that first half has ultimately cost them and I don't think they'll manage a result here.
South Korea 1-2 Portugal
Cameroon vs. Brazil
Brazil struggled quite a bit last time out without Neymar but I think that was partly down to Switzerland's defence and they should win this game more comfortably. Cameroon need a win to stand any chance of progression but I think that will just leave them even more vulnerable defensively so it's likely to come down to the final match to see who will join Brazil in the Last 16...
Cameroon 0-2 Brazil
Serbia vs. Switzerland
A very difficult pick to finish with! Switzerland are 2 points ahead so only need a draw as long as Brazil don't lose to Cameroon, but will that potentially hurt them if it means they're too defensive? Cameroon showed on Monday that you can get at this Serbia team if you choose to attack but I'm just not sure Switzerland will which then leaves them vulnerable to a potential defeat if Mitrovic can get on the end of a cross.
Serbia have to go for the win but I think they would have even if these teams were level on points and since this World Cup appears to be rewarding those who are bold and go for it, let's back Serbia to pick up a vital 3 points and progress.
Serbia 2-1 Switzerland
Best of luck to you all with your own Round 3 picks!