2022 World Cup: Quarter-Final Predictions
Like many others, I managed 6/8 in the Round of 16 as I wasn't brave enough to predict penalties for either of the shootouts.
We're left with some really interesting quarter-finals and I expect at least two of them to be very close so there could well be another shootout or two in this round.
Here are my Quarter-Final picks for our
World Cup Predictor
. Feel free to leave your own thoughts in the comments.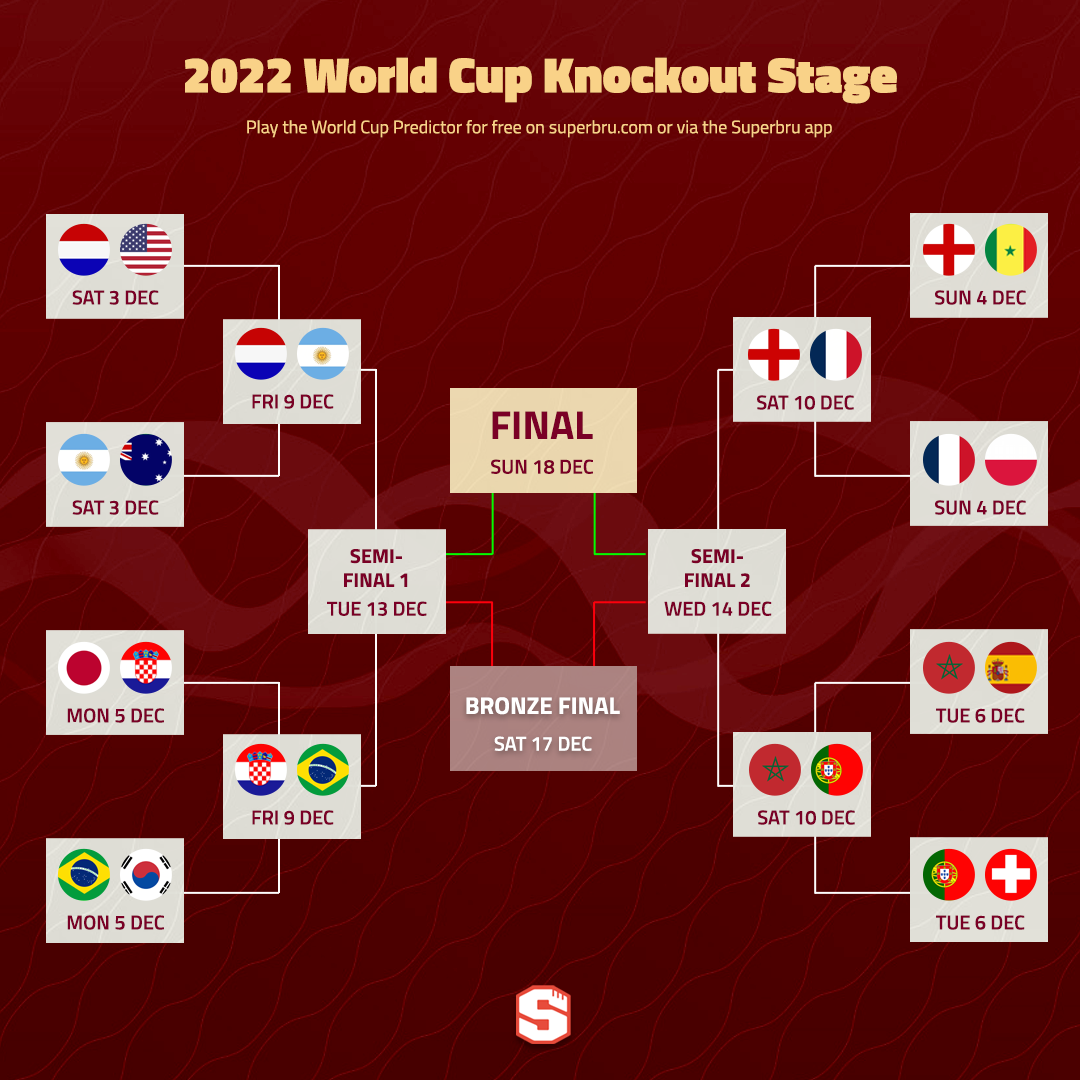 Croatia vs. Brazil
This is likely to be the most one-sided quarter-final as Brazil look full of energy, flair and quality whereas Croatia don't, really. I'm not sure how Croatia will manage a goal given their performances so far and Brazil's strong defence, while at the other end I think we've seen enough quality from Neymar, Vinicius Jr, Richarlison and Raphinha to suggest they'll be able to score at least a couple despite Croatia also being fairly defensively sound.
Croatia 0-2 Brazil
Netherlands vs. Argentina
This is an incredibly tough pick between two sides that have looked really sharp in the moments where their strengths have shined through but also quite beatable at times meaning it really is a case of who can show up on the night with so much at stake. The Netherlands were very good tactically against the USA (I'm still annoyed I told everyone Dumfries is a good Odds-based Fantasy pick and then failed to pick him myself) and I think they might go with a similar approach here because Argentina's full backs aren't the best but the South Americans have been strong defensively overall and it's very hard to pick against Messi proving the difference once again.
I'm not sure there'll be a winner in normal time though and since I'm struggling to decide who will come out on top, I think I'm going with penalties, especially since I have a lot of ground to make up in most of my pools. I'd be interested to hear how you all see the game going as my main feeling is just that I'm excited to watch it!
Netherlands 1-1 Argentina
Morocco vs. Portugal
Despite a few salty comments from the Spanish players suggesting otherwise, I thought Morocco fully deserved to progress in that Round of 16 tie as they were so well organised and were then clearly much better at penalties, but this will be a far tougher test. Portugal were excellent against Switzerland with Goncalo Ramos in attack alongside Felix and Fernandes and I think you have to go with them to win this quarter-final because they just look full of goals. Lots has been made about Ronaldo but he could yet end up with a World Cup trophy to his name (while playing a huge part from the bench) based on what we've seen.
Morocco 1-3 Portugal
England vs. France
The big one to finish with for us English fans and though I'm biased, I honestly think England can win. That's not because I'm just following my heart - I've doubted us plenty of times in the past and also don't think we'll win the whole thing even if we do indeed progress - but because while there's obviously a fair chance that France will come out on top, this is a huge opportunity for the Three Lions to test a new-look French midfield that is yet to be properly tested in this tournament in my opinion.
Pre-tournament I had France as my flops which is probably already unfair because they've looked much better than I expected but this is where the concerns over whether or not Rabiot and Tchouameni are good enough to replace Pogba and Kante really come into play. England's midfield has looked strong so far, with Jude Bellingham obviously a particular highlight, so I think they can win the battle in the middle of the park and have a real go at France. Mbappe is a huge concern and he may well score a hat-trick while Rabiot makes me look silly but England have been clinical in attack themselves and I feel they might just do it.
England 2-1 France
Best of luck with your own quarter-final predictions!