2022 Wimbledon Championships begin on Monday
This year's Wimbledon Championships start next week and now that all seeds and the draw for each tournament has been confirmed, we're excited for things to get underway.
It's been an interesting year of tennis so far with Wimbledon the third major on the calendar as usual. In the women's game we've seen Ash Barty win the Australian Open before making a surprise decision to retire, and since then it's all been about 21-year old Iga Swiatek who has just won the French Open for a second time and currently sits miles ahead of the rest on the WTA rankings.
In the men's game, this has been a truly excellent year so far for Rafa Nadal who has won each of the previous majors in 2022. After picking up a ridiculous 14th French Open title last month, Nadal now has 22 majors in total meaning he is two clear of fellow legends Roger Federer and Novak Djokovic as things stand.
With the focus now on Wimbledon, here's a quick reminder of how things work on Superbru for those that need it, as well as a brief look at the players to look out for in SW19 this year.
To join our Wimbledon fantasy game on our app, tap the '+' icon in the top right corner of the home screen and select 'Join a tournament'.
Playing Wimbledon Fantasy on Superbru
As with all of our fantasy tennis games, we start Round 1 with the top 16 seeds in both the men's and women's tournament available to pick from. There are 4 bands of 8 players, and you must pick 1 player from each band, meaning you'll have a small team of 2 men and 2 women.
Here are the selectable players in Round 1 of our game: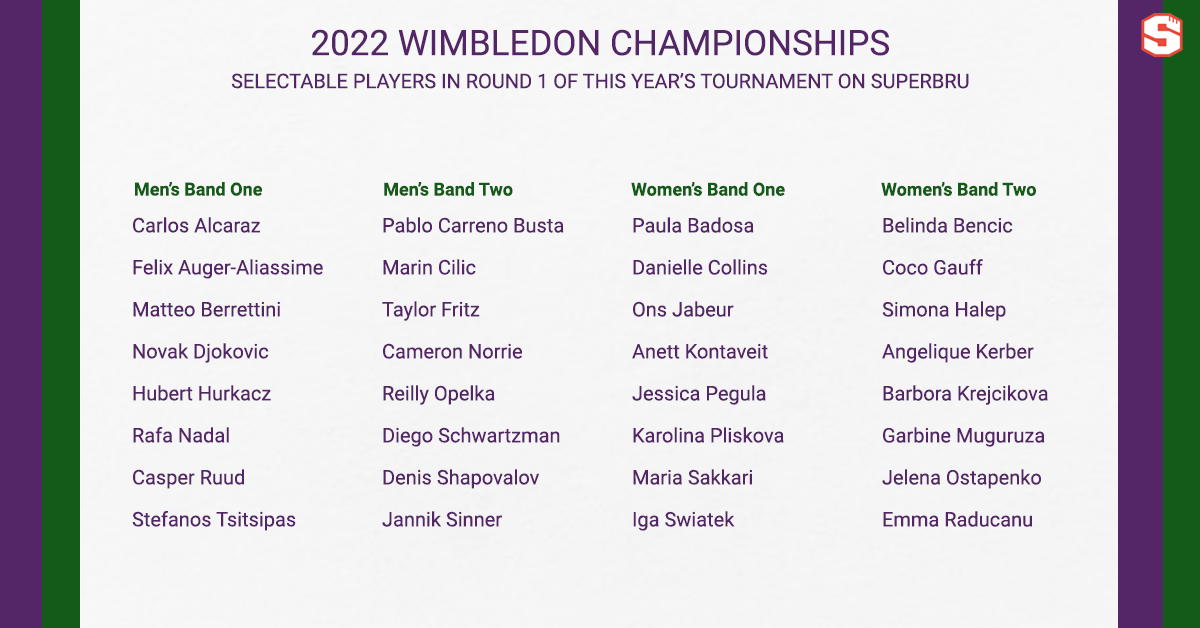 When picking your players, the key is to ensure you are selecting the player who you think will win their opening match most convincingly, rather than the players you think are most likely to win the tournament outright (though this may well often be the same player of course!).
In each round of the tournament, you have a chance to edit your selections based on the fixtures and bands are updated to remove players that are eliminated, replacing them with the next highest seeds. Once we reach Round 4, all players become available for selection as the number remaining is small enough to fit within our bands without the lists becoming too exhaustive.
Points are scored based on net sets and net games won. So ideally, you want your player to win in straight sets while dropping very few games.
If you pick Round 1 but then forget to make changes in one of the future rounds, your picks will carry forward but be aware that bands are updated for future rounds meaning that if the player you selected in Band 2 is upgraded to Band 1 following another player's elimination, for example, your Band 2 selection will no longer carry forward.
The players to watch at this year's Championships
We have strong favourites in both the men's and women's Championships this year as 6-time Wimbledon champion
Novak Djokovic
is considered the clear front-runner for the men's title and
Iga Swiatek
is widely considered the most likely winner of the women's event.
As has been heavily reported and discussed, Wimbledon are not allowing entries from Russian or Belarusian athletes at this year's Championships due to the Russian invasion of Ukraine meaning some of the players that would have been seeded including men's world number 1 Daniil Medvedev, Andrey Rublev, and women's world number 6 Aryna Sabalenka, will not be involved.
Matteo Berrettini
was last year's male runner-up after losing in 4 sets to Djokovic and we can expect the Italian to challenge again this year based on his grass court form - Berrettini retained his Queen's title last week.
Rafa Nadal
is of course in contention as he looks to win his third major of the year but this surface coupled with the fact that he struggled with a foot injury throughout Roland Garros means he is considered a less likely winner than Djokovic.
Though not seen as a realistic contender for the title after his long struggles with injuries, 2-time champion
Andy Murray
has been in good recent form and will, as always, be a player the seeds desperately want to avoid in the early rounds given the backing he'll have from his home crowd.
As previously mentioned, Iga Swiatek is the standout favourite for the women's title but 18-year old
Coco Gauff
, who Swiatek defeated in the French Open final, continues to impress while US Open champion
Emma Raducanu
will, like Murray, have huge support from her home crowd.
We're also set to see 23-time major champion
Serena Williams
compete in a singles tournament for the first time since last year's Championships as she has received a wildcard entry and has been competing in the doubles event at Eastbourne with
Ons Jabeur
(also one to watch given her form but keep an eye on news regarding her knee injury) as preparation. An icon of the sport, Williams has won Wimbledon 7 times and should never be ruled out but it would perhaps still be a surprise to see her go too far in this year's tournament after such a lengthy injury. That said, her draw looks to be relatively favourable.
Good luck with your opening picks and feel free to leave any questions you may have about our game in the comments!