2022 July Internationals: Round 3 Predictions
Last weekend was a pretty tricky one on Superbru, wasn't it? The community average was just 3/9 as the Northern Hemisphere teams fought back to set up some exciting series deciders this week.
As Hutch is currently away, I'm stepping in to kick off the discussion about said deciders with some predictions for this final round. Many of you will know I'm usually the football predictions guy rather than rugby and I feel like I've been thrown in at the deep end here as these Round 3 picks look tough!
Here are my predictions for Round 3 of the
July Internationals Predictor
. Hutch will of course still be making his picks while away so I'll be sure to mention in the comments if I end up beating him in this round.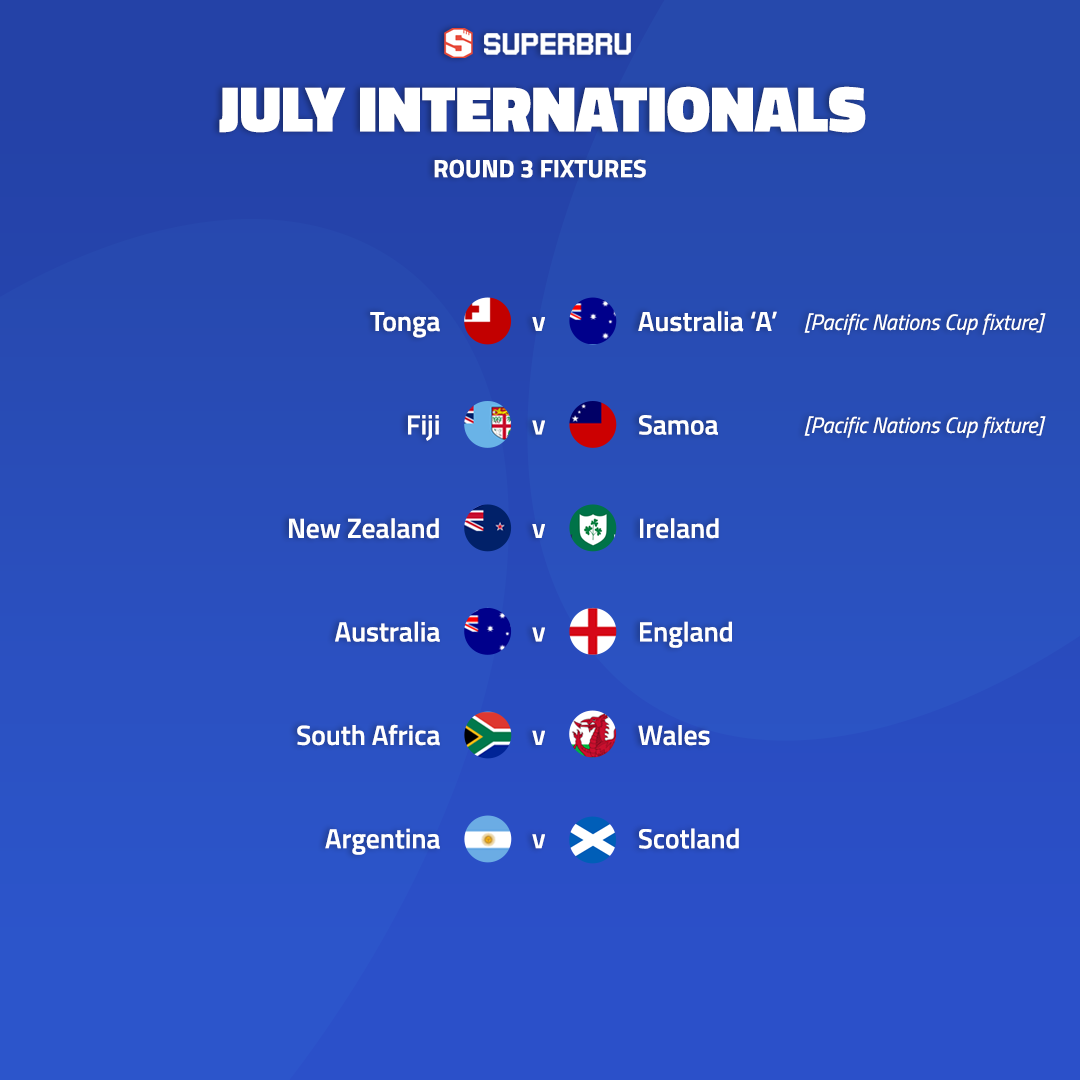 Tonga v Australia A
I'm not feeling particularly confident about any of these picks but this one looks a little more straightforward than the others after the Aussies' win over Fiji in Round 2. Let's go with them to start off.
Australia A by 7
Fiji v Samoa
This should be a good battle with Samoa aiming for a perfect 3/3 wins in the Pacific Nations Cup but Fiji have come out on top in recent meetings and I feel like they can win this on home turf despite that defeat last time out.
Fiji by 5
New Zealand v Ireland
This should be a great game after last week's surprise result (picked by just 4%) and though the All Blacks are clearly more beatable at the moment than in previous years, it still feels tricky to pick against them in this series decider. I'm sure there'll be more picking Ireland than last week but I'm sticking with the hosts.
New Zealand by 10
Australia v England
Bit of a coin flip this one, isn't it? Both teams are a little stretched squad wise due to injuries. I've picked Australia in each of the first two Tests but perhaps England's win in Brisbane is now reason to switch and go with heart rather than head.
England by 3
South Africa v Wales
After such narrow winning margins in the first two Tests, we can expect another close game in Cape Town but you'd think the Springboks will get the job done with so many regulars returning after last week's more experimental lineup. That team was still a very strong one as Hutch said so Wales did incredibly well to find their first victory on SA soil but stringing back-to-back wins together feels unlikely.
South Africa by 5
Argentina v Scotland
We saw an impressive turnaround from the Scots last week to win with such a healthy margin and I think they can clinch the series here with that momentum though it will surely be much closer.
Scotland by 2
Some very tough picks to finish with! Good luck with your own and feel free to tell me where I've gone wrong in the comments.