2021/22 Champions League: Round 6 Preview and Permutations
Ahead of this final round of group stage action in this season's Champions League, we already have 11 confirmed teams in the Round of 16 meaning 5 places remain up for grabs and will be settled this week.
In addition to that main prize of a place in the knockouts, this week will also decide which teams will move into the Europa League playoffs round as the 3rd-placed team in each group will drop into that tournament. Though Europa League football would not be considered particularly attractive to some of the European giants that could yet finish 3rd in their group such as Barcelona, for other smaller teams it's a considerable prize so that's certainly something to consider when making your picks.
Both predictions and Odds-based fantasy picks tend to be tricky in this final round as we have to judge each team's motivation which naturally affects the lineups each manager will select. To help you get a clearer idea of how things may play out in each group, here's your preview where I'll run you through the permutations.
Tuesday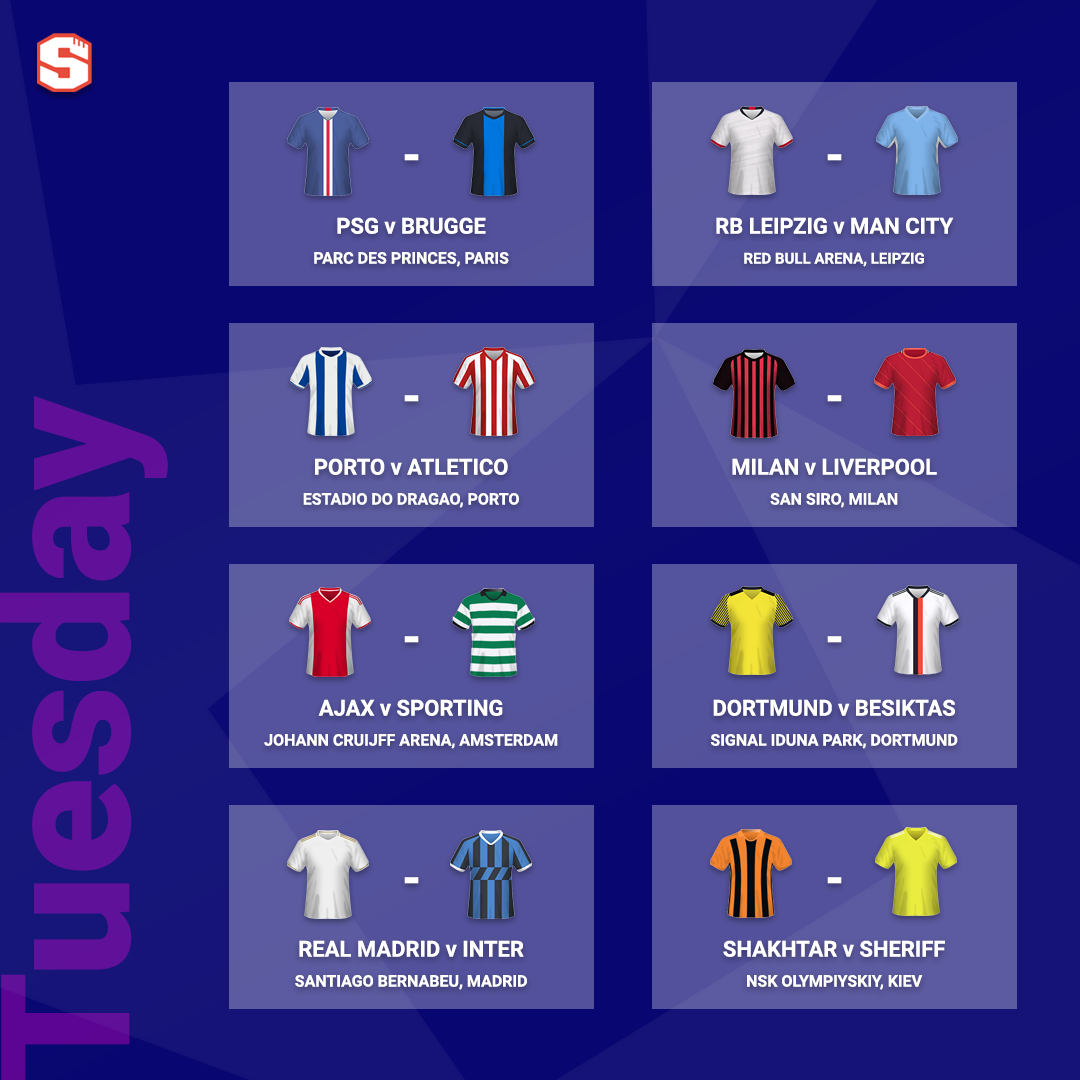 Group A: PSG v Brugge and Leipzig v Man City
The situation:
Manchester City have sealed top spot and will progress as group winners
PSG are already through as group runners-up
Leipzig are currently in 3rd ahead of Brugge on head-to-head. Brugge must therefore better Leipzig's result in this final round to take 3rd and qualify for the UEL
Team News:
With 1st and 2nd already confirmed, there's clear potential for City and PSG to rotate. Pep Guardiola has already stated City will be taking several youth players to Leipzig but they may not start and City's squad is of course extremely strong so there are several 'first team players' already short of minutes who will likely get priority. Guardiola has suggested Kevin De Bruyne will start but Rodri, Bernardo Silva and Gabriel Jesus haven't travelled. Neymar is out injured for PSG while Herrera and Draxler are also doubts. Leipzig have plenty of injury concerns too including Poulsen, Orban, Olmo and Halstenberg.
Opinion:
It's perhaps still difficult to pick against PSG and City but it's worth noting that for this group's games we'll be able to see team lineups which will help Odds-based fantasy players. Leipzig are perhaps more likely than Brugge to get a result given their home advantage but after their manager Jesse Marsch was sacked at the weekend following a 3rd defeat in 4 games, it's hard to tell how they'll perform.
Group B: Porto v Atletico and Milan v Liverpool
The situation:
Liverpool are through as group winners
2nd-place is up for grabs with 1 point separating the other 3 teams
Porto are currently 2nd and will go through if they win, or if they draw and Milan fail to win
Atletico will go through if they win and Milan do not. Milan will go through if they win and Porto v Atleti ends in a draw
If both Atletico and Milan win, their goal difference will determine who gets 2nd (Milan currently 1 ahead)
Team news:
Liverpool having little to play for could benefit Milan if Klopp decides to rotate. The Liverpool boss has said it is likely Divock Origi will start in attack after scoring the winner against Wolves in the PL on Saturday. Simon Kjaer is out for the season for Milan while Giroud and Rebic are doubts. Porto and Atleti each have a player suspended (Uribe and Felipe respectively) while Atletico have Carrasco, Gimenez and Savic as injury doubts.
Opinion:
It'll be worth checking the Liverpool team before making your pick for that game. The other is far more black and white and I'd usually go Atleti to win this kind of match without hesitation (and probably still will) but their recent form is a concern - particularly their 1-2 loss at home to Mallorca on Saturday after taking the lead. Keep in mind that if Liverpool are beating Milan comfortably and things are tight in Portugal, Porto may well just park the bus and take the draw that would see them through.
Group C: Ajax v Sporting and Dortmund v Besiktas
The situation:
This group is already completely settled
Ajax will finish top. Sporting will progress as runners-up
Dortmund will finish 3rd and qualify for the UEL playoffs. Besiktas will finish 4th
Team news:
With everything already settled, managers are likely to rest players where they can. Dortmund boss Marco Rose has already admitted he will be limiting Haaland's minutes in this game so he's a very risky Odds-based fantasy pick. BVB also have Can suspended and Brandt, Hazard and Reyna sidelined with injury.
Opinion:
Given the teams involved, these games could still be pretty entertaining with nothing to play for but it makes predicting very tough. I'll be backing Ajax as I just think they're excellent and probably Dortmund despite their absentees because Besiktas have been awful so far.
Group D: Real Madrid v Inter and Shakhtar v Sheriff
The situation:
Real Madrid and Inter are both already through but their match this week will decide who will progress as group winners
Real Madrid will go through as winners if they avoid defeat, Inter can move above them with a win
Sheriff will finish 3rd and qualify for the UEL, Shakhtar will finish 4th
Team news:
The big news ahead of the significant game between Real and Inter is that Karim Benzema is out injured after being subbed after just 17 minutes in Real Madrid's 0-2 win over Sociedad on Saturday. Inter could be without Joaquin Correa and Stefan de Vrij. Shakhtar remain without striker Lassina Traore.
Opinion:
Real Madrid and Inter are both in cracking form so it should be a great clash between those two. Benzema is a big loss for Madrid but Vinicius Jr is just on fire at the moment so with home advantage I'd fancy Carlo Ancelotti's team to at least manage a draw and take top spot. In the other game, I think Shakhtar could well finish with a win as Sheriff have fallen off after their good start (which has still earned them UEL football). Shakhtar absolutely dominated possession in their away defeat at Sheriff so should perhaps make it count with improved conversion this time around.
Wednesday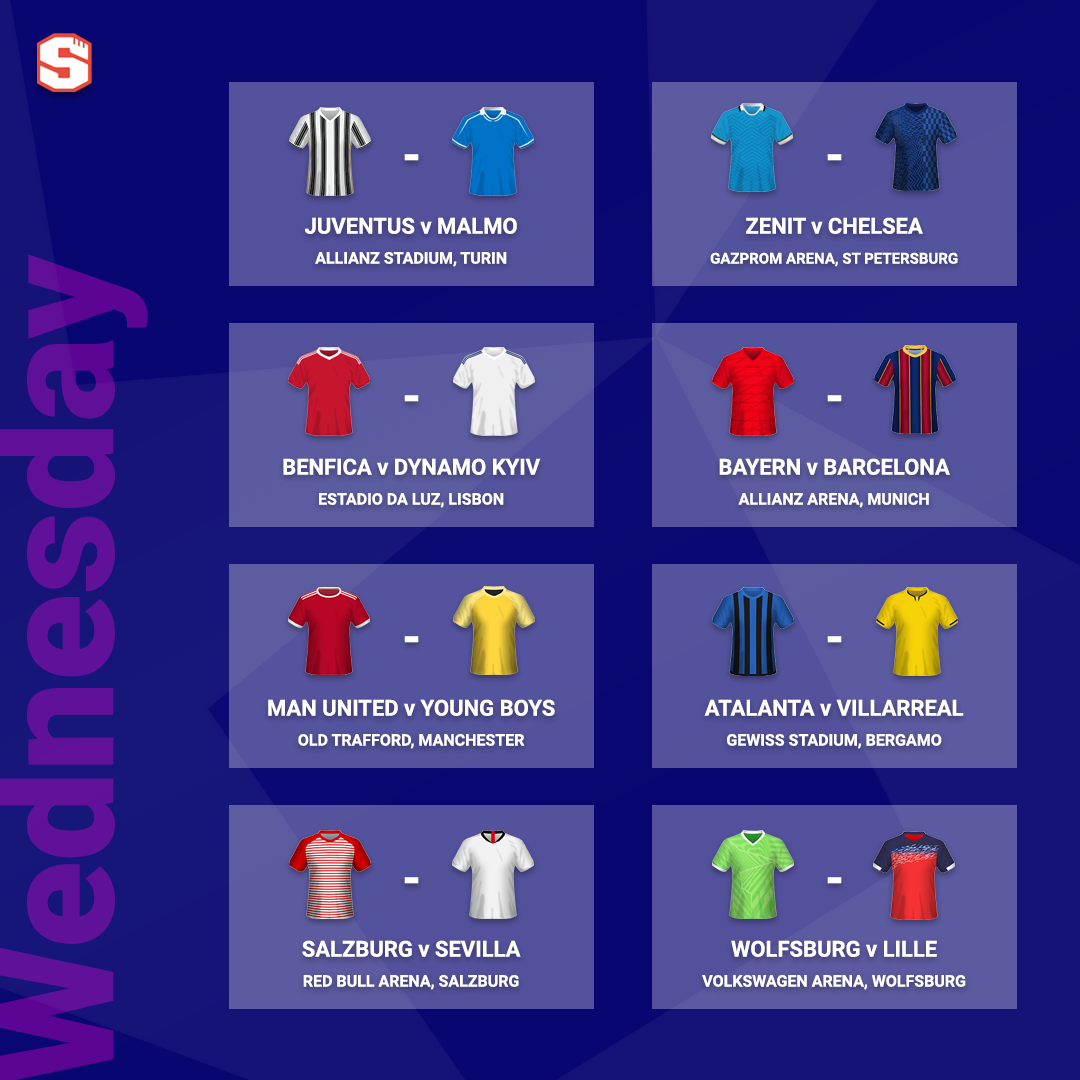 Group E: Bayern v Barcelona and Benfica v Dynamo Kyiv
The situation:
Bayern Munich are already through as group winners
Barcelona are currently 2nd and will go through if they win, or if Benfica fail to win
Benfica will go through as runners up if they win and Barcelona fail to beat Bayern away from home. Dynamo Kyiv will finish 4th whatever happens
Team news:
It remains to be seen if Bayern will go full strength but they do of course have an opportunity to eliminate a fellow giant. Joshua Kimmich has been absent in recent games due to covid/quarantine and remains a doubt. Ansu Fati is out for Barcelona while Pedri, Sergio Roberto and Martin Braithwaite are also doubts. Benfica won't have centre back Lucas Verissimo available to face Dynamo due to a knee problem.
Opinion:
I think Barcelona are struggling here. You'd certainly expect Benfica to win and then Barca winning at Bayern seems very unlikely given their current state. Bayern don't tend to go extremely soft with team rotation in this competition and I can't see that starting now against this opponent.
Group F: Atalanta v Villarreal and Manchester United v Young Boys
The situation:
Manchester United are through to the Round of 16 as group winners
Villarreal are currently 2nd, a point ahead of Atalanta, meaning they will go through if they can avoid defeat in Bergamo. They will finish 3rd if they lose
Atalanta will go through if they beat Villarreal. Young Boys cannot go through but could finish 3rd if they win and Atalanta lose
Team News:
Atalanta and Villarreal should both be close to full strength - Gosens is the only notable injury doubt for Atalanta while Villarreal have Pino suspended. Manchester United remain without Paul Pogba and likely both Edinson Cavani and Raphael Varane.
Opinion:
Atalanta v Villarreal should be a great watch with Atalanta aiming to do what they do best and score a lot of goals to get the win while Villarreal do all they can to manage at least a point. It's quite tricky to call but recent form would suggest Villarreal will struggle to keep them out in my opinion. United may well rotate against Young Boys but should win as they aim to continue impressing new manager Ralf Rangnick.
Group G: Salzburg v Sevilla and Wolfsburg v Lille
The situation:
Things are wide open with all teams still in with a chance of qualifying
Lille are currently top and will go through if they avoid defeat. They will finish first if they win, or if they draw and Salzburg fail to win
Salzburg are currently 2nd and the other team that can secure qualification by avoiding defeat. They can finish 1st if they win and Lille don't
Sevilla must win to go through and could still finish top if they win and Lille don't
Wolfsburg must win to go through and could also finish top despite currently being 4th if they win and the other match is drawn
Team news:
Salzburg have a few injury doubts including Noah Okafor while Sevilla are likely to be without Marcos Acuna, Jesus Navas and Erik Lamela. Wolfsburg goalkeeper Koen Casteels has been out with covid. Lille have central midfielder Xeka and winger Jonathan Bamba suspended.
Opinion:
This group has been very unpredictable which has resulted in what should be an excellent final day. I personally feel Salzburg and Lille deserve to go through so that's probably who I'll be backing, particularly since Wolfsburg have fallen back into poor form. Salzburg will have to really earn their place in a tough final game against Sevilla but I think they can manage the point they need despite Sevilla's considerable experience in big European matches.
Group H: Juventus v Malmo and Zenit v Chelsea
The situation:
Chelsea and Juventus are through meaning this round will simply decide who goes through as group winners
Chelsea are currently 1st after beating Juve 4-0 meaning Juventus must now better Chelsea's result in this round if they are to progress as group winners
Zenit will finish 3rd and progress to the UEL playoffs, with Malmo guaranteed to finish 4th
Team news:
Juventus' injury doubts include Aaron Ramsey, Danilo and Federico Chiesa. Zenit have Chistyakov suspended. Chelsea have a number of players out including Chalobah, Kante, Kovacic, Chilwell and doubts over Alonso and Havertz.
Opinion:
You'd expect this group to remain as it is with both Chelsea and Juve winning. Thomas Tuchel will be eager to try and get Chelsea back to looking strong and dominant after a patchy week in the Premier League but that is likely to involve attempting to get the likes of Romelu Lukaku back match fit and firing as opposed to heavy rotation with a severely weakened team.
Good luck in Round 6!