2021/22 Champions League: Round 4 Preview
Now that we've reached the halfway point in this Champions League group stage, the picture is becoming a lot clearer in terms of how likely each team is to progress to the knockout stages and ahead of our Round 4 picks we also have the great benefit of a very recent meeting to go off since these are all reverse fixtures of Round 3.
Of course, that means the crucial factor for each of this week's games is home advantage being flipped in favour of the teams that were on the road in Round 3. We've also had a couple of weeks since that round meaning there's a bit of domestic form to work with too and so here's your preview of each group to provide with you some info on that form.
Tuesday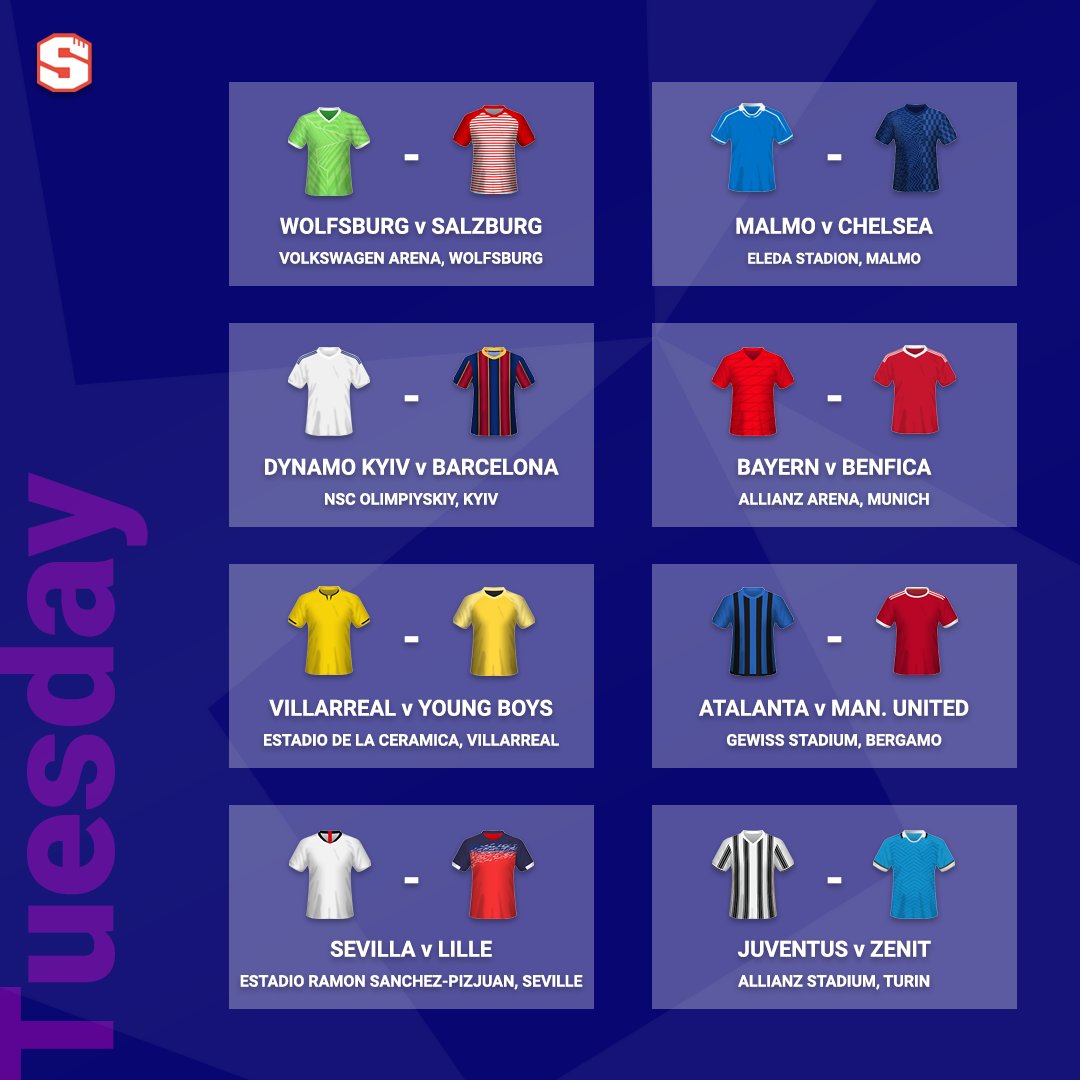 Group E: Bayern Munich vs. Benfica and Dynamo Kyiv vs. Barcelona
Round 3 played out as expected in this group meaning the situation remains the same - Barcelona are expected to win this week, Benfica are expected to lose this week and then the clash between those two in Round 5 becomes crucial, particularly for Barca.
The significant news since Round 3 is of course that Ronald Koeman is no longer the Barcelona manager after being relieved of his duties shortly after a LaLiga defeat to Rayo Vallecano. Sergi Barjuan is currently in temporary charge but former player and club legend Xavi is expected to take over as the new permanent boss soon. Barca's home win over Dynamo wasn't the most convincing with a 1-0 scoreline and goal from Gerard Pique but they were superior as you'd expect and should still win the more difficult reverse fixture in Kiev.
Benfica held Bayern for over an hour in their clash in Lisbon last time out but then a brutal 15-minute period from the Bundesliga giants saw them runaway with a 0-4 win. Things will only get tougher for Benfica in Munich and we can expect a similar result - Bayern have already bounced back from a huge freak upset against Borussia Monchengladbach in the DFB Pokal where they lost 5-0 by defeating Union Berlin 2-5 in the Bundesliga on Saturday.
Group F: Atalanta vs. Manchester United and Villarreal vs. Young Boys
This group remains wide open with Manchester United currently top on 6 points, Atalanta and Villarreal level on 4 points just behind them and Young Boys an extra point back on 3. Atalanta v United is therefore a huge game this week as Man Utd have their two toughest games on paper still to come in this group away from home having already lost their 'easiest' away fixture at Young Boys.
Since their dramatic 3-2 comeback win over Atalanta in Round 3, it's been a rollercoaster for United who were humiliated 0-5 at home by Liverpool, leading to many losing faith in manager Ole Gunnar Solskjaer, but a 0-3 win at Tottenham on Saturday saw a switch to a 5-3-2 formation work for the Red Devils and likely reaffirm the view that was already reportedly still held by the United hierarchy despite the Liverpool result - Solskjaer's job is not in danger. Things don't get any easier for Man Utd with this tricky fixture against Atalanta (who are 5th in Serie A) followed by a derby against Man City on Saturday.
While those two battle it out in Bergamo, Villarreal are expected to strengthen their position in this group by defeating Young Boys. Unai Emery's team won 1-4 in Switzerland last time out so are fairly strong favourites
despite the likely absence of forward Gerard Moreno who is currently sidelined with a hamstring problem
.
Group G: Wolfsburg vs. Salzburg and Sevilla vs. Lille
Salzburg's 3-1 win over Wolfsburg in Round 3 has seen them take control of this group as they now sit 4 points clear of 2nd-place Sevilla who are only a point ahead of both Lille and Wolfsburg. That means the pressure is really on Sevilla this week to finally start delivering in this group that they would have expected to win but have only managed draws in so far.
Since the defeat in Salzburg, Wolfsburg have sacked manager Mark van Bommel and replaced him with Florian Kohfeldt who was in charge of Werder Bremen for over 3 years before leaving in May. The change has already had a positive effect in terms of results - Wolfsburg managed a very impressive 0-2 win at Bayer Leverkusen on Saturday. Whether or not they can now hand Salzburg a first defeat of the season remains to be seen. With such an incredible unbeaten record across all competitions, I'd suggest it would be brave to pick Salzburg to lose.
Sevilla are then favourites to defeat Lille with home advantage but after a fairly uninspiring goalless draw between the two in France, it's not a certainty that either side will manage their first win in this year's competition. Sevilla's domestic form remains solid though - they're just a point off the top in LaLiga.
Group H: Malmo vs. Chelsea and Juventus vs. Zenit
Chelsea and Juventus are expected to all but seal their places in the knockouts with wins in this round but while Juve are the side currently leading the group 3 points ahead of Chelsea, their domestic form since Round 3 is of real concern.
Allegri's team have managed a 1-1 draw with Inter but then back-to-back defeats against Sassuolo and Hellas Verona since their narrow win over Zenit. The manager appears to still be wrestling with working out the best system for his squad of players and the current 4-4-2 he's opted for with Rabiot playing as a winger hasn't been successful so that's something to keep an eye on.
Chelsea, on the other hand, look very strong at the moment and shouldn't have any problems in Malmo despite their lengthy injury list which includes
Mason Mount, Romelu Lukaku, Timo Werner and Mateo Kovacic.
Wednesday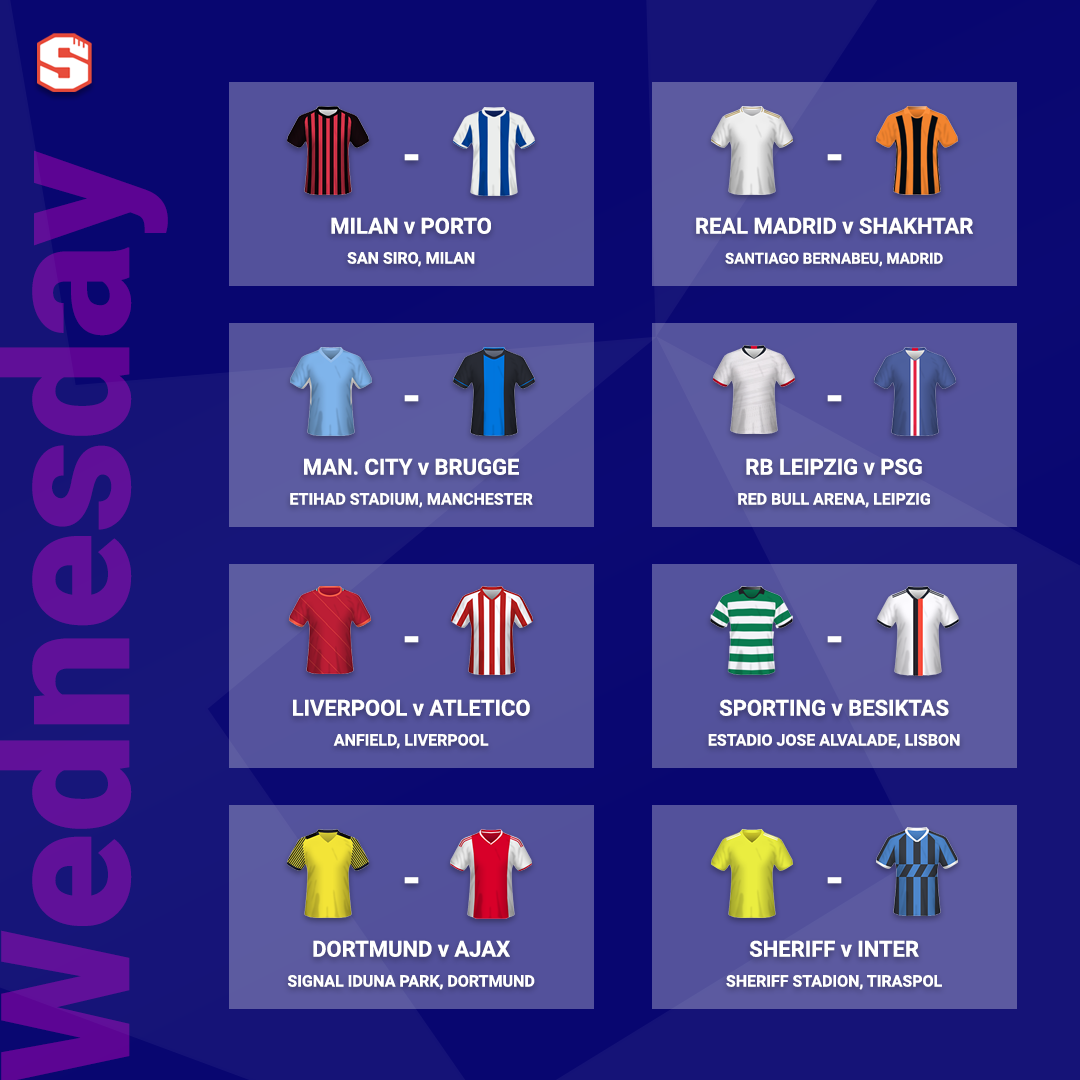 Group A: Manchester City vs. Brugge and RB Leipzig vs. PSG
PSG just about kept control of this group in Round 3 as they managed an unconvincing 3-2 win over RB Leipzig but it'll now be very interesting to see if they can replicate that result away from home in Germany.
Manchester City absolutely dominated Brugge in Belgium last time out so we can expect them to win in this round as well but there is also an interesting element to that clash given the wobble City have had domestically this week. Pep Guardiola's team were eliminated from the League Cup for the first time in 5 years on penalties against West Ham last week before being beaten at home by Crystal Palace in a major Premier League upset.
So the expectation is that Manchester City and PSG take the points in this round but we can expect another real battle between PSG and Leipzig - particularly since
Lionel Messi is missing from the Paris squad
due to the muscle injury he's currently struggling with. That said, Neymar is back available and he's not a bad replacement after missing Round 3!
Group B: Milan vs. Porto and Liverpool vs. Atletico
What a game we saw at the Wanda Metropolitano in Round 3! That 2-3 win for Liverpool has put Jurgen Klopp's side in a dominant position in this tough group with 9 points out of 9 so far. Atletico are second but level on points with Porto (4 pts) while Milan remain without a single point and must defeat Porto at home this week to stand any realistic chance of progression to the knockouts.
Milan are another example of a team who are flying domestically but just can't quite get going in this competition. In Serie A, Stefano Piolo's team have won 10/11 games, drawing the other, and therefore remain favourites against Porto in what is their easiest game in this group on paper. Porto have been showing that they're more than capable of competing in this group though with their only away result so far being the 0-0 draw they managed at Atletico.
At Anfield,
Atletico will be without Antoine Griezmann
following the red card he was given after scoring a brace in Round 3 and Liverpool are favourites despite the shock 2-2 draw they suffered at home against Brighton on Saturday.
Stefan Savic is also suspended for Atleti while Marcos Llorente is a doubt with an injury
.
Group C: Dortmund vs. Ajax and Sporting vs. Besiktas
After absolutely destroying Dortmund 4-0 in Round 3 (it could genuinely have been 7 or 8), Ajax have taken control of this group and will be confident they can back that result up with an away win over BVB too, particularly since
Erling Haaland is sidelined with injury
. Dortmund, who are now 3 points behind Ajax, should still progress from the group even if they are beaten in what should be a closer game this week, but they'll be under pressure from Sporting who have the chance to move on to 6 points themselves if they can make it a double over Besiktas who they defeated 1-4 away from home in Round 3.
Those heavy Round 3 wins suggest Ajax and Sporting are the teams to pick in this round - particularly Sporting given they now have home advantage as well. Ajax haven't conceded a goal in the 4 games they've had since a surprise 0-1 defeat at Utrecht at the beginning of October but were held to a goalless draw by Heracles on Saturday.
Group D: Real Madrid vs. Shakhtar and Sheriff vs. Inter
We finish with Group D which remains very open despite Real Madrid and Inter finally picking up the results you'd expect of them in Round 3. Both of those giants won pretty convincingly in Round 3 meaning we can expect them to do so again this week but it's Sheriff who currently remain top of the group as they sit ahead of Real Madrid because of their head-to-head record after beating Ancelotti's team in Round 2.
In this week's matches Sheriff are perhaps more likely than Shakhtar to cause an upset since they'll be facing Inter at home but we finally saw some control and finishing ability from Inter on the European stage last time out and that should give the Serie A champions some confidence as they head to Moldova.
Real Madrid are without Federico Valverde (knee) and Rodrygo (hamstring)
but have plenty of attacking power regardless with Karim Benzema and Vinicius Jr both in excellent form at the moment.
Good luck in Round 4!