2021/22 Champions League: Round 3 Preview
It's been close to a month since Round 2 of the Champions League group stage took place but the standout result in that round which remains very clear in the memory was Sheriff's incredible win at the Bernabeu! Having also beaten Shakhtar in Round 1, Sheriff's win over Real Madrid means they're in a great position to eliminate a giant in this group stage ahead of their back-to-back fixtures against Inter across Rounds 3 and 4.
As usual at this stage of the competition, the fixtures have been scheduled so that the Round 3 matches taking place this week will then be followed by the reverse fixtures in Round 4 which takes place in 2 weeks. That means Round 4 is often slightly easier for Superbru players in the sense that there will have at least been a recent meeting to work off when making your predictions but for this round, it remains quite tricky to assess form, particularly since we've just had an international break and many of the top teams involved in this competition were therefore without their South American players for their league games at the weekend.
Here's your preview of each fixture in Round 3 which will (hopefully!) help you out with your Superbru picks:
Tuesday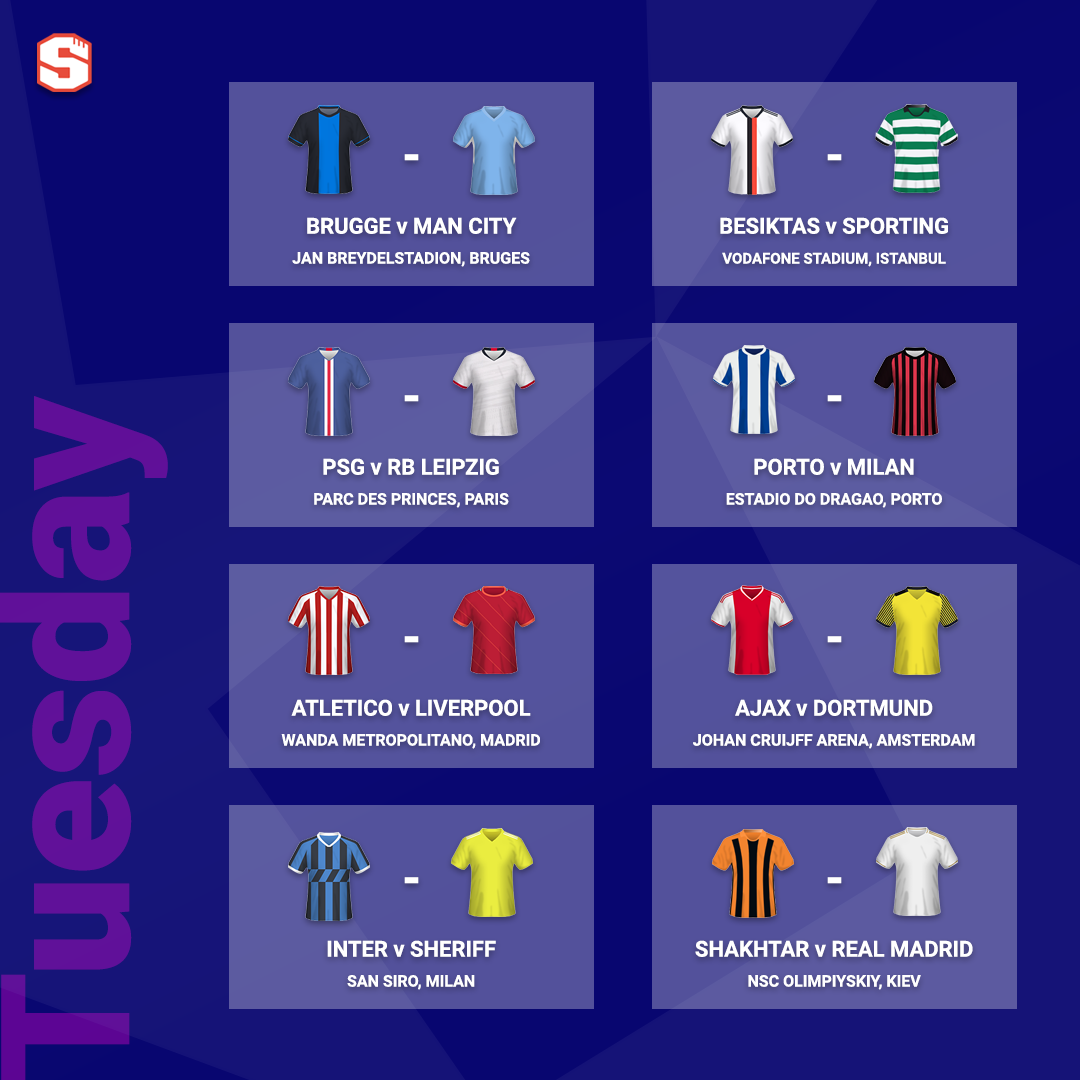 Group A: Club Brugge vs. Manchester City and PSG vs. RB Leipzig
Due to the impressive form of Brugge and PSG's win over Man City in Round 2, things remain very tight in Group A and this week's fixtures look as though they're set to be crucial. Brugge currently sit joint top of the group with PSG on 4 points but since they still have to go to Manchester and Paris in the second half of the group stage, they're probably going to need a result in their home game against City tonight.
Pep Guardiola's City do of course head to Belgium as favourites - their defeat in Paris last month is the only loss they have suffered in their last 10 fixtures across all competitions. We can expect Brugge to be extremely competitive though as they've only lost once all season and remain unbeaten at home this term. Both teams are set to be close to full strength with
Ferran Torres City's only notable absentee
.
In this group's second game, PSG take on RB Leipzig and they'll be doing so
without Neymar who is struggling with a minor adductor injury
. Paris obviously have plenty of attacking talent regardless, including Lionel Messi who scored his first goal for the club in the 2-0 win over Man City in Round 2. RB Leipzig continue to look quite unconvincing and their home defeat to Brugge last month is likely to cost them any chance of progressing from this group. Jesse Marsch's team are 8th in the Bundesliga after a 1-1 draw with Freiburg at the weekend and head to the Parc des Princes having already conceded 8 goals in the opening 2 rounds of this group stage.
Group B: Atletico Madrid v Liverpool and Porto v Milan
Liverpool will be delighted with the strong start they have made in this very tough group and if they can manage a result at the Wanda Metropolitano this evening, they'll be very confident of progressing to the Last 16. Atletico away is an incredibly difficult fixture though and Diego Simeone's team are in a fairly good position themselves after an impressive late turnaround in Milan that saw them pick up 3 points at the San Siro in Round 2. The recent goalscoring form of Liverpool means they're slight favourites but Atletico should be very fresh (they haven't played since a 2-0 win over Barcelona on October 2nd) and defeated the Reds 1-0 at home in 2020 before eliminating Liverpool from this competition at Anfield in 2020 with a 2-3 second leg win.
Following the aforementioned turnaround that saw Atletico win at the San Siro last month, AC Milan now head to Porto knowing that they can't really afford to lose if they're to stand a chance of going through. Milan have been very competitive against both Liverpool and Atleti but must ensure they actually get a result this time around as they face a Porto team that were beaten 1-5 by Liverpool in Round 2. Since getting results hasn't been a problem in Serie A - Milan are unbeaten after 8 games and have won 7 of them - there's certainly reason to believe Stefano Piolo's team can turn things around in this double header against Porto but it won't be easy away from home and they're
missing several key players including goalkeeper Mike Maignan, Theo Hernandez, Ante Rebic, Brahim Diaz and Franck Kessie (suspended).
Group C: Besiktas v Sporting and Ajax v Dortmund
We've reached the fun part of this group - the double header between Ajax and Dortmund. Those two teams sit joint top of Group C on 6 points each and we should be set for two very entertaining clashes between them before they both eventually progress to the Last 16. However, if either Ajax or Dortmund manage to win both of those meetings, there will of course be an opportunity for one of Besiktas or Sporting to catch up if they can string back-to-back wins together as well.
Barring a surprise 0-1 defeat to Utrecht at the start of this month, Ajax have been close to faultless for a couple of months now with lots of clean sheets and Sebastien Haller in incredible form in front of goal. Like Haaland and Dortmund (though not quite as talented/frightening), Haller is the leading scorer in a team that has plenty of other players that are more than capable of finding the net. Antony, Tadic and Berghuis are likely to be the players supplying chances and since Dortmund will almost certainly be more focused on scoring goals themselves rather than sitting back and soaking up pressure, this could be any scoreline.
As for the Besiktas v Sporting double header - you would think home advantage will be quite crucial in both 'legs'. Tonight's game is the best chance Besiktas will have to put a win on the board in this competition and though Sporting are the better football team on paper, they'll have to be at their best to win away in Turkey and I personally expect Besiktas to get at least a point on home turf.
Group D: Inter v Sheriff and Shakhtar v Real Madrid
Two games that each have a clear underdog but also very valid reasons to pick the underdogs as Sheriff sit top of this group and Shakhtar beat Real Madrid home and away last season! It's tough to preview these fixtures as a result because Inter and Real Madrid are naturally favourites given their stature and the strength of their squads but it's down to you as to whether or not you have a feeling Sheriff and/or Shakhtar can continue to surprise.
In Round 2, we saw Shakhtar draw 0-0 with Inter which was the same scoreline they managed against the Serie A side in both of their meetings in last year's tournament as well. If they're to continue with that consistency in terms of matching their results from last season, we can expect a 2-0 win for them over Real Madrid who were beaten by that scoreline in Kiev last December. Real's humiliating loss to Sheriff in Round 2 hardly bodes well for them ahead of this trip to Ukraine, particularly since they also then lost 1-2 to Espanyol in LaLiga days later, but Carlo Ancelotti's team have had plenty of time to prepare for this one since like Atletico they haven't played since before the international break.
Inter are clear favourites against Sheriff (just like Real Madrid were in Round 2) but desperately need to find a way to improve their form in this competition. Simone Inzaghi's team are yet to even score in this group stage and also lost ground in the Serie A title race at the weekend with a 3-1 loss away at Lazio.
Wednesday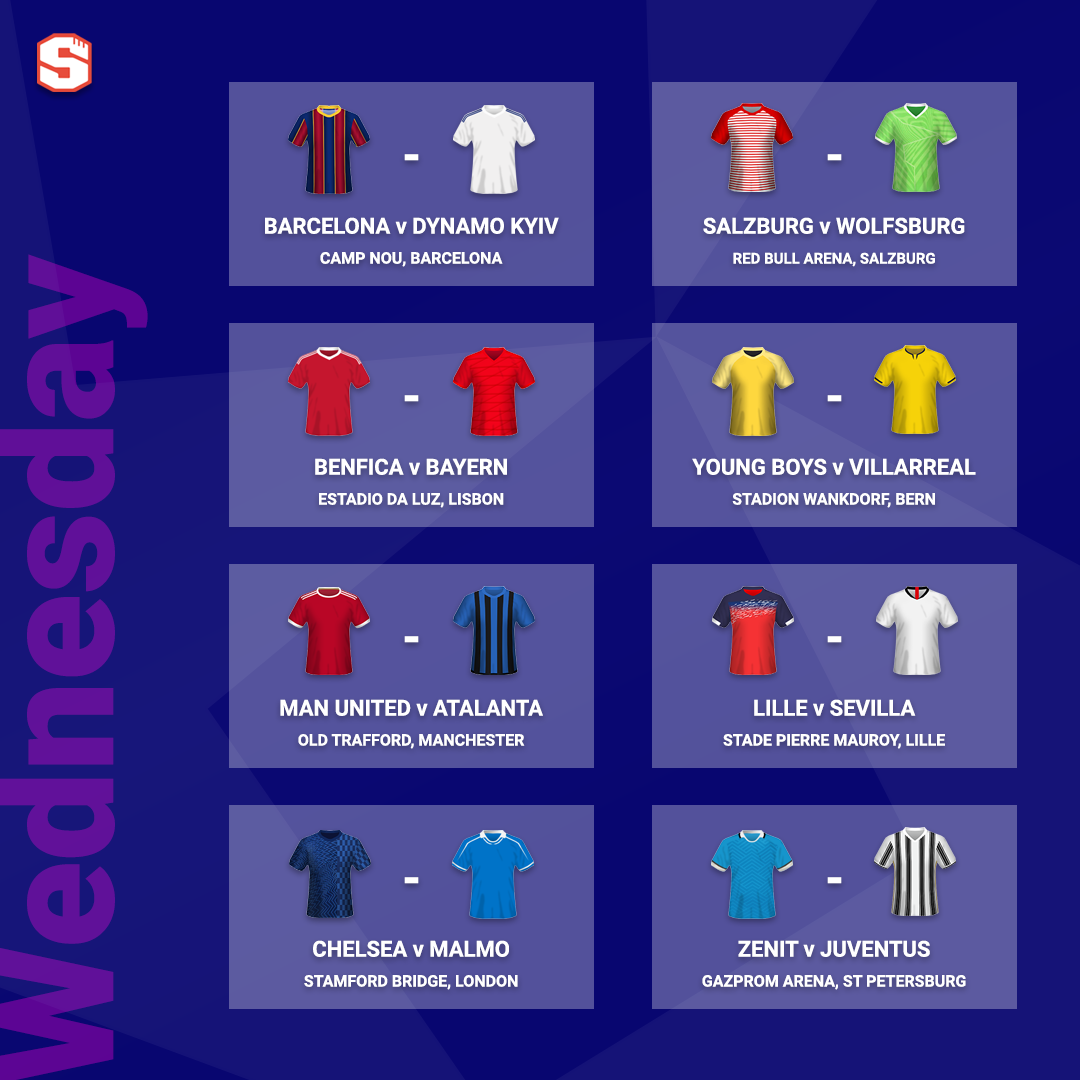 Group E: Barcelona v Dynamo Kyiv and Benfica v Bayern
Barcelona are in serious trouble in Group E after heavy defeats against both Bayern and Benfica meaning they now need to take 6 points from their double header against Dynamo Kyiv while hoping Bayern beat Benfica twice which is what you'd expect to happen.
Things have been pretty miserable for Barcelona but as you'll likely spot when making your
Odds-based Fantasy picks
- things have at least improved in terms of player availability for Ronald Koeman as Ansu Fati is back and scoring goals while Sergio Aguero has also now made his first appearance for the club after coming off the bench in Sunday's 3-1 win over Valencia. Barca really
should
have too much for Dynamo even in their current state but the pressure is on this week with an El Clasico also coming up on Sunday.
In Lisbon, you'd expect Bayern to continue looking dominant in this group as there's no doubt they're one of the strongest teams in Europe right now. Julian Nagelsmann's team absolutely took Bayer Leverkusen (who are 3rd in the Bundesliga) apart in the first half of their clash at the weekend, scoring 4 goals in 7 minutes on their way to a 1-5 win. Bayern will be close to full strength on Wednesday but
Alphonso Davies is a major doubt after coming off injured after 40 minutes in that Leverkusen game
.
Group F: Manchester United v Atalanta and Young Boys v Villarreal
Group F is looking very interesting after 2 rounds and we're set for an exciting double header between Man United and Atalanta. After a string of poor domestic results (no win in 4), Solskjaer's United are under huge pressure heading into this game where they'll feel they need a win with home advantage. Atalanta are of course an incredibly dangerous attacking side though and United looked vulnerable defensively at Leicester on Saturday with
Harry Maguire clearly not fully fit and Raphael Varane sidelined for a few weeks
.
Unai Emery's Villarreal are also under pressure heading into this round as they sit bottom of the group and 2 points beneath Young Boys ahead of their double header with the Swiss champions. Villarreal are favourites but we can expect their away game in Switzerland this week to be very tough given the win Young Boys managed against Manchester United and the fact that they play on an artificial pitch which often seems to trouble visiting clubs. Villarreal were also beaten at home in LaLiga on Sunday by Osasuna so I certainly wouldn't recommend picking a straightforward win for the visitors.
Group G: Salzburg v Wolfsburg and Lille v Sevilla
This group may not contain teams that are quite as glamorous as the others but that's making for a very interesting battle for places in the Last 16. So far, it's Salzburg who have impressed most and they top the group with 4 points after their 2-1 win over Lille in Round 2. 19-year old Karim Adeyemi is improving his already considerable reputation in this year's tournament and he's the clear threat to Wolfsburg in a game that most would now consider the Austrian side to be favourites in considering their performances and Wolfsburg's poor recent Bundesliga form - after winning their first 4 league games of the season, they've failed to win any of their most recent 4.
In the other game, Sevilla remain the side you would say are strongest in this group and therefore should beat Lille but they've been pretty ordinary so far in this tournament, drawing both of their opening 2 games. In LaLiga, Sevilla are 3rd with 5 wins in 8 games despite only scoring 11 goals so that tells you the kind of game and scoreline we can reasonably expect here - the Spanish side will look to dominate and control the ball but perhaps won't be putting too many past Ivo Grbic in the Lille goal meaning the French side will feel they have a chance of a point or 3.
Group H: Chelsea v Malmo and Zenit v Juventus.
Finally, we have Group H. Juventus managed a cracking result against Chelsea in Round 2 to take control of this group but if they're to stay in the driving seat, they'll need to win in St Petersburg which definitely won't be easy despite the improving form of Max Allegri's side. Juve seem to have got their major strength back which is a solid defence as they've proven with 3 consecutive 1-0 wins in their last 3 games.
Matthijs de Ligt and Paulo Dybala are unlikely to feature
but Allegri has plenty of options and the Serie A team are expected to beat Zenit in a game that perhaps won't be too thrilling.
The reason Juve are under pressure heading to Zenit despite their win over Chelsea is because the Blues now face Malmo in a double header which should be very straightforward. The Swedish side have been beaten 0-3 by Juve and then 4-0 by Zenit in this competition so far meaning we can expect things to be very comfortable for the Premier League leaders.
Christian Pulisic remains out for Chelsea but Antonio Rudiger and Hakim Ziyech are available. Tuchel has hinted Lukaku will be given a break as he believes the striker is 'mentally tired'
.
Good luck in Round 3!