2021/22 Champions League: Round 2 Preview
We had a fair number of upsets in the opening round of this season's Champions League group stage and as I said in my Round 1 piece, such results are of huge significance because there are some very tough groups this year and it might prove difficult to make up for mistakes.
The standout shocks were Young Boys defeating Manchester United and Brugge picking up a draw against PSG. Both United and PSG now have tricky games in this round so it'll be very interesting to see how they respond.
Like last time, here's a brief preview of the round including how each group is looking after Round 1 and the form the relevant teams have had domestically since their opening UCL game.
Tuesday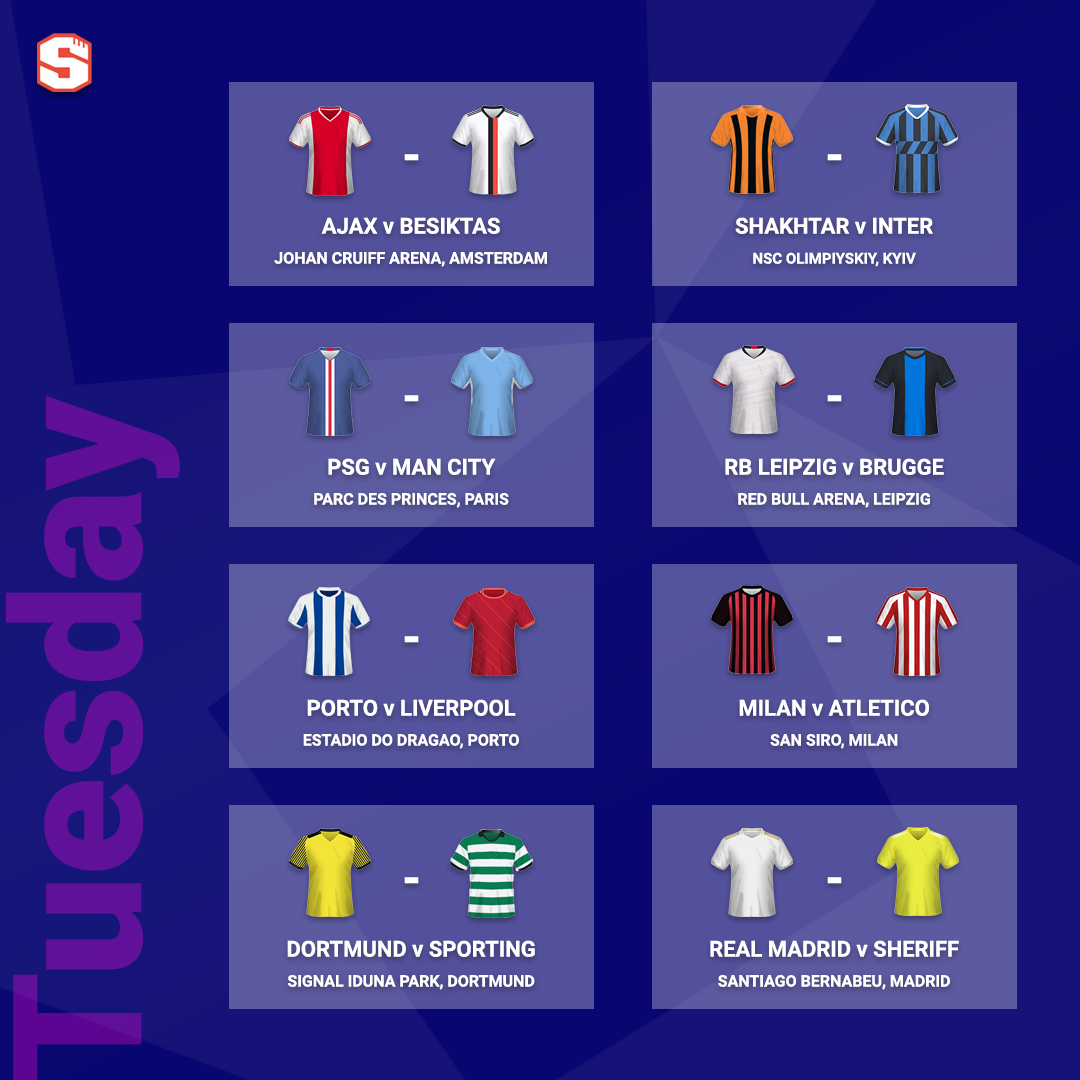 Group A: PSG vs. Manchester City and RB Leipzig vs. Brugge
PSG's draw at Brugge in Round 1 puts a little extra pressure on the French side to deliver in their games against City and Leipzig which look more difficult than Brugge on paper, and they'll now perhaps feel as if they can't afford to be beaten at home in this group. For Brugge, that result obviously represents an excellent start and they now head to Leipzig knowing that if they can manage another result, they'll be in a great position to try and obtain 3rd place and Europa League football at the least.
Following their 6-3 win over Leipzig in Round 1, City lead this group and they now head to Paris for the marquee fixture against PSG in excellent form after a truly brilliant display against Chelsea in the Premier League on Saturday. Pep Guardiola has admitted he 'doesn't know' how his team can defend against Mbappe, Neymar and
Messi (who is fit and will be in the squad)
but we can expect City to be similarly aggressive in attempting to press Paris into their own half and restrict supply to the front three. Picking between two teams as good as this is always difficult but it's worth remembering City eliminated PSG from this competition in the semi-finals last season with a 4-1 aggregate win that included a 1-2 victory in Paris. City obviously have no shortage of options when it comes to team selection but
Ilkay Gundogan remains sidelined
and hasn't travelled.
Leipzig v Brugge has a clearer favourite since the home side are stronger on paper and after a fairly shaky start to the Bundesliga season, Jesse Marsch appears to be seeing some improvement from his side. Conceding 6 against City obviously wasn't great but scoring 3 in that game is still an achievement and they've had a 1-1 draw away at Koln and a dominant 6-0 victory over Hertha since then. You certainly can't rule out Brugge getting something in Germany, particularly after their Round 1 result, but Leipzig certainly look the more dangerous team in an attacking sense.
Group B: FC Porto vs. Liverpool and Milan vs. Atletico
As I said last time, this is an incredibly strong group where one bad result can give you a mountain to climb and that's arguably where Atletico find themselves after their 0-0 home draw with Porto in Round 1. The LaLiga champions look a bit shaky at the moment ahead of what is set to be a very tough game in Milan tonight as they followed that draw with another goalless game against Athletic Club and also suffered their first league defeat of the season on Saturday when they were beaten 1-0 by Alaves. Despite a number of quality attacking players, goals are a problem for Simeone's side at the moment as they've only scored in 1 of their last 4 matches whereas Milan have scored in every game they've had this season and are second in Serie A having picked up 2 wins and a decent draw at Juventus since their narrow defeat at Anfield in the opening round of this competition.
Porto, on the other hand, can obviously take optimism from that draw at the Wanda Metropolitano but they now face Liverpool at home and are considerable underdogs. Sergio Conceicao's team are unbeaten so far this season and are nearly always competitive even in big games like this but Liverpool haven't been too troubled by Porto in recent years, winning 0-5 at the Estadio Do Dragao in 2018 and 1-4 in 2019.
Group C: Ajax vs. Besiktas and Dortmund vs. Sporting
Ajax and Dortmund each managed away wins in Round 1 meaning they've taken control of this group and look on course to progress which is what we'd have expected before a ball was kicked. However, a slip for either side in this round could still cause plenty of trouble ahead of the back-to-back meetings we'll see between Ajax and Dortmund in Rounds 3 and 4.
The first of these games looks a fairly straightforward pick as Besiktas aren't expected to travel too well in this tournament and Ajax are scoring goals for fun at the moment. Since battering Sporting 1-5 in Round 1, the Dutch champions have scored 17 goals in 3 league games without conceding.
Dortmund, who are infamously inconsistent anyway, are one to be careful about though as
both Marco Reus and even more importantly Erling Haaland are facing late fitness tests
. Both were injured at the weekend and Dortmund lost 1-0 at Borussia Monchengladbach. The Bundesliga side are favourites in this match regardless but it's definitely worth checking the teams as you can feel a lot more comfortable backing a home win if Haaland is in the starting lineup.
Group D: Shakhtar vs. Inter and Real Madrid vs. Sheriff
I managed to predict Real Madrid's narrow away win at Inter in Round 1 but almost all of us were caught out by Sheriff winning their opener! That was a fantastic result for the team that you'd have to say are the most unknown in this season's group stage and I'm excited to see how they get on at Real Madrid in this round where they are of course massive underdogs.
The more difficult pick for Superbru players in Group D is Shakhtar vs. Inter - both of the meetings between these two in last year's group stage finished 0-0. Inter are the stronger team and should win, particularly after Shakhtar's Round 1 result, but we've become so used to them underperforming in Europe that this is far from a 'banker'. I personally will be picking Inter as I've been surprised by how well Simone Inzaghi has got them playing and scoring goals in Serie A despite the departures of some key players in the summer and a defeat against Real Madrid is obviously an understandable result. Shakthar seem to thrive in these big UCL games though and I'm not going to be going for a winning margin of more than a goal.
Wednesday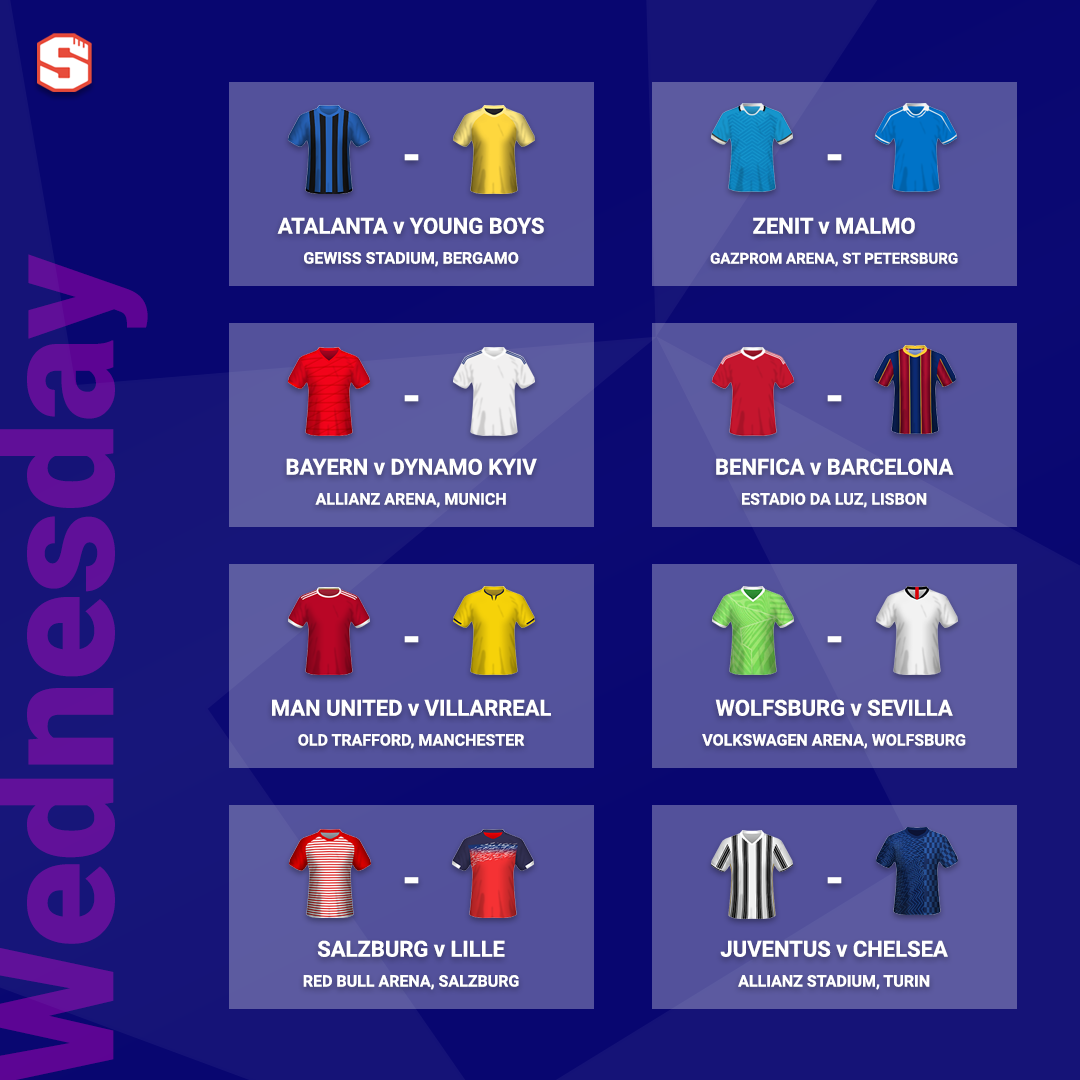 Group E: Bayern Munich vs. Dynamo Kyiv and Benfica vs. Barcelona
In case anyone wasn't quite sure, Bayern made it very clear in Round 1 that they're the dominant team in this group with an extremely comfortable 0-3 win at Barcelona. Their match against Dynamo Kyiv this week is almost certainly just a case of 'how many' - Robert Lewandowski's odds of scoring in our
Odds-based fantasy game
are just 1.2 which I think is the lowest we've ever seen and the Dynamo keeper is at 19 to keep a clean sheet.
The second game in this group is very interesting though. Benfica will feel they have a genuine chance of progressing ahead of Barcelona in this group given all of the problems the 5-time champions currently have but they may well need a win in this game to achieve that. It looks very even on paper. Barca suffered two disappointing draws in LaLiga following that Bayern defeat but did beat Levante at the weekend while Benfica have had back-to-back 3-1 victories since their 0-0 draw in Kiev.
Barcelona will be hoping the
return of young star Ansu Fati
in that win over Levante can prove to be huge for them - the fact he's taken the number 10 shirt that Messi left behind shows how much belief there is in Fati - but I think this could be really tight and I might sit on the fence with my pick rather than going for a winner.
Alba, Braithwaite, Demebele and Aguero are all still out
for the visitors.
Group F: Atalanta vs. Young Boys and Manchester United vs. Villarreal
Young Boys have made this group very interesting with their win over Manchester United in Round 1 and they now head to Bergamo where they'll look to cause another upset while United are left to take on the always awkward Villarreal.
After grabbing a point at Villarreal in Round 1, Atalanta won back-to-back Serie A games and then picked up an impressive 2-2 draw at Inter on Saturday meaning they're in decent form and will be confident that they can avoid making the same mistake as United against this Young Boys team, particularly since they'll have home advantage in Bergamo.
In the second match in this group, the pressure is all on Manchester United to find 3 points. Villarreal did of course beat the Red Devils on penalties in last season's Europa League final to deny Ole Gunnar Solskjaer a first trophy as United boss so that will be on some players' minds heading into this one, as will the fact that Man Utd have lost their last two fixtures 0-1 at home against West Ham and Aston Villa. The hosts remain favourites, particularly with Ronaldo up front, but there will undoubtedly be some predicting United's current wobble continues.
Villarreal's key man Gerard Moreno is an injury doubt
so that might make things a little easier for Solskjaer's team.
Group G: Salzburg vs. Lille and Wolfsburg vs. Sevilla
It's very much 'as you were' in this group as all teams are on 1 point following two draws in Round 1 and it will be Salzburg who are happiest with that as they made the difficult trip to Seville first up. It could have easily been even better for Salzburg in that crazy game though as they were awarded 3 of the 4 first-half penalties in that match but missed two of them meaning it finished 1-1. Young German forward Karim Adeyemi looked particularly good for the Austrian side and Salzburg are actually favourites with the bookies against Lille who only found their first away win of the season on Saturday.
The second match between Wolfsburg and Sevilla is also hard to call but I'd suggest the away side are narrow favourites because of their European experience and Wolfsburg's recent form. The 0-0 draw Wolfsburg had with Lille in Round 1 (where they offered very little in attack) triggered a down turn in their Bundesliga form where after winning their first 4 games they have since suffered a draw with Frankfurt and defeat at Hoffenheim.
Youseff En-Nesyri is suspended for Sevilla
following a red card against Salzburg meaning we could well see Rafa Mir in attack.
Group H: Zenit vs. Malmo and Juventus vs. Chelsea
We got the results we expected in Round 1 in this group as Chelsea and Juve managed victories though Chelsea were made to work hard for it against Zenit at Stamford Bridge. This week we can expect to see Zenit defeat Malmo with home advantage while Juve vs. Chelsea in Turin is a headline game that will test whether or not Juve are at a level where they can compete with the current champions.
Despite a first defeat of the season against Manchester City on Saturday where they were outplayed, Chelsea are widely considered favourites against Juventus where the only real question mark for the Blues is simply how they respond to the recent defeat given it's their first. Juventus have been incredibly unconvincing so far this season, winning only two of their 6 league games, and though both of those have come in their last two matches, they were each 3-2. To further harm Juve's chances of a result,
both Alvaro Morata and Paulo Dybala are set to miss out
with injury and Max Allegri's comment that the fixtures against Zenit in this group will be the 'decisive' ones for his team suggest he is perhaps wary that his team will need to be on their game in order to simply progress to the Last 16 as opposed to challenging Chelsea for top spot in Group H.
Good luck in Round 2!