2021 Masters: Preview and Predictions
The Masters returns! Reinstated to its usual berth in the annual golf calendar, it's Masters week again, just a few months after the 2020 instalment.
As always, course experience is critical at Augusta, rookies never win, and a Masters champion needs an all-round game to stand a chance of donning the green jacket.
In case this is your first golf tournament on Superbru, here's the usual quick explainer. Our fantasy golf games are a lot of fun - quick and simple to play, and it will make every shot important!
Bands
Our golf game is designed to reflect how people watch golf - everyone has a few favourite players that they follow, and pay particular attention to during the coverage. We ask you to pick four golfers for each day, and their score will determine your score.
But you can't just pick the top four golfers in the world, where would the fun be if everyone had the same players? We have divided the field into four groups, which reflect their likelihood of winning the tournament - Band 1 contains the favourites, whilst Band 4 has players with an outside chance.
You will need to pick one player from each band, and for every stroke they score under par, you will receive 1 point. You'll also lose a point for every stroke over par...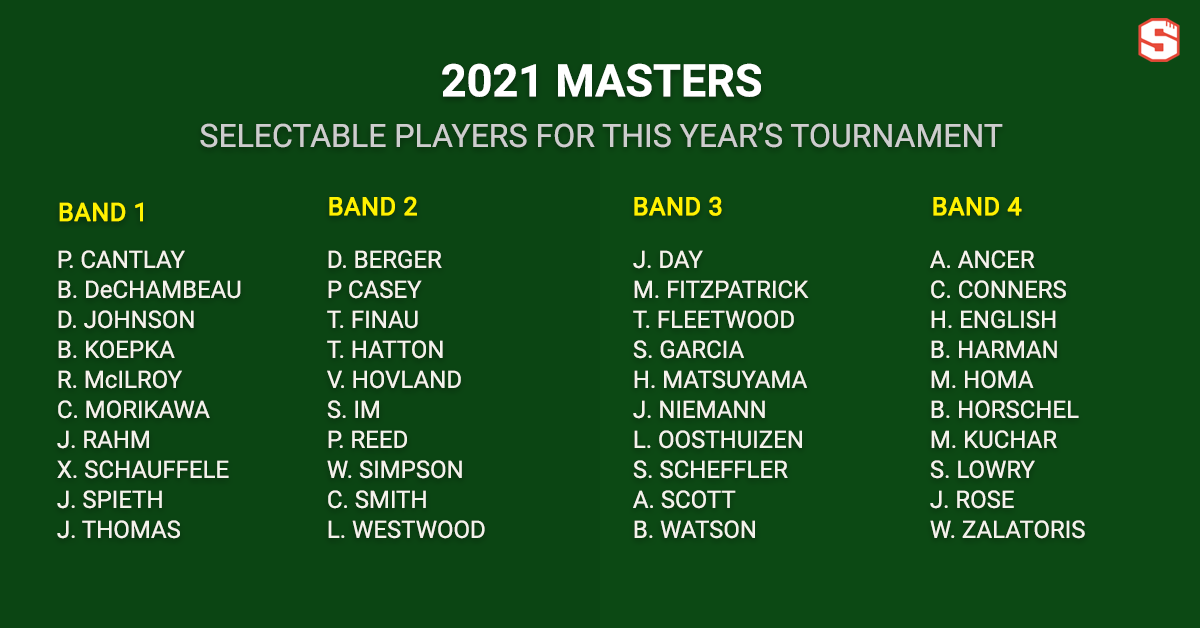 For example, you pick Jordan Spieth and he shoots -8 on Day 1. That's 8 points for you, well played. But you have also picked Sergio Garcia who keeps finding the water and shoots a round of +3 (-3 points for you), Phil Mickelson who picks up a 2-stroke penalty and finishes on +2 (-2 points for you), and Charel Schwartzel who scores Even par (0 points). That would give you a total of 8 - 3 - 3 + 0 = 2 points.
The 2021 Masters
There are several high-calibre contenders coming into this week, with Dustin Johnson the defending champion, Jordan Spieth finally winning a tournament again and looking sharp, Rory McIlroy still dreaming of winning the only Major that eludes him, not to mention the likes of Bryson and Brooks.
They are all in Band 1 though, and you need to look beyond the favourites to succeed on Superbru.
You can join our Players Championship game now by clicking the + icon in the top right corner of our app's home page and selecting 'Join a tournament'.
Here are my players for Round 1:
Dustin Johnson
: With form so important at Augusta, why not back the man who won here in November? Also remember that he has been in the top 10 on every Masters start since 2015, and it's hard to bet against him.
Paul Casey
: This was the toughest band to pick for me, where any of the players could feasibly shoot -6 or +6 on Day 1. Casey has been in great form so far in 2021, he has the Augusta experience
Louis Oosthuizen
: Oosthuizen is remarkably consistent in the big events, having not missed a cut in a US Major since 2013, and he looks a great option in Band 3 as a player who shouldn't post a huge number and ruin your Superbru scorecard on Day 1.
Abraham Ancer
: Ancer has a great Masters debut last year, and was T2 going into the final round. Another strong start as part of my Day 1 picks would be most welcome.
At the end of each day's golf, it's a good idea to head back to Superbru and see how you've scored in comparison to others in your pool! After all, how you're getting on against your mates will help to determine who you select for Day 2.
Best of luck to all!