2021 Australian Open to begin on Monday
You've probably seen plenty of news about the build-up to this year's Australian Open, which has included coverage of private planes, hotel room quarantine and various crazy stories/arguments that have risen as a result of restrictions rather than news on actual tennis, but the event itself will finally get underway on Monday and that means a first tennis tournament of the year on Superbru.
It feels like a long time ago that Rafael Nadal and Iga Swiatek managed titles at the 2020 French Open, which unusually was the final Grand Slam of the year and finished in October, so it'll be great to see some tennis again and though there are of course some players missing because of the pandemic, we still have a very good draw to look forward to.
This year's tournament
Though, as mentioned, the seeds for this tournament look very strong, there are of course some notable absentees. In the men's tournament, Roger Federer is the big name that's missing - this will be the first Australian Open Federer has missed since 1999! The 6-time winner is still recovering from knee surgery he had last year. The other male players missing that would have been seeded are Cristian Garin and John Isner while Andy Murray has also been forced to withdraw due to testing positive for coronavirus before travelling.
In the women's draw, Madison Keys and Amanda Anisimova have also had to withdraw because of testing positive while Kiki Bertens is out with a foot injury.
Particularly with Federer out, as you can see from the list of recent winners below, there's a fairly clear favourite in the men's draw. The women's draw, as we have become used to in recent tournaments, looks set to be far more open and picking a winner is never easy!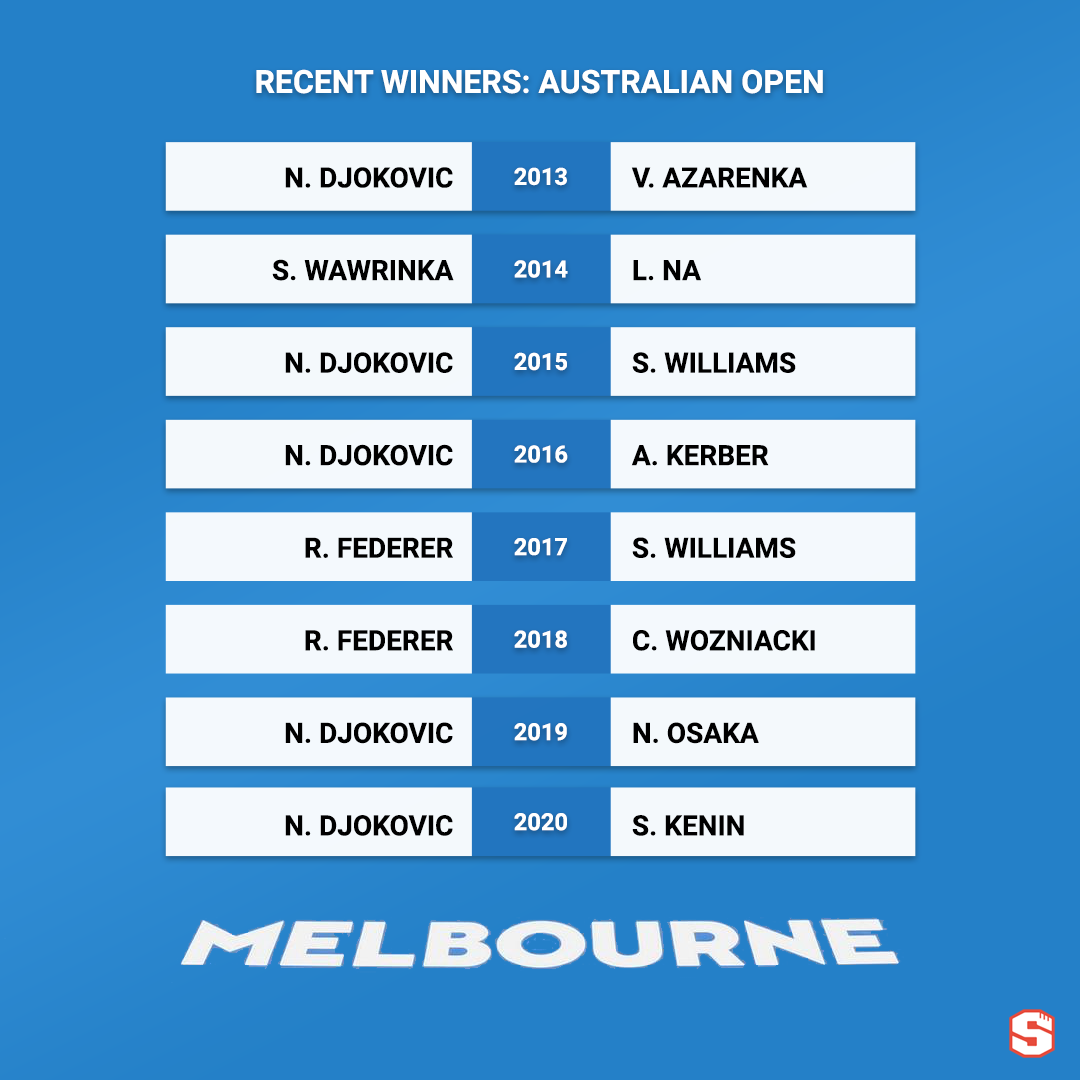 The draw for the tournament is set to take place tomorrow (Thursday) and fixtures for Round 1 will be added to our game shortly afterwards. Those fixtures will be all important for your picks, because rather than just picking your expected tournament winner in each round, the aim in our game is to pick the players that will pick up the most points in each individual round (based on how comfortably they defeat their opponent) as is explained below.
Fantasy tennis on Superbru
Just like our games in other tournaments such as fantasy cricket and daily fantasy rugby/football games, when playing the Australian Open on Superbru, the aim is to pick the player you believe will be most successful from four different lists of players known as 'bands'.
Rather than having a full, rather exhausting list of the many players that will be competing in Melbourne this year, we draw up four bands of players containing the top seeds for both the men's and women's title. By selecting one player from each list, you are left with a four-person team for a given round and you will score points based on how well each of those players get on.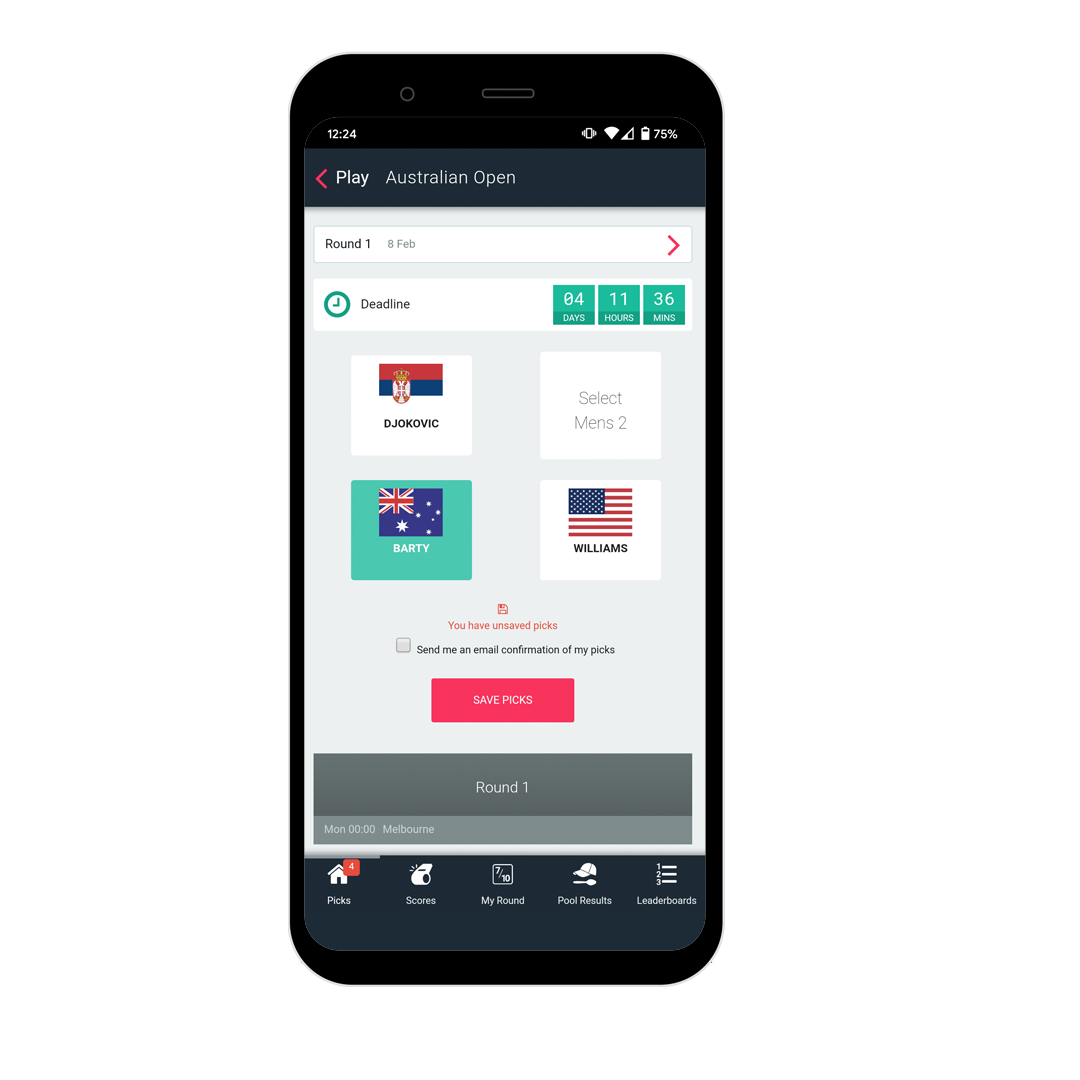 Picks are now open for Round One. Bands for Round Two will open soon after the draw is made and may contain players that have been knocked out in Round One due to the very short (sometimes non-existent) gap between the rounds. In such cases, the player will be marked 'Withdrawn' and you will receive an e-mail alert if a player you have picked has been marked. Once we reach the fourth round, bands become ordered by each side of the draw rather than by seed meaning all remaining players will be available for selection.
Scoring
The game is designed to reward players who win the most comfortably in each round, hence why looking at each player's opposition is a good idea. Players get their points from two different factors:
Net sets won - 3 points per set:
That is, the number of sets a player wins a match by. For instance, if Roger Federer defeats Novak Djokovic by 3 sets to 1 he would be awarded six points as he won by 2 sets.
Net games won - 1 point per game won in a set won by the player:
The same thing applies. Going back to the Roger Federer example, if he had beaten Djokovic 7-6, 3-6, 6-0, 6-4 then he would receive an additional 9 points for the number of games he won each set by (1 point in the first set, 6 in the third and 2 in the fourth).
The selectable players in Round 1 are: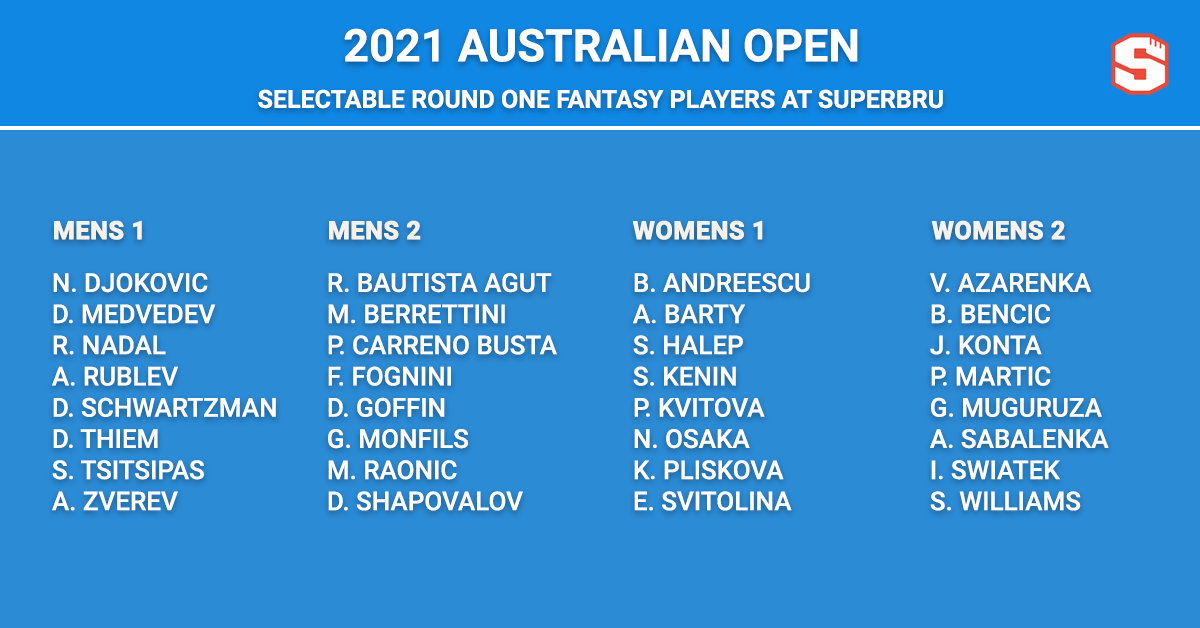 Good luck with your opening picks and we hope you enjoy both watching the action and playing along on Superbru.
We're obviously hoping things go smoothly throughout the tournament but in light of today's news about some more isolation and tests being required for a number of people involved in the event, it's worth noting that our scoring does already include rules regarding withdrawals.
If a player's opponent withdraws either before or during a match, they receive set points for each incomplete set and 2 net game points for each of those sets as if the score was 6-4. If a player you have selected is the one to withdraw, this if of course always very unfortunate and no points will be awarded.