2020 Australian Open at Superbru
The first rounds of the 2020 Australian Open championships begin on Monday the 20th January at 11am local time. If, like us here at Superbru HQ, you're quite far West of Australia, this will of course mean a deadline late on Sunday night for your opening picks so make sure you keep that in mind!
Our tennis fantasy games are always good fun for each of the four majors, adding considerable interest and tension to the tournament regardless of how much of a tennis fan you are. In case 2020 is going to be your first ever tennis season at Superbru, here's a quick run-through of how things work and a little preview of this year's championships specifically.
Bands
As is the case in our 'Superstars' or '5-a-side' games in other tournaments such as Super Rugby, the Premier League and the World Cup, the aim of the game when playing the Australian Open at Superbru is to pick the player you believe will be most successful from four different lists of players known as 'bands'.
Rather than having a full, rather exhausting list of the many players that will be competing in Melbourne this year, we draw up four bands of players containing the top seeds for both the men's and women's title. By selecting one player from each list, you are left with a four-person team for a given round and you will score points based on how well each of those players get on.
The bands for Round One of the 'Aus Open' can be seen below. Note: You will be picking a fresh team of players for each and every round of the tournament meaning it is sometimes best to pick players you are most confident will perform best in the particular match they have in a round rather than always picking the player you believe will win the overall Championship in every single round.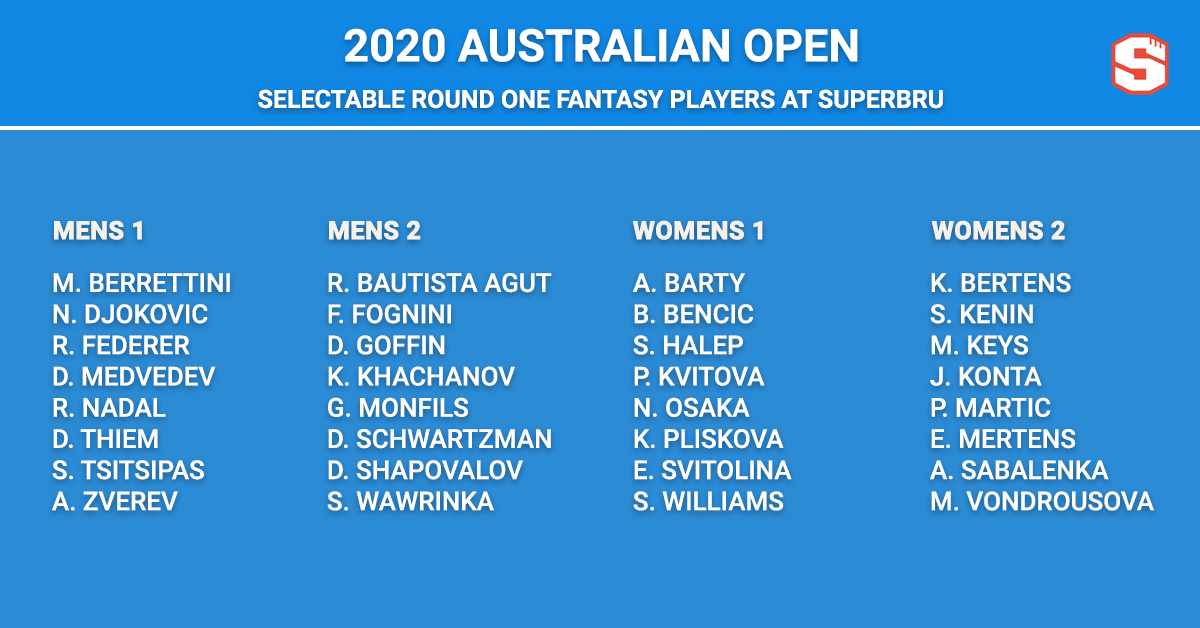 The bands are now open and ready for you to
pick your players
for Round One. Remember, as with all Superbru games, you can change your picks as many times as you like right up until the round deadline. Feel free to make some early picks that ensure you don't miss the deadline safe in the knowledge that you can come back and re-think your 4-player team once fixtures are confirmed after the draw has taken place (after qualifying).
Bands for Round Two will open shortly after the draw and may contain players that have been knocked out in Round One due to the very short (sometimes non-existent) gap between the rounds. In such cases, the player will be marked 'Withdrawn' and you will receive an e-mail alert if a player you have picked has been marked.
Scoring
The game is designed to reward players who win the most comfortably in each round, hence why looking at each player's opposition is a good idea. Players get their points from two different factors:
Net sets won - 3 points per set:
That is, the number of sets a player wins a match by. For instance, if Roger Federer defeats Novak Djokovic by 3 sets to 1 he would be awarded six points as he won by 2 sets.
Net games won - 1 point per game won in a set won by the player:
The same thing applies. Going back to the Roger Federer example, if he had beaten Djokovic 7-6, 3-6, 6-0, 6-4 then he would receive an additional 9 points for the number of games he won each set by (1 point in the first set, 6 in the third and 2 in the fourth).
Note: As was first introduced for the final major of last year, the US Open, walkover sets are now scored with 2 net games points as well net sets points. This is relevant for when opponents withdraw mid-tournament and even mid-match in some cases.
The 2020 Tournament
Though this year's championships are expected to go ahead without delay, the build-up to the tournament has of course been overshadowed by the devastating bushfires that continue to burn across a large part of Australia. Many players have announced that they'll be donating and looking to support the many who are affected and
the tournament has set up this page with more information
.
As you can see from the above bands, the vast majority of this year's top ranked players are fit and set to feature in this year's Australian Open. Bianca Andreescu is perhaps the most notable name to miss out with injury as she has been sidelined with a knee injury. Andreescu, who is just 19 years of age, won the US Open last year. In the men's tournament, both Juan Martin del Potro and Andy Murray have both announced that they will not be competing as they continue to struggle with injuries.
The bands in our game contain the players ranked 1-16 in the world ahead of either championship and will only change to include other players once certain seeds are knocked out. In the event of a Band One player being knocked out, the top seed from Band Two will replace them while the 17th overall seed would go into Band Two as a replacement and so on.
Though, as we have mentioned, our game is designed to ensure each individual round is important and therefore your picks are likely to vary, it is of course useful to know who the tournament favourites are. Here's a look at the Australian Open winners from the last 7 years: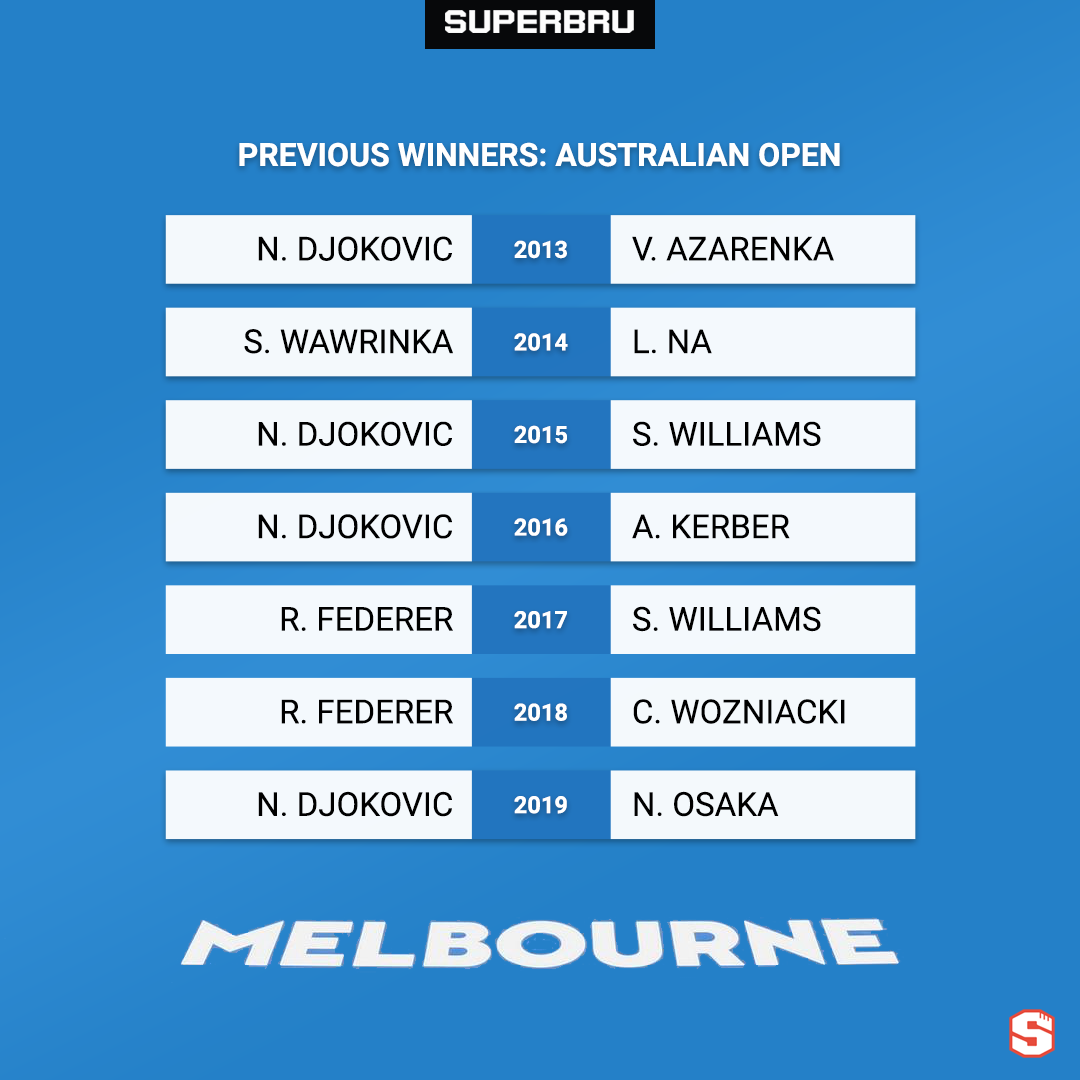 As you can see, history suggests Roger Federer and particularly Novak Djokovic are the men to beat this year while Serena Williams and Naomi Osaka are the banded women that have experience of winning this event. Djokovic and Williams are the bookies' favourites to lift the respective trophies this year. Nadal is seen to be the man that has the best chance of stopping Djokovic while Osaka and Barty (who is Australian) are likely to be in the mix as a challenge to Williams.
Click here to play the Australian Open at Superbru
We hope you enjoy playing our Australian Open game for this year's tournament and feel free to ask any questions you may have in the comments! Be sure to get your leagues set up and invite friends and family members to get involved this weekend as the action begins on Monday morning.