Vi Som Tippar Rugby 9.21/22
Gallagher Premiership 2021-22 Predictor League
Predict Gallagher Premiership 2021-22 scores and challenge your friends in Superbru's free Gallagher Premiership 2021-22 Predictor game. Play on the web or download our iOS and Android apps.

Captain
Pirra
Lars G. Persson
0 Superbru caps
Vi Som Tippar Rugby 9.21/22
Welcome
Vi Som Tippar Rugbys pooler är öppna för alla som har med Sverige eller svensk rugby att göra. Vi delar bara ut hela bonuspoäng, så alla som är närmast får en poäng. I våra pooler tillåter vi SuperBru's "defaults". Men om någon gör slut på sina förval och därefter missar en hel omgång kan kaptenen utesluta dom från poolen. Vill man gå med igen när man fått mer tid så är det OK. Men dom tidigare insamlade bonuspoängen är borta. Anledningen till detta är att en tippare som inte deltar heller inte skall dra ned hela poolens resultat. ************************************** Vi Som Tippar Rugby is a club opend for all that have any conection to Sweden or Swedish rugby. We don't split the bonus point. In our pools the Pool Captain will allow members only the Superbru default picks available from Superbru. If you run out of default picks and miss a hole round, the captain can expel you from the pool.
Gameplay
Classic Leaderboard
Predict results, score points for accuracy and climb the leaderboard
Participants
12 players so far
Type
Open pool - anyone is welcome!
What you can win
Just for fun
How well can you predict the scores?
In Superbru, you'll pick the result of every match and earn points for your accuracy.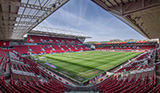 17 Sep 19:45
Friday 17 Sep 19:45

Bristol

Saracens
About Superbru's Free Gallagher Premiership 2021-22 Predictor
Set up private leagues - great for work
Play in up to 10 leagues
Take on sports fans around the world
Smart scoring system and reliable mechanics
Play on the web or our Android + iOS apps
Over 1.8m people play Superbru
Real time scoring updates
Completely free to play
Scoring System
Earn 1pt if you pick the winning team
If your margin is within 5 points of the actual margin, score an extra 0.5pts
If your margin is the closest in your league, score a Bonus Point worth 1pt
About Superbru
Free predictor and fantasy sports games
80+ tournaments a year across football, rugby union, cricket, golf, motorsport, rugby league, tennis, Australian Rules, American football, rugby sevens and cycling
Started on a sheet of paper on a fridge, now home to 1,954,232 sports fans
Established in 2006, with gaming models perfected over time
Independently owned and run by sports fans for sports fans