Die Katte Kort Ons Hulp
EPCR Challenge Cup Predictor League
Predict EPCR Challenge Cup scores and challenge your friends in Superbru's free EPCR Challenge Cup Predictor game. Play on the web or download our iOS and Android apps.

Captain
Baas Byron
Byron Hunkin
4,053 Superbru caps
Die Katte Kort Ons Hulp
Gameplay
Classic Leaderboard
Predict results, score points for accuracy and climb the leaderboard
Participants
5 players so far
What you can win
Just for fun
How well can you predict the scores?
In Superbru, you'll pick the result of every match and earn points for your accuracy.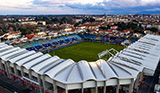 Stade Aime Giral, Perpignan
9 Dec 21:00
Friday 9 Dec 21:00

Perpignan

Bristol
About Superbru's Free EPCR Challenge Cup Predictor
Set up private leagues - great for work
Play in up to 10 leagues
Take on sports fans around the world
Smart scoring system and reliable mechanics
Play on the web or our Android + iOS apps
Over 2m people play Superbru
Real time scoring updates
Completely free to play
Scoring System
Earn 1pt if you pick the winning team
If your margin is within 5 points of the actual margin, score an extra 0.5pts
If your margin is the closest in your league, score a Bonus Point worth 1pt
About Superbru
Free predictor and fantasy sports games
80+ tournaments a year across football, rugby union, cricket, golf, motorsport, rugby league, tennis, Australian Rules, American football, rugby sevens and cycling
Started on a sheet of paper on a fridge, now home to 2,135,976 sports fans
Established in 2006, with gaming models perfected over time
Independently owned and run by sports fans for sports fans