Premier League Predictor: Round 19 Picks
Like most Superbru players (judging by the community average), I had a poor Round 18 with just 3/10 due to plenty of surprising results such as Watford's win over Manchester United and Chelsea's stunning performance and result against Tottenham.
The silver lining of unpredictability is always great entertainment and I'm looking forward to a fair few of the Boxing Day fixtures. Here are some quick thoughts on each of the Round 19 games for those of you who still fancy a read over the Christmas period! Feel free to debate them with me in the comments as usual.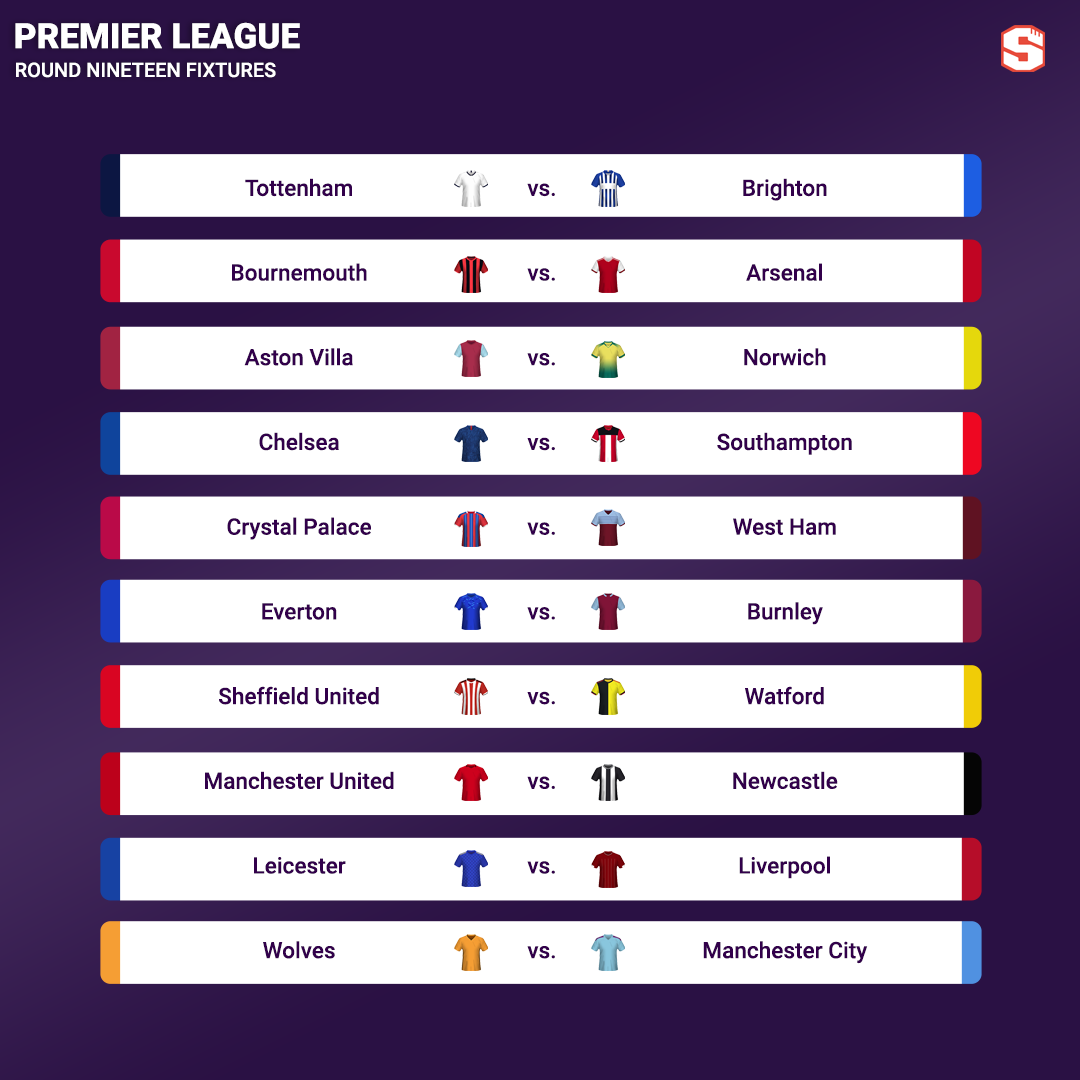 Tottenham vs. Brighton
It was really interesting to see Tottenham underperform against Chelsea as they already had done against Manchester United so that's now two big games vs. Mourinho's former clubs that they've failed in. I didn't see that coming given his fantastic record in those highly significant matches, but Spurs have been strong in their games against the slightly weaker teams since he arrived at the club and I expect them to bounce back on Boxing Day. Brighton have impressed me under Potter but they were second best at home against Sheffield United last time out.
Prediction: Tottenham 3-1 Brighton
Bournemouth vs. Arsenal
Aside from that shock win at Stamford Bridge, Bournemouth have been ordinary for weeks now so I think Mikel Arteta can be very hopeful of a winning start as a manager. Arsenal have of course been pretty average too but Arteta should bring plenty of optimism and if Arsenal start well by getting the ball to their danger players at the top of the pitch I think they can cause some damage.
Prediction: Bournemouth 1-3 Arsenal
Aston Villa vs. Norwich
What a huge game this is. I backed Villa in Round 18 and they let me down against Southampton but they also lost John McGinn to a pretty serious injury meaning there'll be a lot of nerves around Villa Park for this one. Norwich were great in their first half against Wolves and should have wrapped the game up but as so often happens in the Premier League, they got punished for not doing so and ended up with nothing. The pressure is all on Villa in this game which makes me nervous about picking them but player for player they're definitely superior and won convincingly at Carrow Road earlier in the season.
Prediction: Aston Villa 2-1 Norwich
Chelsea vs. Southampton
Chelsea's win at Tottenham was so important for numerous reasons but this fixture now becomes equally significant in a way because they've been struggling to break teams down at home and will ruin their hard work at Spurs if they lose again at Stamford Bridge. Southampton's game plan isn't hard to predict since both West Ham and Bournemouth have shown the way to win this fixture in recent weeks, the question is whether or not Chelsea have learned how to find a way to win. With confidence so high and Frank Lampard clearly aware of the issue, I'm backing them to have thought up a Plan B.
Prediction: Chelsea 2-0 Southampton
Crystal Palace vs. West Ham
A tricky one. West Ham have had a lot of time to prepare for this match but I'm still not sure they're as strong/organised as Palace. The visitors have struggled to string wins together and Palace tend to always be at least solid if not good rather than being inconsistent like the Hammers so I'm going for a draw here.
Prediction: Crystal Palace 1-1 West Ham
Everton vs. Burnley
I still can't quite believe Carlo Ancelotti is the manager of Everton. I'm not sure it's a great idea for either party, but it's undeniably a big deal for the Toffees to have attracted such a big name and I'm interested to see how things play out at Goodison Park. Duncan Ferguson did a great job in lifting the mood at Everton during his time in temporary charge and I think the new manager buzz will be enough for three points over Burnley.
Prediction: Everton 2-1 Burnley
Sheffield United vs. Watford
Watford's win over Man Utd was vital both because they couldn't afford to slip further away from safety and because they really needed three points in front of their own fans! The Hornets have some more winnable games coming up which Pearson will fancy but I wouldn't consider this fixture to be one of them. Sheffield United continue to impress and there's little to convince me that they'll struggle with Watford, especially since Doucoure is out.
Prediction: Sheffield United 2-0 Watford
Manchester United vs. Newcastle
You wouldn't have thought these two teams would be level on points at Christmas! Credit to Newcastle and particularly Steve Bruce who no one gave a chance really at the start of the season but they've been winning games and will cause United problems, just like most other bottom half teams have been. The only reason I'm going for United is because Paul Pogba is now back playing so they finally have some creativity in the middle of the park. If he suddenly isn't in the squad for whatever reason, I'll go 1-1.
Prediction: Manchester United 2-1 Newcastle
Leicester vs. Liverpool
I've had this game down as one Liverpool may struggle in for some time, and they still might, but Leicester's display against Manchester City last time out and indeed at Anfield earlier in the season suggested they're still some way off those top two. I know it was reliant on a soft penalty at the death, but Liverpool deservedly beat Leicester at Anfield and I think they'll probably do so again on Boxing Day. Leicester have the tools to beat anyone, especially since Vardy can't miss at the minute, but Liverpool just haven't stopped winning this season and it's brave to predict that they will until they do have a wobble.
Prediction: Leicester 1-2 Liverpool
Wolves vs. Manchester City
A very tough trip for City. Molineux is a difficult place to visit and if De Bruyne has a slightly off game where he doesn't win the match for City by himself, the champions could struggle here. I'm very tempted to pick a draw but De Bruyne's recent brilliance and the absence of Willy Boly for Wolves makes me feel more comfortable picking a City win. Pep Guardiola needs some revenge for the result at the Etihad earlier in the season and Wolves weren't too convincing at Norwich.
Prediction: Wolves 0-2 Manchester City
Best of luck in Round Nineteen. I hope you all have a fantastic Christmas and enjoy a Boxing Day full of sport and Superbru!