Premier League Predictions: Round 32
We have a fairly unusual Premier League round coming up this week as though it is a regular 10-match round, it runs all the way through until Thursday night and includes 2 Tottenham matches but 0 Crystal Palace matches. The reason for the disruption is due to the FA Cup semi-finals taking place this weekend so make sure you've also made your predictions for those!
Perhaps the most interesting match of the round is Leeds v Liverpool on Monday night. After an average predictor round last time out, I'm in need of some Exacts this week. Here are my picks.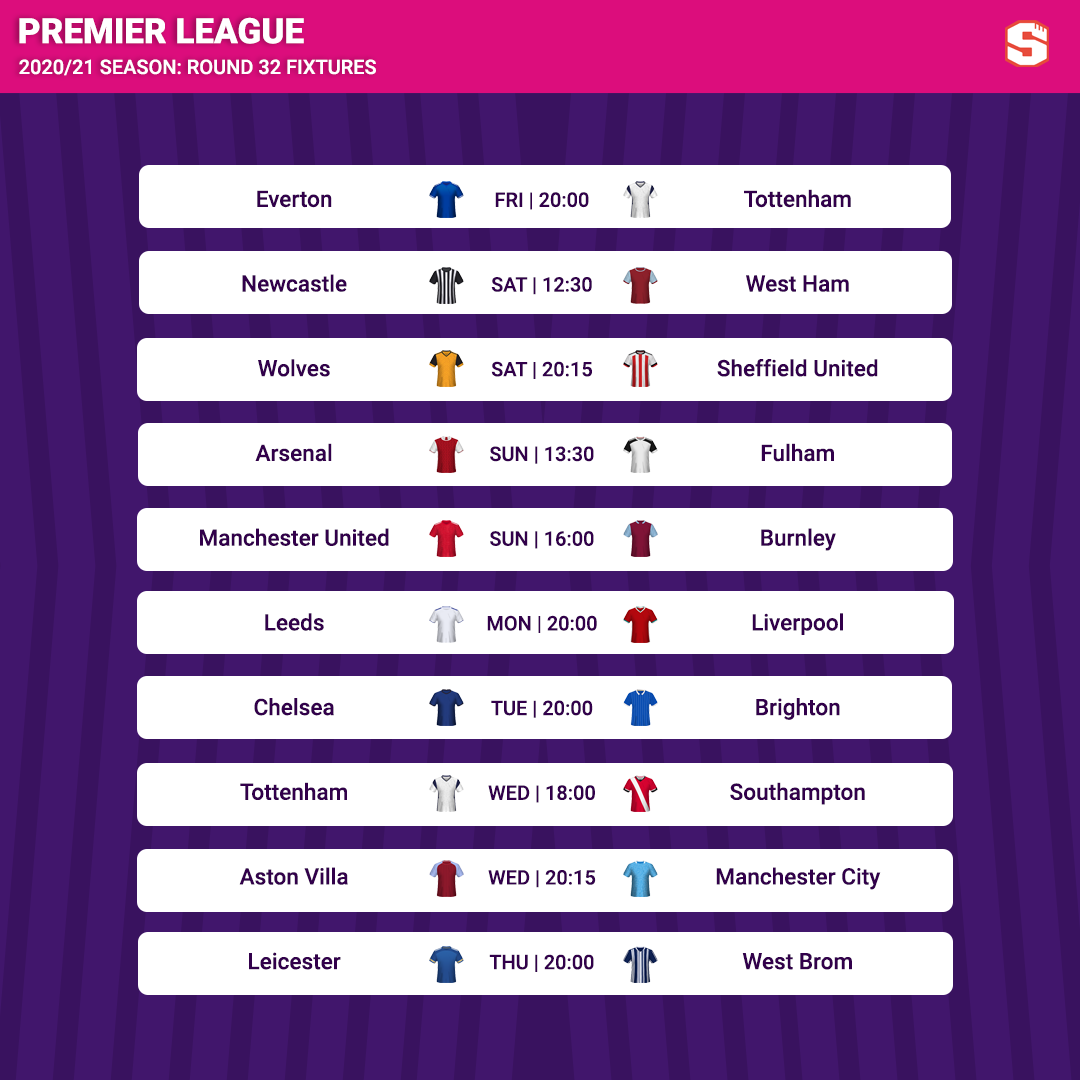 Everton vs. Tottenham
A tough opening prediction because both of these clubs appear in a bit of a bad way at the moment. Everton have gone four without a win, have been poor at home and have a lot of players out injured while Spurs appear to have already arrived at the really miserable phase of life under Jose Mourinho - Son's post Man Utd interview summed up the mood pretty well, if you haven't seen that then it's worth a watch on Twitter! Anyway, we still need to make a pick and I think Spurs are the slightly more likely team to win despite their results against Everton so far this season? Calvert-Lewin is a big miss for Everton and they've been missing Doucoure a lot already. I'm tempted by a draw but Tottenham feel the more likely to snatch it simply because of Harry Kane.
Prediction: Everton 0-1 Tottenham
Newcastle vs. West Ham
I really didn't see Newcastle winning last week so fair play to them and particularly Allan Saint-Maximin who we all know can be very impressive on his day. I don't think you can pick against West Ham at the moment though! They like to make their games interesting after taking early leads but they didn't let me down against Leicester when I backed them and with Jesse Lingard in this kind of form, they're going to keep causing teams plenty of problems.
Prediction: Newcastle 1-3 West Ham
Wolves vs. Sheffield United
First of all, it's really disappointing news for Wolves and all football fans really that Pedro Neto has suffered such a bad injury. It's a shame we won't see him for the run-in or at the Euros because he's been excellent in a team that has otherwise lacked attacking quality for much of the season. Will Wolves still have enough to win this without him? You'd think so, especially now Podence is back. I'm not sure this will be a great watch though.
Prediction: Wolves 1-0 Sheffield United
Arsenal vs. Fulham
Survival now looks like a real uphill battle again for Fulham after 4 straight defeats, particularly following Newcastle's win last week and even behind them, West Brom have found some great form. Arsenal have looked far off where they want to be in their big league games but tend to do quite nicely in fixtures like this such as Sheffield United last weekend and they were excellent against Slavia Prague last night.
Prediction: Arsenal 2-0 Fulham
Manchester United vs. Burnley
Burnley have caused Manchester United some problems in recent years at Old Trafford but given United's recent form, I think they'll be OK. Solskjaer's team look pretty nailed on for second now after that impressive second half performance against Tottenham last week and while I think this will be fairly close, they should win again. Burnley need to be slightly careful regarding relegation and I think Dyche will be frustrated by the recent lack of clean sheets.
Prediction: Manchester United 2-1 Burnley
Leeds vs. Liverpool
After that impressive win at Man City, it will be fascinating to see if Leeds can follow up with a win over another big fish here. The opening round clash between these sides was a great watch so hopefully we see something similar. Liverpool have started putting some league wins together again and I think I'll be backing them but Leeds certainly have a chance. After that Champions League elimination against Real Madrid, the only thing that can salvage Liverpool's season is a top four finish and I think they'll need 3 points here to get that.
Prediction: Leeds 1-2 Liverpool
Chelsea vs. Brighton
From this point forward, we're talking about matches involving teams who have another fixture before this one so it's obviously difficult to be too precise with predictions and I may well change some. Chelsea vs. City in the FA Cup should be a great watch but I think regardless of the scoreline, the Blues will defeat Brighton at home on Tuesday. Brighton are yet to really compete at Stamford Bridge in a PL match.
Prediction: Chelsea 2-0 Brighton
Tottenham vs. Southampton
Southampton's league form has been really concerning so there's a lot riding on their FA Cup semi-final. As things stand, Tottenham certainly appear the sensible pick. Saints are just conceding so many goals.
Prediction: Tottenham 3-1 Southampton
Aston Villa vs. Manchester City
City have an absolutely huge couple of weeks coming up with so many big matches meaning this one won't be a priority but you'd still be brave to go against them. It's hard to tell whether or not Villa would be close to matching what West Ham are doing if Grealish had stayed fit but he's been out for a long time now with what we were always told was a minor injury. There's an outside chance of an upset if he's back but I think it's more logical to look at all of City's recent wins rather than that one defeat against Leeds.
Prediction: Aston Villa 1-2 Manchester City
Leicester vs. West Brom
West Brom proved me wrong against Southampton where they picked up right where they left off at Stamford Bridge! It's crazy seeing Allardyce's team suddenly playing so well but unfortunately for the Baggies it probably is too late. They've made this a really difficult pick - Leicester's recent defeats were against good teams and they should still win this with the trio that were left out against West Ham for breaching guidelines back for the FA Cup and this game? If WBA surprise once more they'll convince everyone including myself that they really can pull off a great escape!
Prediction: Leicester 2-1 West Brom
Good luck in Round 32!