Premier League Predictions: Round 24
After a fairly average Round 23, I'm hoping for a return to my Round 22 form this weekend but the fixture list is full of pretty even looking matches. The teams that weren't involved in the fifth round of the FA Cup have had a rare week in which they can actually train and prepare for this weekend's fixtures rather than playing a midweek round so it'll be interesting to see how things play out.
The standout games come early in the round this week and then we have a couple of rearranged fixtures added on to make 12 games in total. Here are my thoughts on each match.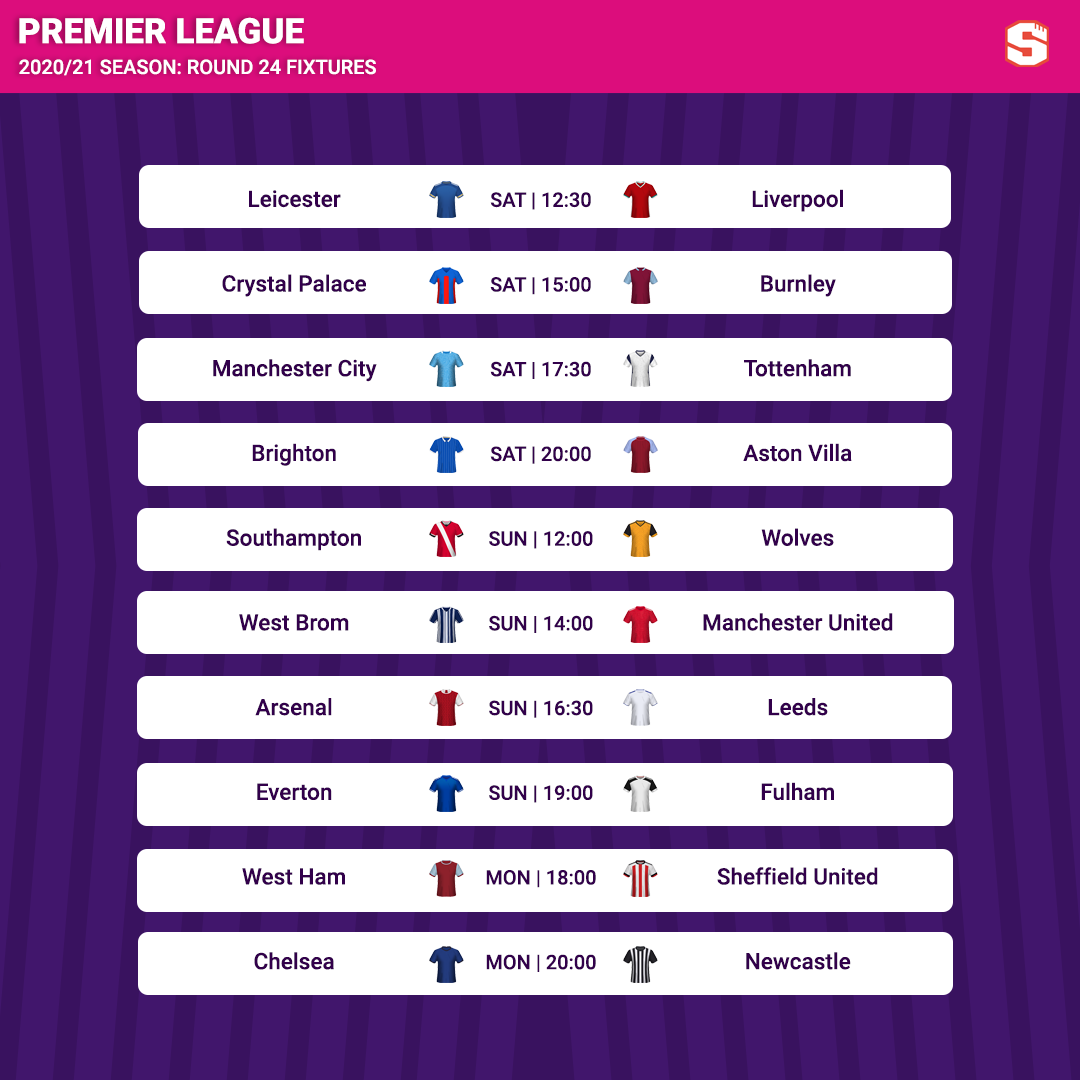 Leicester vs. Liverpool
This is a difficult start purely because it's so hard to tell whether or not Liverpool will bounce back immediately from being dominated by Manchester City last week. Leicester are decent but don't have a great record against Liverpool and haven't been too consistent at home. I said the same for the Tottenham game and I was wrong because they won anyway but I really feel like I'll be much happier picking Liverpool if Henderson is back in midfield and they play one of the defenders they've bought. That, coupled with Leicester's injury list has me calling a narrow away win.
Prediction: Leicester 1-2 Liverpool
Crystal Palace vs. Burnley
Palace are another team with quite a few injuries but they still have some attacking talent available and I think they can win this. I know home advantage has been reduced quite significantly in empty stadiums but it still feels more likely Palace can win because the game is at Selhurst Park. Chris Wood is also likely to remain out for Burnley.
Prediction: Crystal Palace 1-0 Burnley
Manchester City vs. Tottenham
City just look unstoppable at the moment and Tottenham have shown nothing to suggest they can compete at the Etihad in their recent games. Even without Aguero and De Bruyne, City were so strong against Liverpool. Yes, Alisson made some huge mistakes, but they're made to look so much worse when you play City because they're so clinical. Foden and Gundogan have been a joy to watch.
Prediction: Manchester City 2-0 Tottenham
Brighton vs. Aston Villa
This now looks a far more difficult pick than it would have done a few weeks ago and whilst I'm going for a draw, I was more tempted to pick Brighton than Villa. Graham Potter's side have been excellent in 2021 whereas Villa have become a little inconsistent. On paper, Villa are the stronger side but I think Brighton can match them in possession and territory in this game.
Prediction: Brighton 1-1 Aston Villa
Southampton vs. Wolves
We've obviously just seen these two play one another in the FA Cup last night (Thursday) and I expect a similar result. Southampton are the better team in my opinion though they did really need that win at Molineux in the cup after a very rough week against Manchester United and Newcastle. It feels like Wolves are just hanging in there until Raul Jimenez is back and/or Willian Jose has had time to get to grips with the Premier League.
Prediction: Southampton 2-1 Wolves
West Brom vs. Manchester United
Manchester United's excellent away unbeaten run remains in tact and they're visiting one of the easiest places to go in the Premier League here based on West Brom's results at the Hawthorns under Allardyce. West Brom are less of a threat now than they were under Bilic in my opinion, so I'd be surprised to see them get anything from this game.
Prediction: West Brom 0-3 Manchester United
Arsenal vs. Leeds
We should have quite an entertaining game here. Leeds look to be finding their form again and Arsenal have slipped off a bit so it's a difficult prediction, especially since Leeds are particularly dangerous away from home and Partey is out for Arsenal. We saw a 0-0 in the reverse fixture which Leeds deserved to win and I think I'm actually going to back them for an upset here. Arsenal haven't been too prolific at the Emirates and I think Leeds can find goals.
Prediction: Arsenal 1-2 Leeds
Everton vs. Fulham
After that very late equaliser at United and a great FA Cup win over Spurs, I think Everton will be full of confidence going into this game and should be able to break Fulham down. The visitors will be fairly organised again but Fulham fans are understandably getting frustrated about how long it's been since they've managed a win. The issue for Parker is that as soon as they change approach to try and win more games they could well find themselves conceding a lot of goals again. I don't expect this match to be the one where we see Fulham become more attacking and open.
Prediction: Everton 1-0 Fulham
West Ham vs. Sheffield United
West Ham dropped points at Fulham which they'll be frustrated about but that doesn't take away from their momentum too much and they should win this, especially since Soucek will be available after his red card was rightly overturned. Sheffield United are back to putting consistent performances in each week so they will be competitive but you still have to see the hosts as favourites.
Prediction: West Ham 2-1 Sheffield United
Chelsea vs. Newcastle
Chelsea continue their good run of wins under Tuchel but the last two matches at Sheffield United and Barnsley haven't been the most convincing. It feels like the new manager is understandably still learning about his players and remains a little unsure of what the best approach will be when it comes to big games like Atletico in the Champions League but this match should be straightforward for them in the meantime. Newcastle are even less of a threat without Callum Wilson so that injury news is a huge blow. I'd be very surprised to see them manage a point (or three!) at Stamford Bridge.
Prediction: Chelsea 2-0 Newcastle
The two additional matches we have in Round 24 are rescheduled matches that were previously postponed around Christmas. If you haven't already it's a good idea to make some provisional predictions for them now as it'll be easy to forget about them on Wednesday since big Champions League games will be taking place at the same time.
I'll be editing my picks nearer kick-off for those (we have unlocked all locked picks for those fixtures after placing them in Round 24) but for now I've picked Burnley and Manchester City. Both matches could be very competitive though so it'll be interesting to see which teams manage wins this weekend and whether or not momentum will play a part.
Good luck in Round 24!