Premier League Predictions: Round 17
Happy New Year all! I hope you've all had an enjoyable festive period and feel optimistic about 2021. Recent events in the Premier League have been a harsh reminder that there's still going to be plenty of virus-related chaos in this new year but let's hope we can get on top of it soon enough and have the rest of the season play out 'normally' before enjoying Euro '2020' this summer.
Speculation of a 2-week break in the PL calendar following the postponements in Round 16 has been rubbished by the league so the show goes on and the potential disruption and missing players at clubs like Fulham and Manchester City are an added factor to consider when making your picks.
Aside from the 5 goals Leeds scored at West Brom in Round 16, the fact that none of the other fixtures had more than 2 goals in total is, I fear, a sign of this schedule really starting to take it's toll on everyone. Will we see more low-scoring affairs in this round? Here are my picks.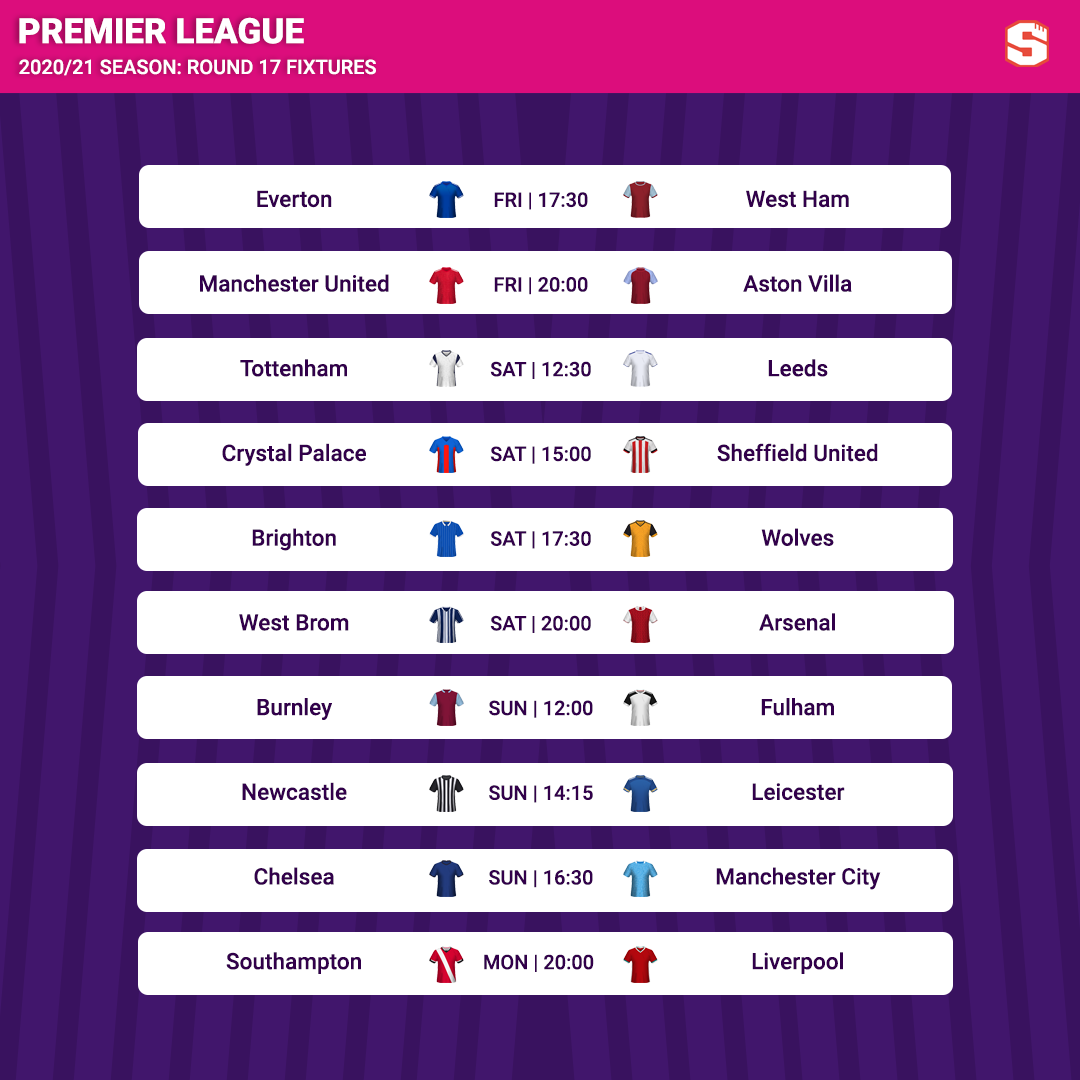 Everton vs. West Ham
I think Everton's winning run should continue here, especially as they've ended up with more time than expected to prepare for the match following the postponement of their City game. West Ham remain dangerous but have gone off the boil a bit so I think this should be a fairly comfortable home win.
Prediction: Everton 2-0 West Ham
Manchester United vs. Aston Villa
I'm hoping this will be a great game to watch between two quality sides. It really didn't look like United were going to find a winner against Wolves so that was massive for them and they now have a chance to go joint top. Villa continue to look good though and I think I'm tempted to go for a draw. There are still a couple of question marks around United's home form and Villa have only lost once on the road.
Prediction: Man. United 1-1 Aston Villa
Tottenham vs. Leeds
A difficult one. Tottenham are obviously a pretty good counter-attacking side but whereas it was obvious Leeds would get hammered by Manchester United a few rounds ago, I'm not sure this game suits Tottenham quite as much since they tend to counter with fewer players and have a fairly obvious supply line in Harry Kane. Could we see Spurs' defensive midfield players step out and carry the ball forward more like McTominay and Fred did for Man. United in this fixture? Leeds will cause problems as always and I think Mourinho is likely to be focusing on how to stop those rather than just making this as high scoring as possible. With home advantage and fresher players after a fixture postponement, Tottenham should have the edge but I think this will be fairly close.
Prediction: Tottenham 2-1 Leeds
Crystal Palace vs. Sheffield United
A decent point for Palace against Leicester last time out adds a little extra comfort while picking them here. We're still avoiding a Sheffield United pick until they prove that they can win a match.
Prediction: Crystal Palace 1-0 Sheffield United
Brighton vs. Wolves
It's a shame when you see them play such tidy football a lot of the time but Brighton fans are understandably losing patience with Potter and he needs some wins. Just 1 home win in the whole of 2020 is obviously terrible but this won't be an easy game to try and kick start a better home record in 2021. I think Wolves will remain relatively toothless up front so that's why I'm going for a draw but if a team is to win it's more likely to be the visitors in my opinion.
Prediction: Brighton 0-0 Wolves
West Brom vs. Arsenal
Arsenal appear to have turned at least a slight corner after back-to-back wins and West Brom have somehow managed to destroy all the confidence gained from drawing at Anfield by getting beat 0-5 at home against Leeds. Arsenal aren't going to be as dangerous or clinical as Leeds in this match but I just can't see how West Brom hurt them so they should win.
Prediction: West Brom 0-2 Arsenal
Burnley vs. Fulham
Even if Fulham are able to play this match, it's fair to assume they've been pretty disrupted and will be missing some players. I think Burnley are even stronger favourites than they'd usually be as a result.
Prediction: Burnley 2-0 Fulham
Newcastle vs. Leicester
Leicester have been my bogey team so far this season so I constantly find myself second guessing their results. I'm not sure they're strong enough to win this after Newcastle's decent display against Liverpool but then again it's fair to assume Vardy will start after being benched at Palace. The Foxes are the safe pick and I think I'm going with that as I don't have enough faith in Newcastle to pick up consecutive good results.
Prediction: Newcastle 1-3 Leicester
Chelsea vs. Manchester City
This is one where we really need to see the Manchester City lineup before picking I think. Gabriel Jesus and Kyle Walker will remain out but it's unknown who the other players that have tested positive are - there are of course rumours about who they might be but unless confirmed I think it's silly to judge this game based on potential team news. If both teams were at full strength I'd be picking a narrow City win here but if they're several players down
and
Hakim Ziyech is back for Chelsea then suddenly I make the Blues favourites. I'm going down the middle and sitting on the fence for now. I don't think there'll be many goals either way.
Prediction: Chelsea 1-1 Man. City
Southampton vs. Liverpool
I think you still have to go Liverpool here but their last two results will of course be concerning for Klopp. Yes, they haven't lost but that's 4 points dropped across two very winnable games and the pressure is growing ahead of what should be a great game between them and Manchester United soon. Southampton's lack of goals is suddenly a slight worry for the Saints and I think that's another thing pushing me towards picking Liverpool even though I don't think it'll be a long-term issue for them.
Prediction: Southampton 0-2 Liverpool
Good luck in Round 17!