Premier League Predictor: Round 37 Predictions (Updated)
This one looks like it's
the
round that will decide most of the big talking points in the Premier League so I'm very excited to see how these fixtures go.
I managed 10/16 in Round 36 which was fairly average, particularly since none were Exact. We have 12 matches in total in this round with most taking place on Sunday but then a few in midweek due to tomorrow's FA Cup final.
In terms of how I think the final will go - I think we could see something similar to the League Cup final between the same teams. Liverpool to win but I expect it to be very close (maybe not quite as close as the League Cup was!).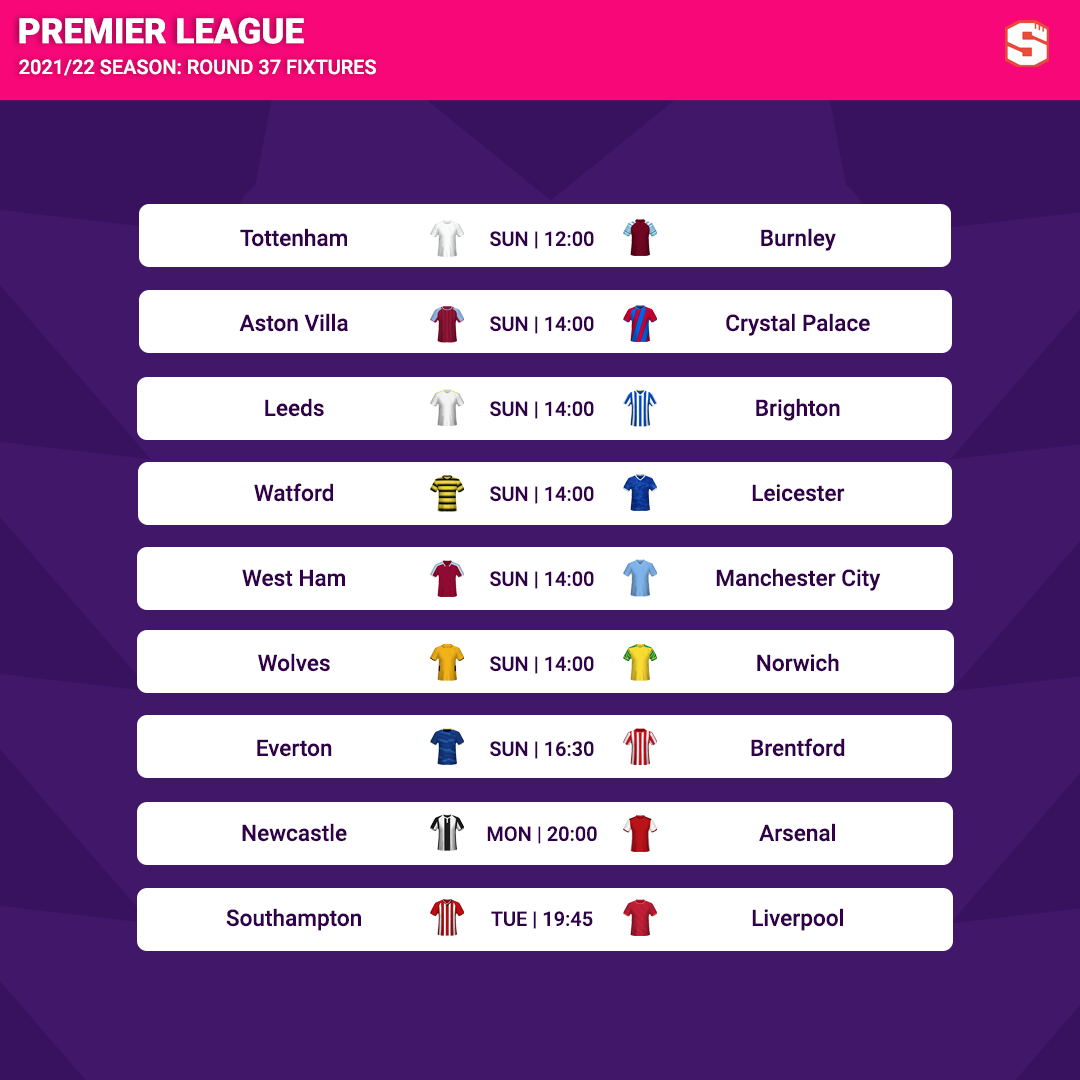 Tottenham vs. Burnley
I thought Spurs would beat Arsenal in the derby but the convincing nature of that victory means they should be really fired up here and I'd be surprised to see them slip up. Burnley should stay up in my opinion but that defeat against Villa was a reality check after such good results under Jackson and I think they'll lose again here.
Prediction: Tottenham 2-0 Burnley
Aston Villa vs. Crystal Palace
This is one of those tricky end of season games where it's quite difficult to decide whether or not one (or both) of these sides might already be on the beach. That's probably a little unfair as both have had quite good recent results but let's go with Villa as the home team.
Prediction: Aston Villa 2-1 Crystal Palace
Leeds vs. Brighton
This is the one for Leeds, this needs to be a win for Jesse Marsch. Can they get it? I'm pretty doubtful. You look at their results since Marsch arrived and they've actually been OK as they had that decent run before the 3 recent defeats against teams you'd expect them to lose against, but the issue has been the way in which they've lost to Arsenal and Chelsea. Given their position on the table, first-half red cards in back-to-back games is pretty unforgivable and I think they'll have lost a lot of confidence as well as 2 key players for these final matches.
Brighton, on the other hand, have just beaten Wolves and Manchester United with an aggregate score of 7-0! There's a chance Leeds pull something out of nowhere in front of their home crowd for the final time this season but Brighton are the better side and I think another defeat for the hosts is more likely.
Prediction: Leeds 0-2 Brighton
Watford vs. Leicester
Two teams that will be disappointed with their respective campaigns. Watford are obviously already down and Leicester have been underwhelming and appear to be in need of quite a reset this summer. The Foxes should win this one though.
Prediction: Watford 1-2 Leicester
West Ham vs. Manchester City
After beating Wolves so convincingly on Wednesday, City have given themselves the chance to essentially win the Premier League with a victory here and it's hard to pick against them. West Ham is obviously a tricky place to go but I've been very impressed with City's performances since the Madrid defeat and both Guardiola and De Bruyne appear very keen to wrap this title up in style. Yes, the Champions League exit will still hurt, but if I was a City fan, I think another league title and the arrival of Erling Haaland would cheer me up quite a bit.
Prediction: West Ham 1-3 Manchester City
Wolves vs. Norwich
This is unlikely to be a classic at Molineux. Wolves are really fading at the end of this season but they should surely still beat Norwich who can't even score a goal at the moment.
Prediction: Wolves 2-0 Norwich
Everton vs. Brentford
They'll have been annoyed not to have managed 3 points at Watford, but fair play to Frank Lampard and Everton for finally picking up some points on the road - 4/6 at Leicester and Watford isn't bad. At home, recent results have been good for the Toffees as well and if I'm right about Leeds losing to Brighton then even a point in this game would essentially mean Everton are safe.
Of course, Leeds might beat Brighton and if that happens then the pressure goes right back up on Everton and this won't be easy against Brentford as aside from their display against United, the Bees have looked really good of late. Everton are probably still favourites given what is at stake but I'm going for a draw.
Prediction: Everton 1-1 Brentford
Newcastle vs. Arsenal
Arsenal have put themselves under some real pressure in this one now, huh? It remains entirely in their hands but injuries and that stupid Rob Holding red card means they're a bit short defensively going into this match and it will be really tough at St James' Park. I really feel like they might slip here but let's go for a narrow away win - their recent wins at Chelsea and West Ham suggest they might just be able to put in the professional performance required (though we didn't see that at all at Spurs!).
Prediction: Newcastle 1-2 Arsenal
Southampton vs. Liverpool
Although I said the title is over if City win at West Ham, Southampton have actually proved to be quite a good team to face if you're looking for a massive improvement in your goal difference in recent years! I'm only half-joking, but it's probably logical to just pick a fairly routine win for Liverpool. Saints have been really bad since the beginning of March.
Prediction: Southampton 0-3 Liverpool
Let's see how these games go and I'll be back on Wednesday to update this piece with picks for the final 3 games!
__________________________________________________
UPDATE: Been tricky so far hasn't it! I've only managed 3 out of 9 but definitely made the right call last night to change my pick from 0-3 to 1-2 after seeing Liverpool's team which gave me a much needed Exact.
On to the final 3 games then...
Everton vs. Crystal Palace
What a massive game for Everton this now is. They'll be desperate to their safety confirmed at Goodison so that they can relax on the final day but losing against Brentford because of that red card will have increased nerves even more. Palace are a good side, and could easily take the points, but I'm going with a narrow home win with the Goodison crowd dragging their team over the line.
Prediction: Everton 1-0 Crystal Palace
Aston Villa vs. Burnley
Despite having nothing to play for themselves, what a huge week this is for Gerrard and his team with this match so decisive in the relegation battle and then on Sunday they have a chance to do Liverpool a huge favour. Villa obviously won at Burnley very recently but, as with Everton, I feel like the fact that Burnley are even more desperate now than they were in that game might just mean they can get something? I'm going with the visitors to sneak a point here which would get them out of the relegation zone heading into the final day.
Prediction: Aston Villa 1-1 Burnley
Chelsea vs. Leicester
This probably won't be a great watch with both teams having little to play for and Chelsea incredibly fatigued after so many games this season and that long FA Cup final at the weekend. It's hard to know how things will go, as the likes of Romelu Lukaku may thrive in these final two games with the pressure off, but I'm going for a draw which would seal Chelsea's position in 3rd.
Prediction: Chelsea 1-1 Leicester