Champions League Preview: Round 2
The opening round of the 2020/21 Champions League group stage was as expected, entertaining. In Round 1 some standout results saw Bayern show us why they're the holders, Shakhtar pull off an absolutely huge win at Real Madrid despite missing half their squad with covid and Lazio beat Dortmund 3-1.
This week, Juventus v Barcelona is the big match taking place (though Cristiano Ronaldo is a doubt), but other fixtures that should also be a great watch include Atalanta v Ajax, Manchester United v Leipzig and Monchengladbach v Real Madrid.
Here's your update on each group and the picks I'll be going with in Round 2.
Tuesday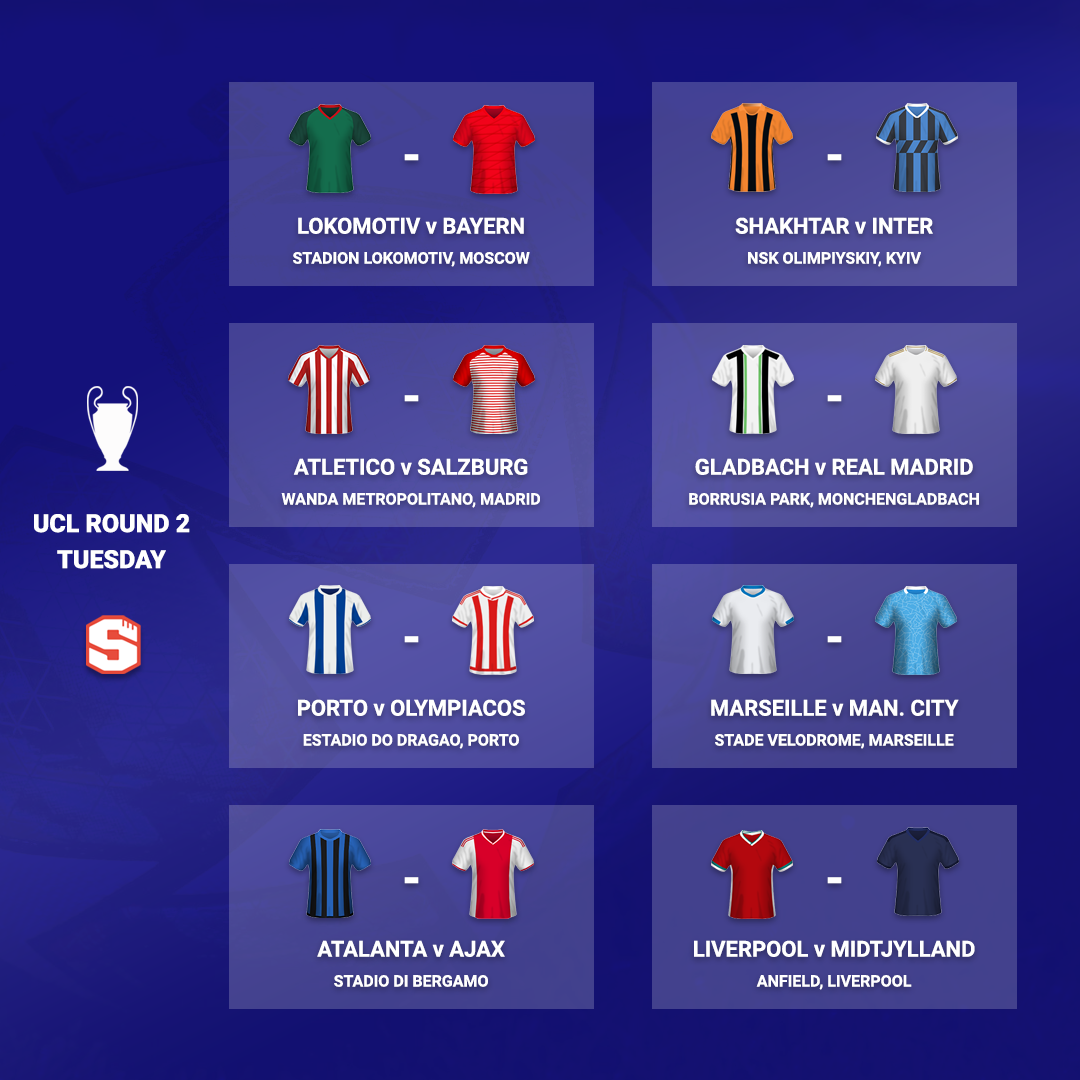 Group A
As mentioned in the intro, Bayern really stamped their authority on this group by battering their only realistic challenger 4-0. That result was arguably a little harsh on Atletico but some of the goals they scored were truly outstanding. The other fixture saw a 2-2 draw in Salzburg as they hosted Lokomotiv meaning both sides will be working hard to cause an upset this week that would land them in a great position.
Lokomotiv vs. Bayern
: Last week's result in Salzburg was a decent one for Lokomotiv but you'd be very brave to go against Bayern here. The German giants followed up that Atletico win by battering Frankfurt at the weekend and they'll be incredibly hard to beat this season. I don't see them losing in this group stage.
Prediction: 0-3Atletico vs. Salzburg
: There's greater potential for an upset here because Atletico aren't yet showing themselves to be dominant and Salzburg will have a go but I'd still be surprised to see anything other than a home win. I think Salzburg will score, simply because they usually do, but they're up against a decent defence and both Luis Suarez and Joao Felix will be a huge threat at the other end.
Prediction: 3-1
Group B
Shakhtar's stunning win in Madrid has really thrown the cat among the pigeons in this group. Both they and Gladbach aren't easy to beat, as Gladbach proved in Milan, so unless Inter and Real Madrid get on their game fast, we could see a giant fall at the first hurdle.
Shakhtar vs. Inter
: Inter haven't been too encouraging this season but I expect them to be far more pragmatic than Real Madrid were, especially after seeing that result, and I'm backing them to narrowly win. They need to find a way of threatening that isn't just via Lukaku but Hakimi being back should help with that.
Prediction: 1-2Gladbach vs. Real Madrid
: A huge game. I'm hesitant to pick Real Madrid but after their Clasico win and the return of Sergio Ramos, it makes more sense. Eden Hazard is also in the squad for the first time this season but it remains to be seen if he's ready to make an impact. Gladbach score goals and I think they will in this game too meaning it could be quite a watch.
Prediction: 2-3
Group C
Last week, City beat Porto as expected and Olympiacos managed a narrow win over Marseille in the game that was harder to call. Each of this week's matches have an underdog but certainly aren't walkovers so we could see some Group C tension tonight.
Porto vs. Olympiacos
: Like most teams, Olympiacos are far stronger at home than they are away in Europe so Porto are favourites here but I think it could be very tight. I'm tempted to go for a draw but until Olympiacos show they are ready to perform on the road in this competition this season, I'm playing safe and going against them.
Prediction: 2-1Marseille vs. Manchester City
: City looked like they were starting to find some form in that match against Porto but have since drawn at West Ham and Sergio Aguero has picked up another injury. The absence of both him and Gabriel Jesus is starting to cause problems for Guardiola because chances are being wasted by the wide players who are having to become the major goal threats. They should still have enough to win this game but I don't think it'll be easy. As long as Kevin De Bruyne is ready to start I'm picking City but might change to a draw if he's not.
Prediction: 1-2
Group D
Atalanta began their campaign in typical Atalanta style in Round 1 as they dominated Midtjylland and could have scored even more than the 4 they managed. The other game was a big one in Amsterdam as Liverpool picked up a 0-1 win they'll be very pleased with as Ajax were unfortunate not to score.
Atalanta vs. Ajax
: Has there ever been a football match in history that looks more certain to contain goals? Atalanta score for fun both domestically and in Europe and now they face an attractive Ajax team that won THIRTEEN nil at the weekend. 13-0. Crazy. I think Atalanta should win this at home but goodness knows what the score will be. One of those games that turns out fairly normal after such large expectations or will it play out as expected? I'm hoping for the latter, obviously.
Prediction: 4-2Liverpool vs. Midtjylland
: Lots depends on team selection for Liverpool here. They're obviously very likely to win but I'm unsure if Klopp will try and rotate or aim for a big win to get confidence up. They shouldn't concede, especially with Alisson back and I'm going for 3-0 for now.
Prediction: 3-0
Wednesday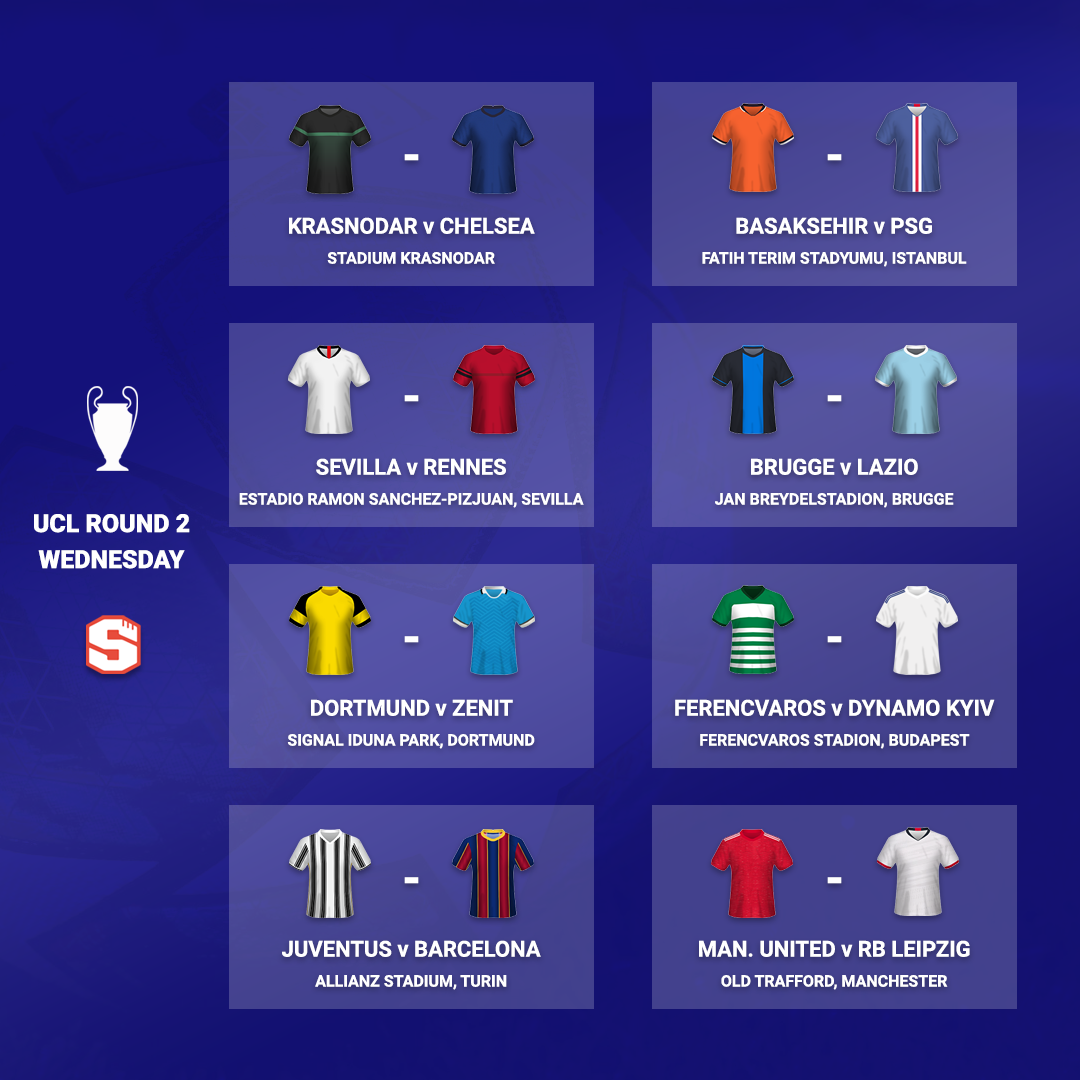 Group E
After a goalless draw at Stamford Bridge, Chelsea and Sevilla will now get to work on the games they should pick up maximum points in before their second meeting in Round 5. Will either slip up?
Krasnodar vs. Chelsea
: After some poor defensive displays, Frank Lampard has decided enough is enough in the past week as he managed 0-0 draws against both Sevilla and Manchester United. I think those draws will stand them in good stead going forward if they've helped restore some balance in the side and this is now an ideal game to begin taking the foot off the brake again. Krasnodar managed a decent point at Rennes but were beaten in the league at the weekend and will likely lose again here.
Prediction: 0-2Sevilla vs. Rennes
: There's slightly more chance of an upset here, especially after Sevilla's home defeat in the league last time out, but the LaLiga side are usually solid in Europe. I think Rennes will test both Sevilla and Chelsea at home but less so away.
Prediction: 1-0
Group F
Lazio had a fantastic start last week with that win over Dortmund. If they can now pick up a win that they'll feel they can manage at Brugge (who have also had a great start) then they'll be in a great position to progress from a fairly tough group. Dortmund need to bounce back immediately in this round's game against Zenit.
Brugge vs. Lazio
: You can't really count on Lazio for consistency so after that 3-1 over Dortmund, it would be typical for them to slip up here. I'm very aware of how dangerous Immobile is and there's every chance he fires them to victory in Belgium but I'm going to go for a draw. Brugge aren't easy to beat and had a great result at Zenit in Round 1.
Prediction: 1-1Dortmund vs. Zenit
: After losing at home against Brugge, you'd be brave to back Zenit in Dortmund. The hosts responded to their Lazio defeat with a 3-0 win over Schalke at the weekend and I think they'll score a few again tomorrow night.
Prediction: 3-1
Group G
It was business as usual in this group in Round 1 but now we have the big clash we've been waiting for between the two heavyweights.
Ferencvaros vs. Dynamo Kyiv
: I don't know a great deal about these two teams but everything suggests Dynamo are favourites despite being away and I'm expecting a narrow win for them. Ferencvaros didn't embarrass themselves at Barca and could turn some heads by winning this match but until they manage such a result it's logical to pick the more experienced UCL side.
Prediction: 0-2Juventus vs. Barcelona
: A huge game. It seems Juventus are rushing to try and get Ronaldo the opportunity to test negative for coronavirus ahead of this fixture so that's one to keep an eye on but based on what we've seen so far this season from either side, I'm torn between a draw and a narrow Barca win. Andrea Pirlo's approach has been interesting so far at Juve with a 3-4-1-2 formation that looks effective in the attacking third but there are a few concerns about them defensively. The same can be said for Barcelona of course, particularly after that El Clasico defeat, but I think they're slightly better placed for this game. Juve are yet to lose under Pirlo but have had a lot of draws so I'm going to go for another one here which would be OK as a result for Barca but I might feel the urge to switch to 1-2 depending on Juve's lineup (such as if Chiesa and Danilo are lining up to defend the left side again).
Prediction: 1-1
Group H
After Manchester United's stunning win in Paris in Round 1, the pressure is on PSG to now aim to win each of their remaining games to go through as group winners. That said, there's still every chance 4 wins won't be required to win what is a very even looking group, with RB Leipzig set to test United at Old Trafford this week.
Istanbul Basaksehir vs. PSG
: PSG will be disappointed with their display in Round 1 but I think they'll send out a strong response in this game. Basaksehir looked short of attacking quality against Leipzig and will struggle to deal with so much attacking talent from Paris.
Prediction: 1-4Manchester United vs. RB Leipzig
: A tough pick to finish. Leipzig are top of the Bundesliga and will compete with any side in Europe, while I expect United to continue with their approach of sitting off and trying to hit on the counter as they look to improve upon some dodgy home form. I'm struggling to pick a winner so I'm going to go for a draw. Martial will be fresh as he's suspended domestically and the pace of him and Rashford to create for Cavani if he plays could spell danger but Leipzig are fairly sound defensively and have plenty of creative players themselves to do some damage at the other end.
Prediction: 1-1
Best of luck to you all in Round 2!